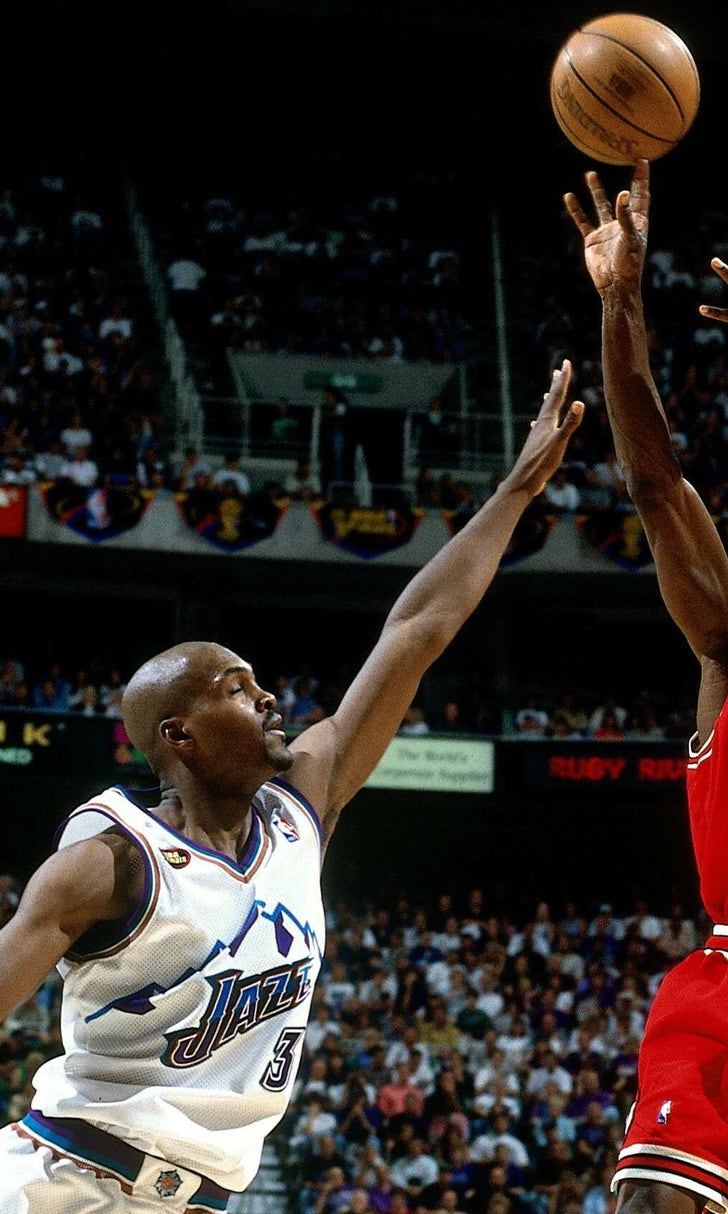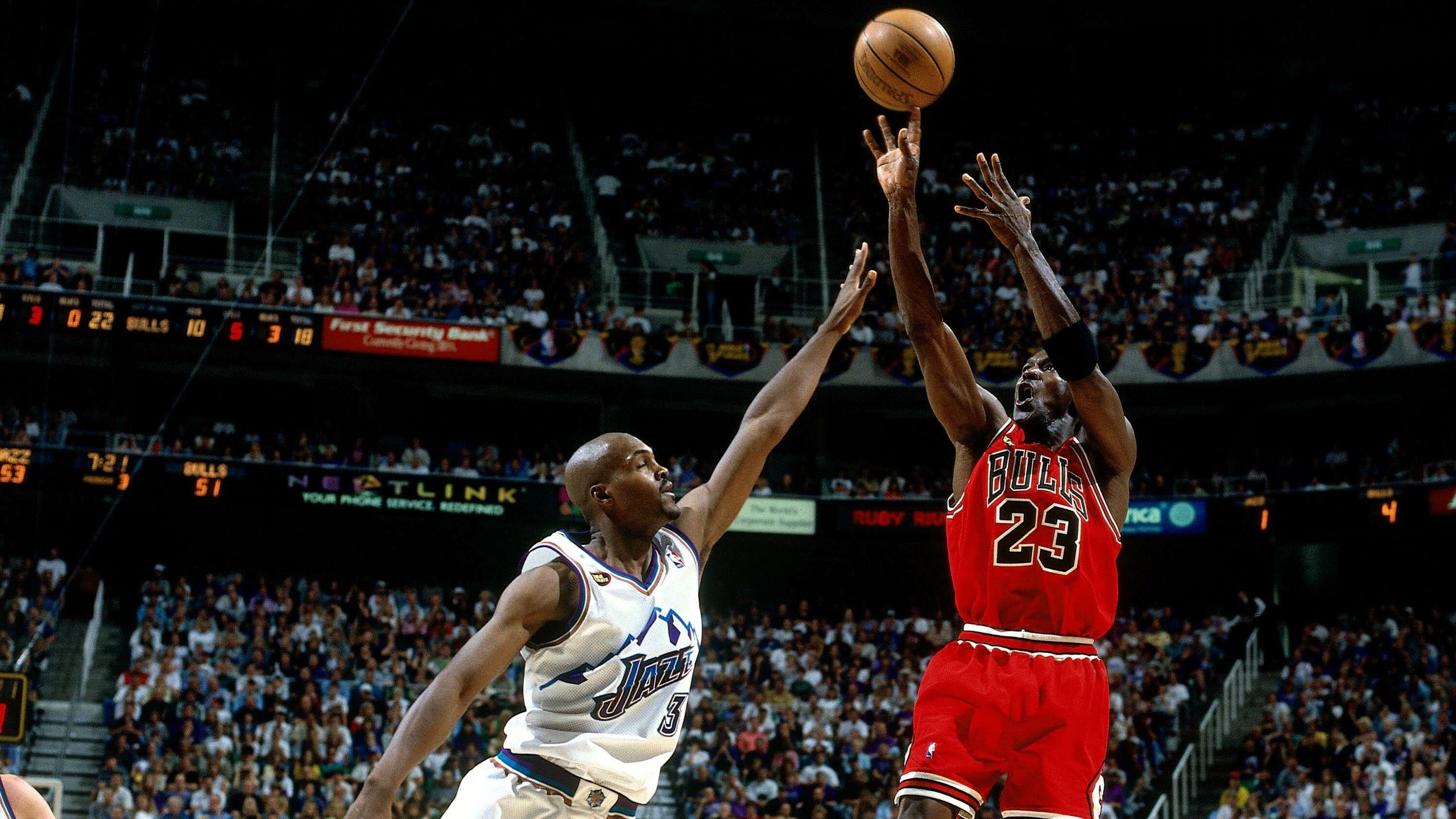 18 years ago, Michael Jordan pushed off Bryon Russell on the way to an NBA title
BY foxsports • June 14, 2016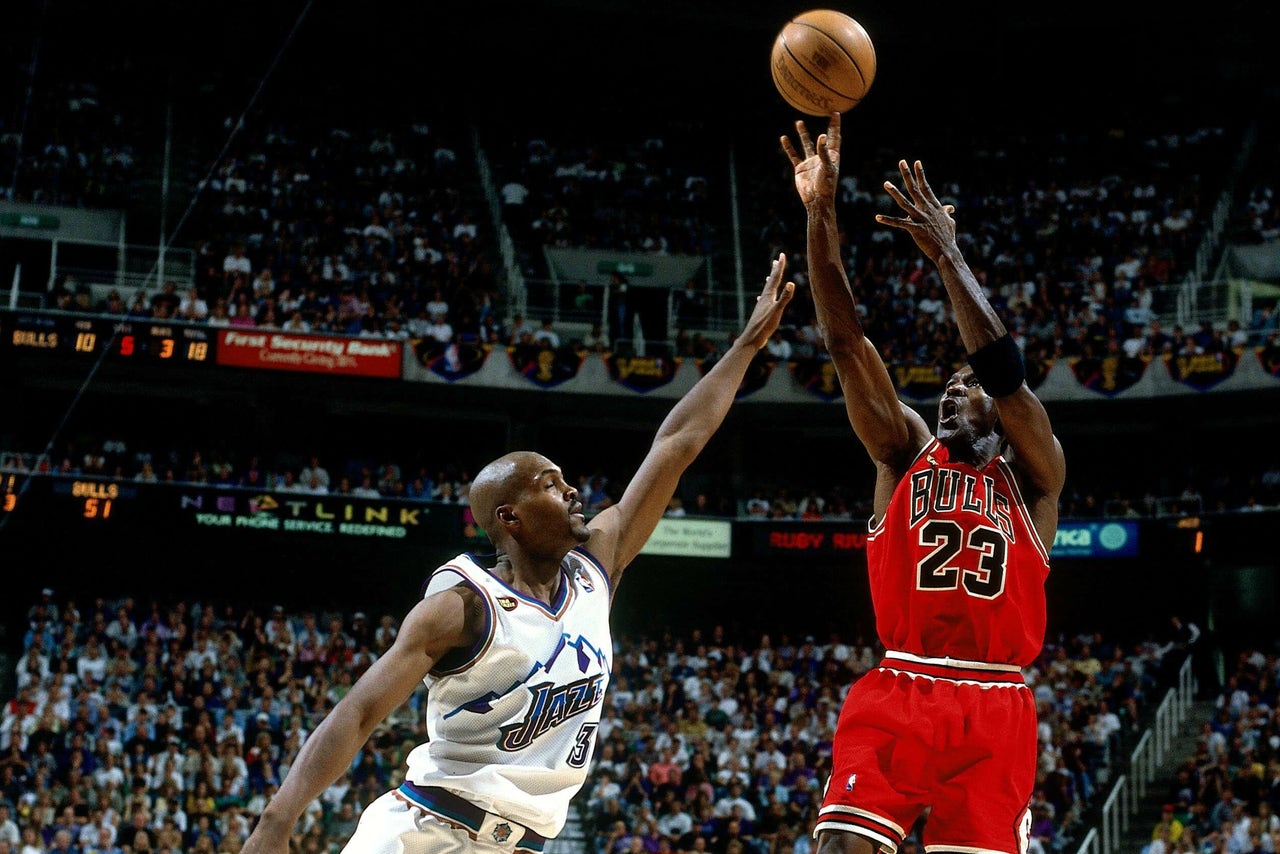 Simply put, Game 5 of the NBA Finals Monday night was everything, every NBA fan (who doesn't root for the Warriors) could have ever wanted. Take a historically great game from LeBron James, throw in an equally impressive showing from Kyrie Irving and we really were left with not only an "all-time classic" performance, but one of those rare sports moments where you'll almost certainly remember where you were, and who you were with, whenever Game 5 of the 2016 NBA Finals is mentioned going forward.
Ironically, almost 18 years to the day before the LeBron/Kyrie "where were you game," NBA fans were given another one, when Michael Jordan provided one of the signature moments in his career. That's right, 18 years ago today, Jordan pushed past Bryon Russell, on the way to what was his sixth and final NBA Championship.
For MJ and the Bulls, that sixth title might have been the sweetest.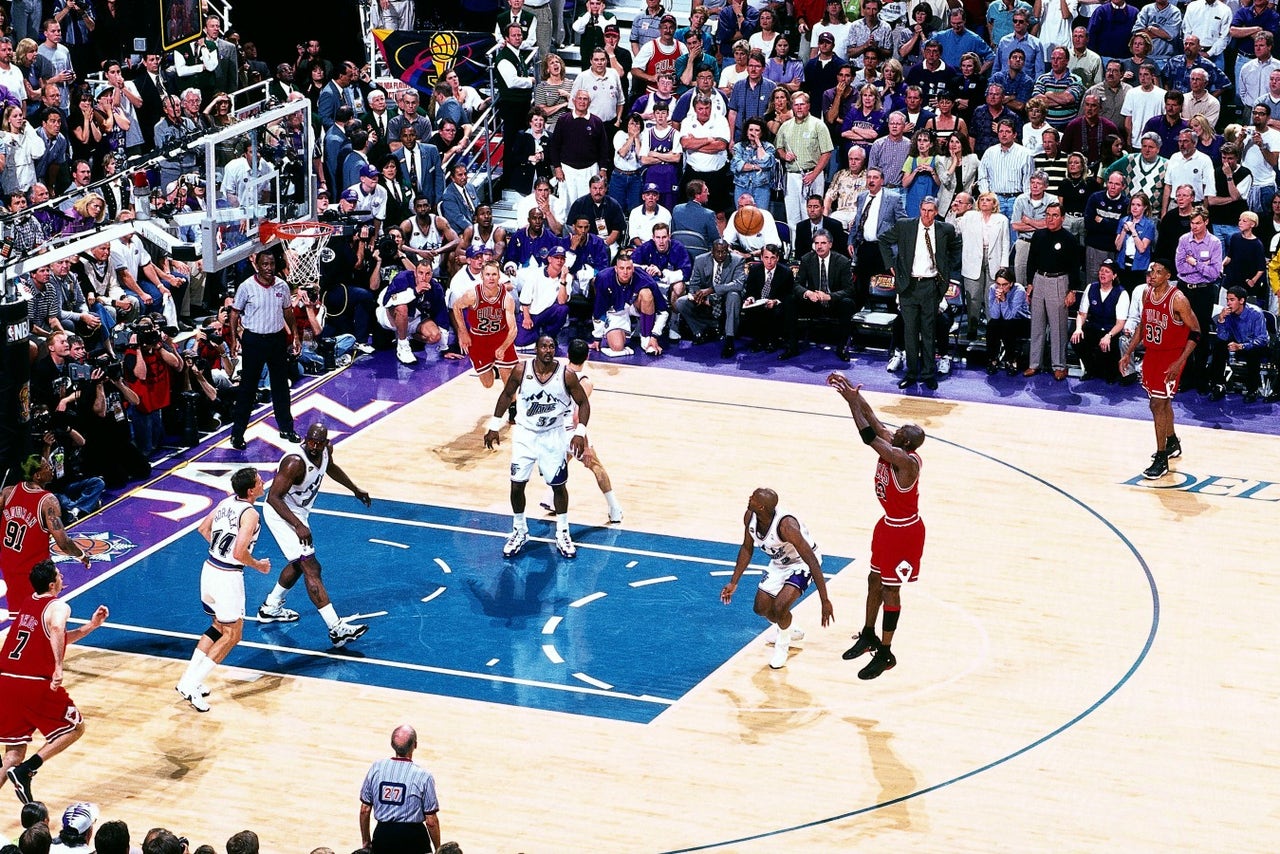 That's because after years of dominating the sport, and off back-to-back titles (including one against the Jazz a year earlier) the Bulls limped into the Finals in 1998, tired, after a third straight year of making it to basketball's final stage. It took Chicago seven games to get past the Indiana Pacers in the Eastern Conference Finals, while the Jazz got to their second straight Finals after sweeping the Lakers.
And early on in the series it looked like that fatigue might catch up with Chicago, and that the Jazz really might have enough in the tank to knock off the Bulls. In Game 1, at home and fully rested, Utah beat Chicago, 88-85, in overtime.
From there the Bulls bounced back with a Game 2 win in Utah, before one of the historically great performances ever in the NBA Finals in Game 3. With the series back in Chicago, the Bulls obliterated the Jazz, 96-54, in Game 3; every single player on Chicago's roster scored, while Utah's 54 points were the lowest ever for a team in the Finals during the shot clock era. And when Chicago won Game 4, 86-82, it seemed as though they'd cruise to their sixth title in eight years.
However credit goes to the Jazz who bounced back with a Game 5 win in Chicago, to force Game 6 back at home at the Delta Center.
And once there, Jordan delivered one of the greatest moments ever in NBA history.
Game 6 began as a back-and-forth affair, one that looked from the beginning like it would go down to the final possession. John Stockton did his best to make sure that wouldn't happen however, after drilling a three to give Utah an 86-83 lead with just under a minute to go.
But then Michael Jordan did, well, what Michael Jordan always did. It started with a quick layup on the next possession to cut Utah's lead to 86-85, and then on the following possession, he stripped Karl Malone in the post to get the ball back.
It set up what would be the Bulls' final shot of the game, and the defining shot of Michael's career.
Once in possession, Jordan dribbled down the clock until there were just about 10 seconds left and then made his move. He slowly dribbled to his right, then right as Russell committed, Jordan pushed off --- ever so slightly of course --- to the left to create space. As Russell fell to his feet, Jordan stepped back and swished a two-pointer (the analytics guys would have hated that shot!) to give the Bulls an 87-86 lead.
A Jazz timeout was fruitless, as Stockton's three at the buzzer rimmed out.
As the horn sounded and the game ended, Chicago claimed the sixth and final title of the Jordan era, and era which would come to an end just a few months later. With the NBA locked out, and the contracts of Phil Jackson, Scottie Pippen and Dennis Rodman all in flux, Jordan announced his retirement from the game in January 1999.
Jordan of course returned to the NBA later, but even still, that shot against Russell remains one of --- if not the --- signature game of Jordan's career, 18 years later. Whether or not Jordan pushed off on Russell remains debated to this day, but in the end the shove is secondary, behind another iconic moment from Jordan.
It's a play and a moment that will never be forgotten and likely never topped ... although we sure hope LeBron or Kyrie (or maybe both) can do it Thursday, to force a Game 7 in these 2016 NBA Finals.   
---
---