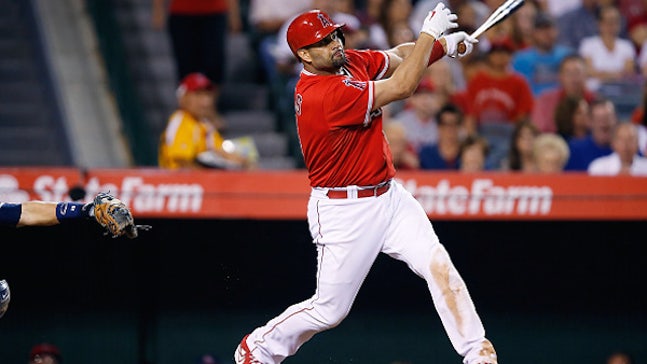 The best and worst MLB players in the month of June
Published
Jul. 1, 2015 2:03 p.m. ET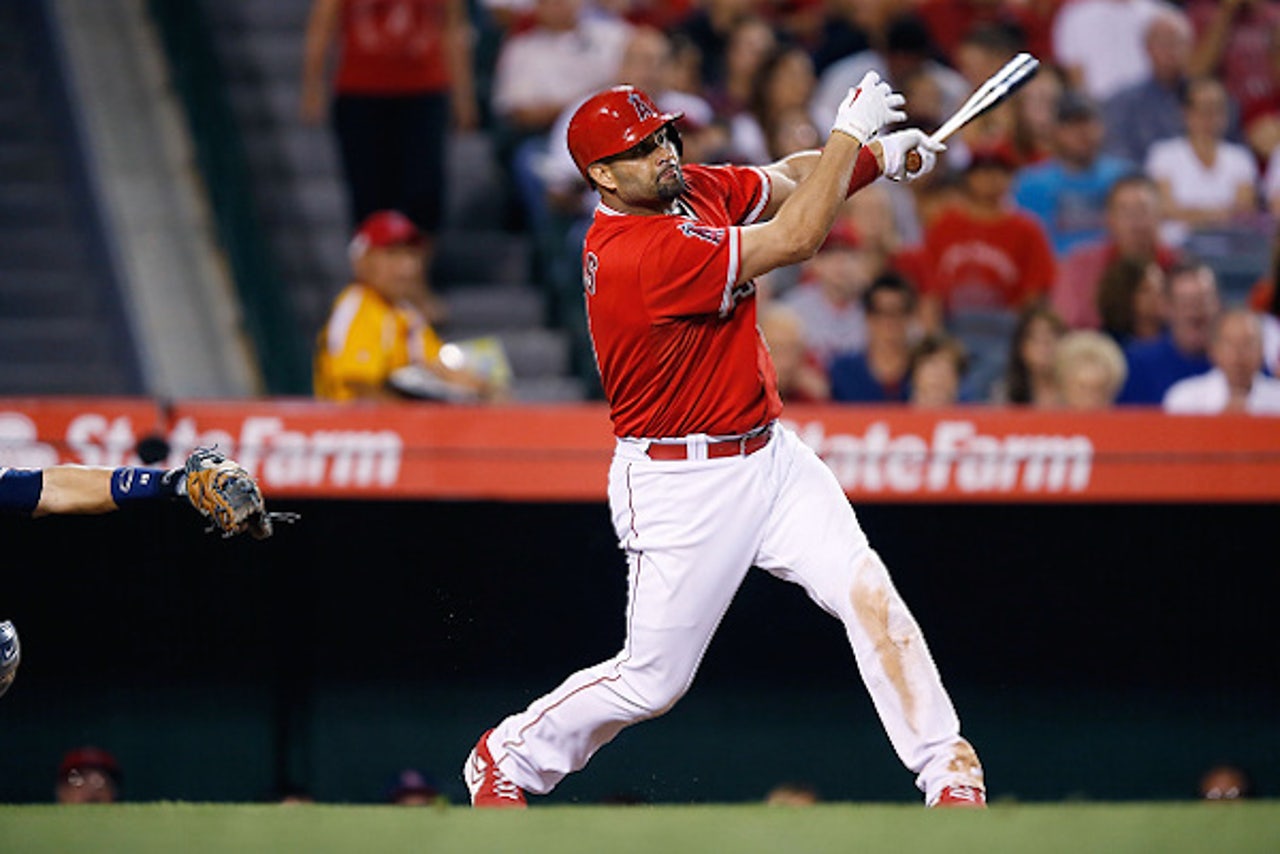 By Joe Lucia
We're approaching the midway point of the 2015 season, and before we reflect on the first half, how about we reflect on a wild June?
AL Best Hitter of the Month: Albert Pujols
Hello my friend, we meet again … June of 2015 was vintage Pujols. He hit .303/.395/.737 for the month with 13 homers, 13 walks, and just eight strikeouts. No player in baseball had more homers than Pujols, and the only AL hitter whose numbers were at all comparable to Pujols's was Miguel Cabrera. But when it comes down to it, the three-time NL MVP was far and away the best AL hitter in June.
Honorable mentions: Miguel Cabrera, Brett Gardner, Manny Machado, Mitch Moreland, Mike Trout
April winner: Adam Jones
May winner: Jason Kipnis
AL Worst Hitter of the Month: Mark Trumbo
Trumbo started the month in Arizona, but spent the bulk of it in Seattle, so he's getting dumped in the AL category this month. And through that first month with the Mariners, Trumbo hasn't been anywhere near the player that Seattle's management hoped. He hit just .134/.165/.183 for the month (including two game with the Diamondbacks), walked three times, struck out 24 times, doubled once, and homered once. The mariners are also voluntarily playing Trumbo in right field, and that's gone about as well as expected. The bottom is falling out for the Mariners, and they're going to need more than a hot Mark Trumbo to bail them out.
Dishonorable mentions: David DeJesus, Anthony Gose, Alexei Ramirez, Alex Rios, Carlos Sanchez
April "winner": Matt Joyce
May "winner": Stephen Drew
NL Best Hitter of the Month: Giancarlo Stanton
The awful news is that we're not going to be seeing Giancarlo Stanton until late-July at the earliest. The good news is that he went out with a bang in June, hitting an absurd .344/.404/.800 with 12 homers in just 24 games. His ISO for the month was .456 – only Pujols, Cabrera, and Bryce Harper had a higher *wOBA* than that.  Without Stanton in their lineup this month, it'll be tough for the Marlins to push themselves into contention, and when he returns, Miami could look a lot different.
Honorable mentions: Nolan Arenado, Maikel Franco, Paul Goldschmidt, Bryce Harper, Justin Turner
April winner: Adrian Gonzalez
May winner: Bryce Harper
NL Worst Hitter of the Month: Jean Segura
I really don't think Segura is ever going to be the player we thought he'd be. In June, he hit .206/.218/.234 with just one extra base hit (a homer) and two walks in 110 plate appearances. He played reasonably well in April, quite well in May, and was a disaster in June. So far in 2015, Segura is playing much worse than he did in 2014, a year where he began to lose some of his luster. Segura is just 25, but he's not bringing much of anything to the table for the Brewers aside from solid speed on the basepaths…which is useless when you struggle to get on base at a .300 clip.
Dishonorable mentions: Ian Desmond, Freddy Galvis, Jon Jay, Will Middlebrooks, Angel Pagan
April "winner": Chase Utley
May "winner": Matt Kemp
AL Best Pitcher of the Month: Chris Sale
Alright, so the White Sox stink … but Chris Sale certainly does not. He went just 2-2 over six June starts, pitching to a 1.83 ERA over 44 1/3 innings. But in those six starts, Sale struck out a mind-blowing 75 hitters, and walked only eight. It's kind of silly that he's likely not going to get a lot of Cy Young hype because he plays for a team that is playing so poorly, but he's been one of the AL's most dominant pitchers this year. If Chicago opts to move him at the trade deadline for whatever reason, they could receive an absolute bounty in return.
Honorable mentions: Chris Archer, Clay Buchholz, Yovani Gallardo, Lance McCullers, David Price
April winner: Chris Archer
May winner: Corey Kluber
AL Worst Pitcher of the Month: Jered Weaver
Weaver was placed on the DL near the end of the month, so this might not be fair … but he was really bad in June. In four starts, Weaver threw 26 innings. That's good! He allowed 19 runs, which isn't good at all. He walked six hitters, allowed six homers, and struck out just 11. That's…not good. He also allowed a .287/.327/.566 line to opposing hitters, which is just awful. For the year, Weaver has a 4.75 ERA and is striking out a career-low 12.2% of the batters he's facing with an average fastball velocity that's in the toilet. Hey, at least his contract expires after next season…
Dishonorable mentions: Trevor Bauer, John Danks, Joe Kelly, Nick Martinez, Mike Pelfrey
April "winner": Ross Detwiler
May "winner": Justin Masterson
NL Best Pitcher of the Month: Jacob deGrom
You thought this would be Max Scherzer, right? Well, Scherzer obviously had a fantastic month, but deGrom wasn't exactly chopped liver. He started five games in June, and went at least seven innings in all of them, finishing with 37 1/3 for the month. In those 37 1/3 innings, deGrom pitched to a 1.21 ERA (that's just five earned runs), walked five, and struck out 37. Opposing hitters hit only .153/.188/.213 against him for the month.  deGrom has gotten better and better as the season has gone along, and a big second half could set him up for a Cy Young run if Scherzer falters.
Honorable mentions: Madison Bumgarner, Jaime Garcia, Zack Greinke, Clayton Kershaw, Max Scherzer
April winner: Johnny Cueto
May winner: Max Scherzer
NL Worst Pitcher of the Month: Tim Lincecum
Lincecum is another guy, just like Weaver above, who had a wretched month and has landed on the DL. And also like Weaver, he's having a truly sad season. In June, he made five starts, tossed just 19 1/3 innings, struck out 15, walked 12, pitched to a 7.45 ERA, and gave up a .301/.394/.494 line. He has a career low strikeout rate, a career high walk rate, and is pitching at the lowest velocity of his career. I don't see any way the Giants bring him back next season, and it'll be very interesting to see where the 31-year old goes from here.
Dishonorable mentions: David Hale, Aaron Harang, Kyle Lohse, Sean O'Sullivan, Allen Webster
April "winner": Ryan Vogelsong
May "winner": Stephen Strasburg
AL Best Rookie of the Month: Carlos Correa
The AL Rookie of the Year race is wide open, and Houston's Carlos Correa might be able to stride right through that door. He made his major league debut at the beginning of June, and shined, hitting .287/.309/.543 with five homers and four steals. He's already up to third among all AL rookie hitters in fWAR behind Steven Souza Jr. and Devon Travis, who both struggled at the dish in June. He's not going to be fighting for playing time, and as long as he stays healthy, Correa has as good a shot as any other AL rookie to win the award.
Honorable mentions: Matt Andriese, Joey Butler, Kendall Graveman, Lance McCullers, Mike Montgomery
April winner: Devon Travis
May winner: Steven Souza Jr.
NL Best Rookie of the Month: Maikel Franco
A NEW CONTENDER EMERGES! It's not Kris Bryant, it's not Joc Pederson … it's Maikel Franco of the Phillies, who stormed onto the scene in May and caught ire in June. For the month, Franco homered eight times and hit .352/.391/.648. He won't be fighting for playing time on the Phillies, especially given Cody Asche's move to the outfield and the renewed struggles of Ryan Howard at first base. Franco's rough defense at third base has diminished his fWAR for the year, but the only NL rookies with better offensive lines than him on the season are Pederson and Randal Grichuk of the Cardinals. We've got a race now, folks.
Honorable mentions: Kris Bryant, Matt Duffy, Randal Grichuk, Joc Pederson, Yasmany Tomas
April winner: Joc Pederson
May winner: Kris Bryant
More from The Outside Corner:
---
---