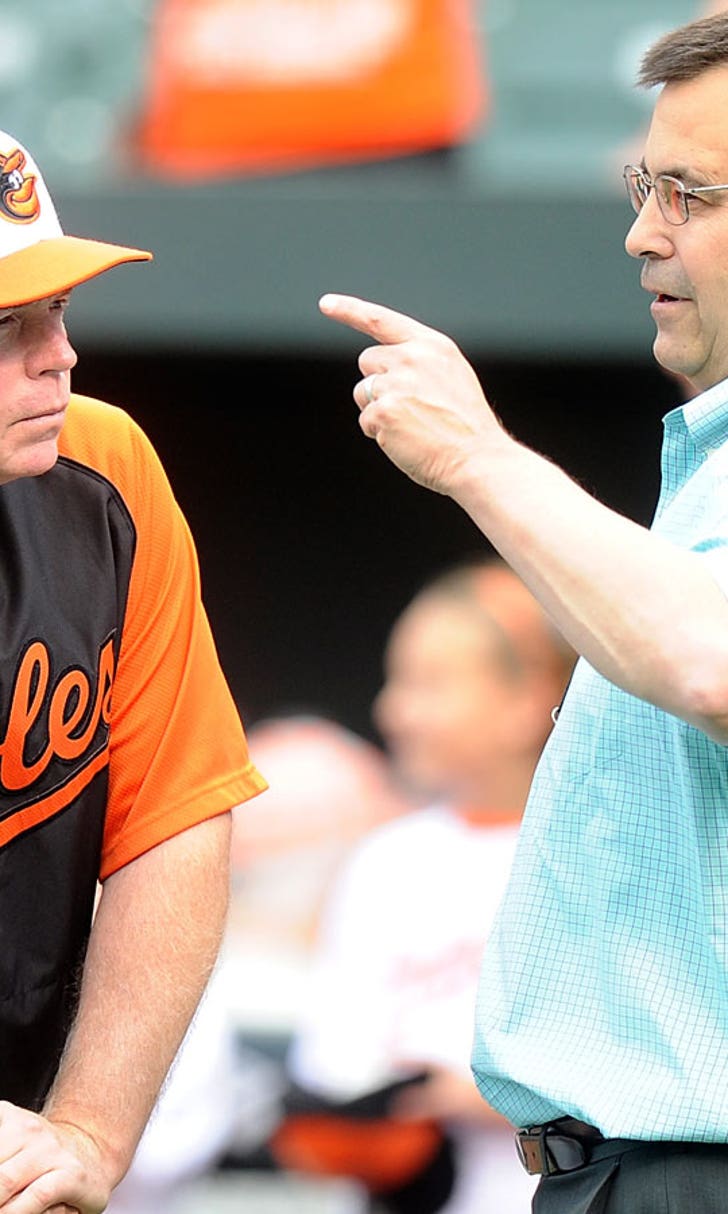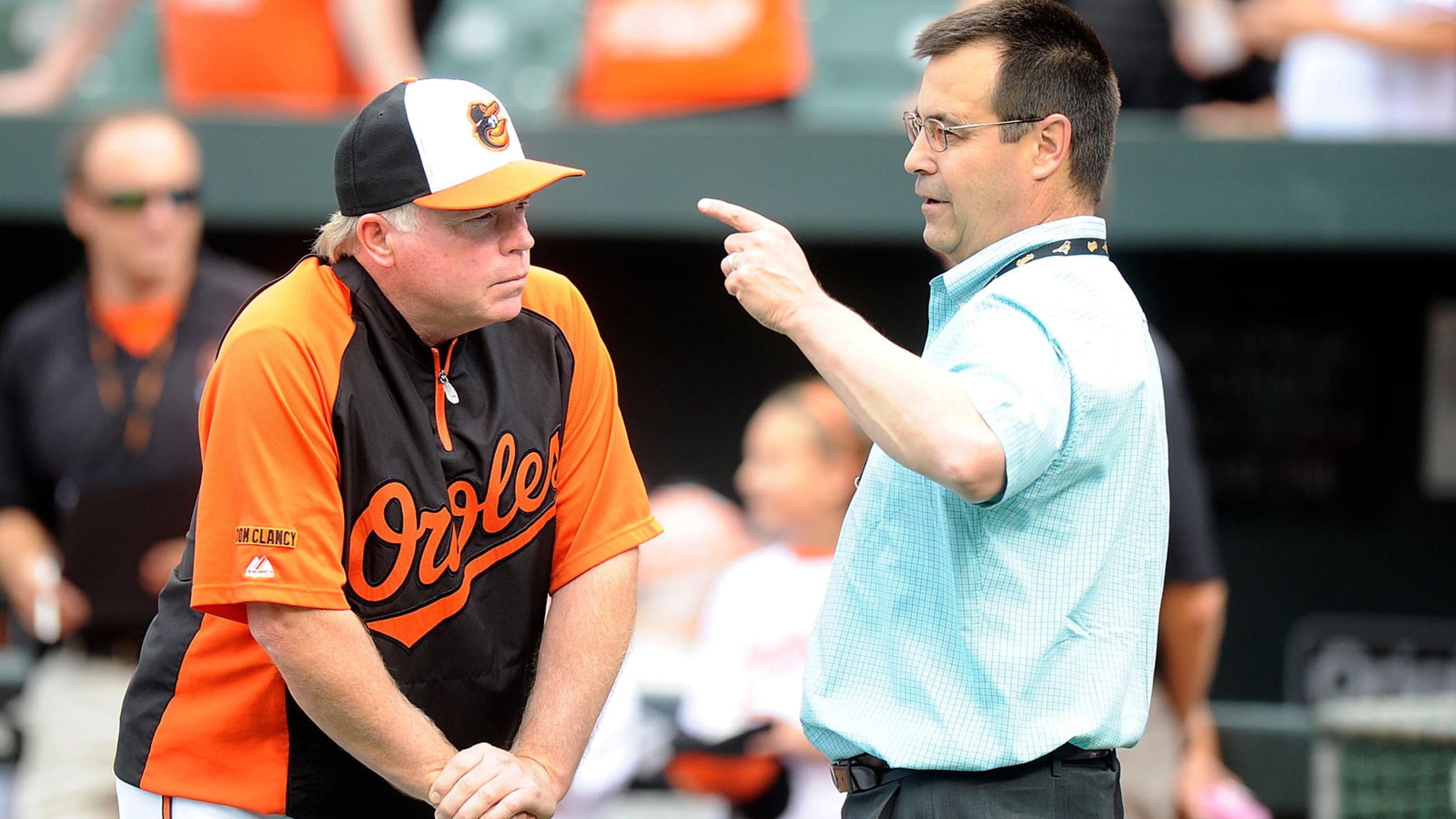 Tension building inside Orioles' organization
BY Ken Rosenthal • September 24, 2015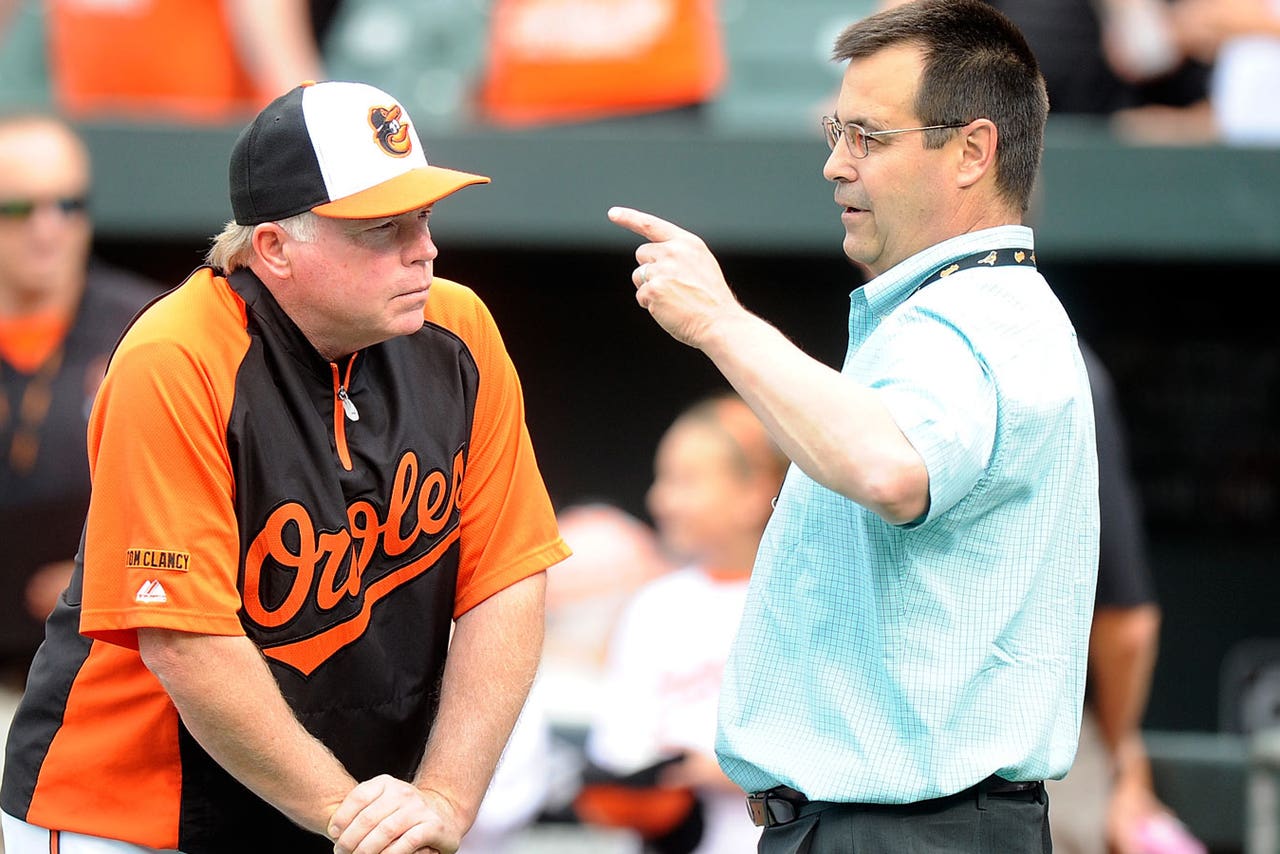 Orioles manager Buck Showalter says all is well. So does general manager Dan Duquette. But officials both inside and outside the Orioles' organization say the tension in management is reaching a breaking point.
The question is how that tension will be resolved.
Showalter is frustrated with Duquette and wants greater involvement in personnel decisions, sources say. The team, in the view of at least one club official, cannot continue with the same organizational structure.
"If it doesn't change, it will be a disaster," the official said.
Any change likely would come internally; both Showalter and Duquette are signed through 2018, Showalter at approximately $3.5 million per season, Duquette at approximately $2 million per season, sources say.
The Orioles, after winning the AL East last season and reaching the American League Championship Series for the first time since 1997, have won 11 of their past 15 games. However, they entered Thursday one game below .500 and with a 0.5 percent chance of reaching the postseason, according to Fangraphs.com.
The team also will face significant challenges this offseason — its potential free agents include first baseman Chris Davis, catcher Matt Wieters and left-hander Wei-Yin Chen, all of whom, as Scott Boras clients, are expected to see market-driven contracts.
Duquette said that he was "proud" of his relationship with Showalter; in their four seasons together, starting in 2012, the Orioles have won more regular-season games than any team in the American League.
Duquette added that any issues within the organization would be addressed during the offseason, saying, "I believe everyone is working toward the same outcome, having a good team, trying to get to the playoffs."
Showalter echoed that sentiment.
"Dan and I are fine," he said. "Both of us get frustrated with us not being where we want to be. We're concentrating on trying to get in the playoffs. That's how you quiet all these things — play better."
Showalter wants to remain manager as opposed to becoming GM, sources say, and is sensitive to the perception that he is trying to usurp power, a charge that was leveled against him earlier in his career.
Asked specifically if he wanted a greater voice in decision-making, Showalter said, "I get asked all I need to be asked. Everyone's got their input. At the end of the day, somebody's got to make the decisions."
That somebody is Duquette. But when Duquette wanted to pursue the Blue Jays' club presidency last offseason, some in the organization began to question his loyalty, sources said.
Orioles owner Peter Angelos had hired Duquette in Nov. 2011, helping the GM revive his career after he had spent more than a decade away from Major League Baseball.
As Angelos held Duquette to his contract, preventing him from leaving for a position of greater prominence, the discontent within the Orioles increased.
According to sources, the sources of unrest include:
● Duquette's inability to adequately replace outfielders Nelson Cruz and Nick Markakis, both of whom left as free agents last offseason.
● The failures of Duquette's offseason additions, from major-league free agents Wesley Wright, Everth Cabrera and Delmon Young to trade acquisition Travis Snider. All were jettisoned during the season, as was Alejandro De Aza, a player whom the Orioles re-signed in arbitration.
● The deteriorating state of the Orioles' farm system, which has been further compromised by injuries to top pitching prospects Dylan Bundy and Hunter Harvey.
● The influence of Duquette's pitching development director, Rick Peterson, an issue first reported by Jerry Crasnick of ESPN.com.
● The fact that most or all of the Orioles' coaches are unsigned beyond this season, even though Showalter repeatedly has praised his staff.
Yet, even with all of those areas of conflict, the chances of the Orioles starting the 2016 season with a new manager or GM would appear slim.
Firing Duquette would cost Angelos about $6 million. Re-assigning him to a lesser position would result in Angelos paying two GMs. Elevating Showalter to a dual manager-GM role would be impractical, given the broad responsibilities of both positions in today's game.
Showalter, meanwhile, is unlikely to resign when he is owed about $10.5 million. And even if he wanted to leave, Angelos likely would prevent him from pursuing another position, just as he did with Duquette.
If all is well, as Showalter and Duquette say, the Orioles simply will need to regroup this offseason and push forward. But if all is not well, as others insist, the relationship between the two must change, if nothing else.
---
---