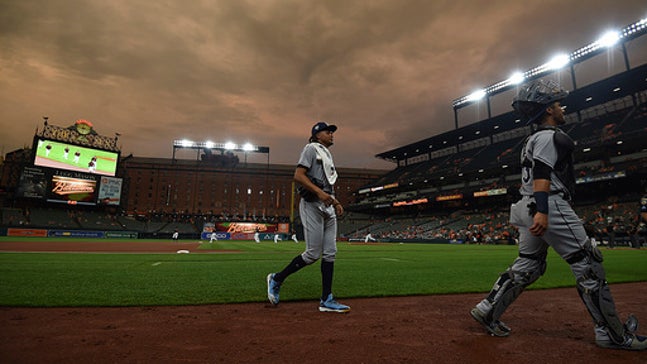 Pirates bolster rotation, add Tampa Bay's Archer at deadline
Updated
Mar. 4, 2020 7:12 p.m. EST
PITTSBURGH (AP) Pittsburgh Pirates general manager Neal Huntington remained bullish on his team even after parting with stars Gerrit Cole and Andrew McCutchen in the offseason. Even after a swoon through June wiped out a hot start. Even after his club found itself floundering in early July.
And when the Pirates responded with a 15-4 surge that seemed to validate his optimism, he sent a message at the non-waiver trade deadline. The Pirates are intent on winning. Not just in 2018, but beyond.
Pittsburgh acquired starting pitcher Chris Archer from Tampa Bay and closer Keone Kela from the Texas Rangers in moves that cost the team top prospects in outfielder Austin Meadows and pitchers Tyler Glasnow and Taylor Hearn as well as two players to be named.
The decision to deal three players considered a part of the club's next wave wasn't easy. But Huntington believed it was necessary to bolster a group that has a chance to reach the playoffs.
The Pirates entered Tuesday night's game against the NL Central-leading Chicago Cubs 3 games out of the second wild-card spot thanks to a torrid stretch that began July 8.
''Given the quality of the core, the players we have and those who are still on the horizon, the ability to add two players such as this, we feel, pushed us into a higher level and allows us to believe we are going to be one of those teams that has a legitimate chance to make the postseason not only this year (but beyond),'' Huntington said.
Archer, a two-time All-Star, is 3-5 with a 4.31 ERA in 17 starts this season for the Rays. The 29-year-old adds experience to a Pirates rotation that includes three starters - Jameson Taillon, Trevor Williams and Joe Musgrove - 26 or younger.
''I'm excited,'' Archer said following a round of hugs in the Tampa Bay clubhouse shortly after the deal was announced. ''They're super-hot right now, and they want me. They gave up their top two guys. Guys with some really good upside. I'm excited to be part of the organization that wants me, part of a rich baseball history, a hard-working community. I can't wait to get there.''
Neither move is a rental for Pittsburgh, which was the only team to not sign a major-league free agent last winter despite parting with cornerstones Cole and McCutchen in January.
The 25-year-old Kela has 24 saves and a 3.44 ERA. He will be arbitration-eligible beginning next season and will not be eligible for free agency until after the 2021 season.
Pittsburgh will assume the remaining $2,049,731 in Archer's $6.25 million salary. He also receives a $500,000 assignment bonus for the trade. His deal includes a $7.5 million salary for 2019, a $9 million team option for 2020 with a $1.75 million buyout and an $11 million club option for 2021 with a $250,000 buyout.
''To get Keone with two-plus years of potential contribution and who knows behind that, to get Chris Archer with three years plus this year where he's going to impact our wins, those were really good gets in our mind,'' Huntington said.
Meadows, a first-round pick in the 2013 draft, hit .292 with five home runs and 13 RBIs in 49 for the Pirates after making his major league debut on May 17. The 24-year-old Glasnow dominated as a starter in the minors but struggled during his first season-plus in Pittsburgh, going 2-7 with a 7.69 ERA in 15 games (13 starts) in 2017. The Pirates moved Glasnow to the bullpen this season with better results. The 6-foot-8 right-hander is 1-2 with a 4.34 ERA in 34 appearances.
The 23-year-old Hearn was acquired from Washington at the trade deadline two years ago. Hearn has gone 3-6 with a 3.12 ERA in 19 starts with Double-A Altoona this season.
Now all three are moving on, while Pittsburgh is moving forward in an attempt to make headway in the playoff race. Ten NL teams entered play on Tuesday within 5 games of a postseason berth. Just over three weeks removed from being a season-worst eight games under .500 (40-48), the Pirates are one of them.
Pittsburgh heads to the stretch with an improved rotation and a back end of the bullpen that suddenly looks formidable, with Kela joining All-Star close Felipe Vazquez and setup man Kyle Crick. The plan for now is to have Vazquez continue to work the ninth with Kela and Crick working ahead of him, though Vazquez is open to changing his role if it means the Pirates play meaningful games into September and maybe even beyond.
''Yeah, we're here to win games,'' Vazquez said. ''It's up to (manager Clint Hurdle). He's the boss. I just follow. We're there, if he decides lefty-lefty matchup, I'm up for it. It doesn't matter. We're trying to win games.''
---
AP Baseball Writer Ronald Blum contributed to this report.
---
---