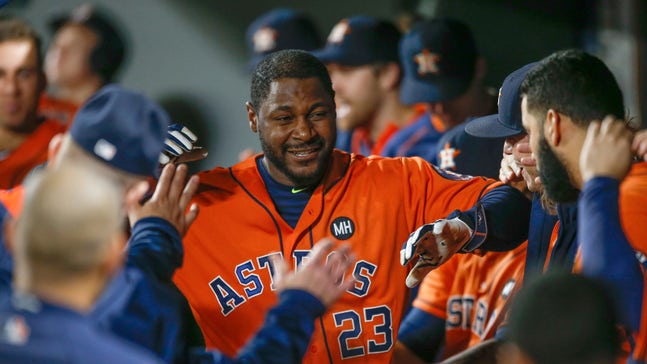 Pair of 35-homer sluggers highlights list of vets cut loose at deadline
Published
Dec. 3, 2015 1:55 a.m. ET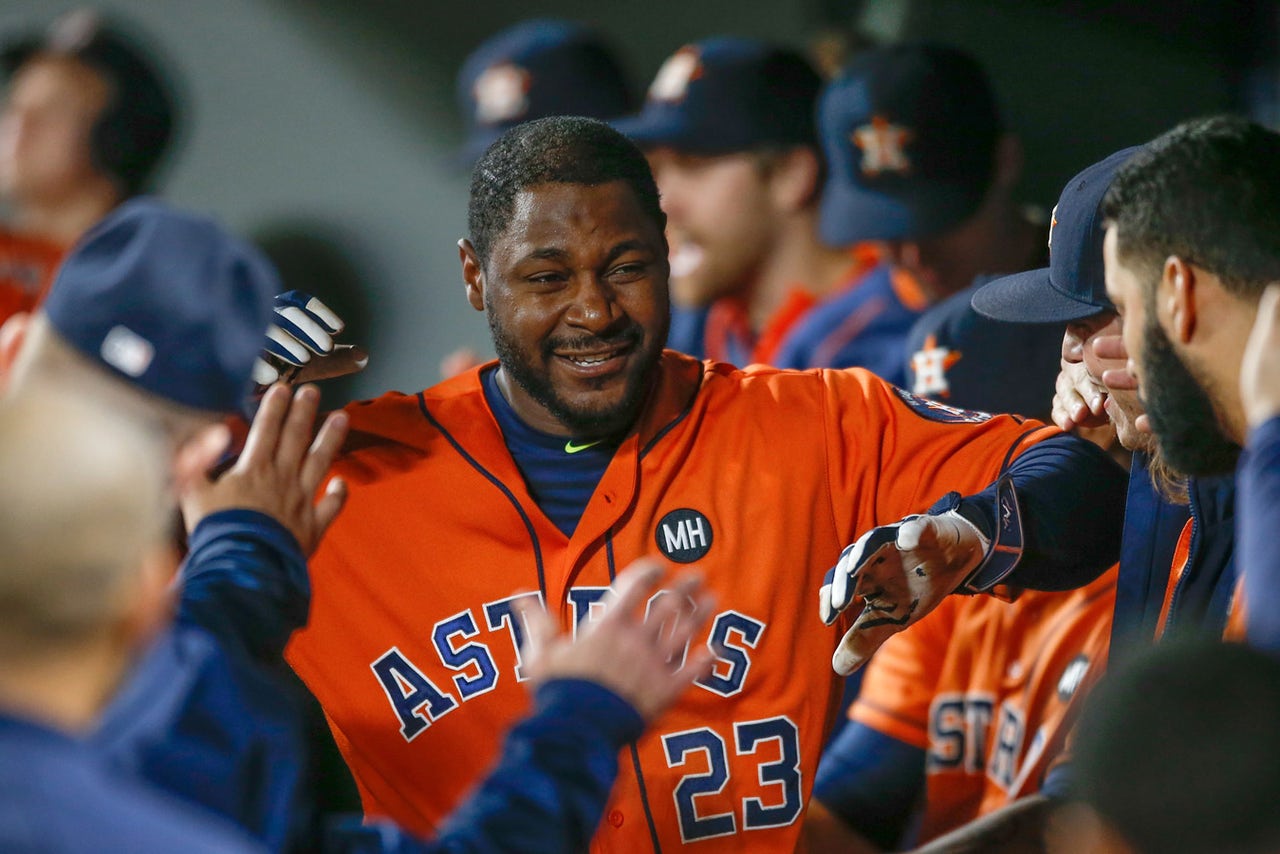 NEW YORK
Houston slugger Chris Carter, Pittsburgh first baseman Pedro Alvarez and injured Kansas City closer Greg Holland were among 43 players who became free agents when they weren't offered 2016 contracts by Wednesday night's deadline.
Carter, who hit .199 with 24 homers and 64 RBIs this season, made $4,175,000 in 2015 in his first year of arbitration and would likely have been paid at least $5 million next year.
"It's a business decision," Carter said. "There are few guys in my position and guys coming up behind me and I was making the most money, so I ended up being the odd man out."
Carter was benched this summer before working his way back into the lineup. The streaky hitter tied for second in the majors with 37 homers in 2014 and had 90 homers in three seasons with the Astros after a trade from Oakland.
The 28-year-old first baseman and designated hitter is a career .217 hitter with 109 homers and 280 RBIs.
Alvarez, drafted second overall in 2008, led Pittsburgh with 27 homers this season but struggled defensively after making the transition from third base to first. His 23 errors led the team.
The 28-year-old Alvarez, an All-Star in 2013 when he led the NL with 36 home runs, made $5.75 million this year.
"Pedro Alvarez grew up as a Pirate and he and his wife Keli were active members of our organization and our community for the seven seasons that Pedro was with us," Pirates President Frank Coonelly said in a statement. "Pedro also made major contributions to the success that we have had over the last several years. We thank him for his contributions and wish he, Keli and his young daughter all the best as Pedro continues his baseball career."
Holland, an All-Star in 2013 and '14, is not expected to pitch next year as he rehabs from reconstructive elbow surgery that caused him to miss the Royals' run to the World Series title. He had a 1.21 ERA two years ago and a 1.44 ERA in 2014. He had a 3.83 ERA with 32 saves this year, then had Tommy John surgery in October.
Among the more than 200 players eligible for arbitration at the start of the day, 162 remained at the end. Any player offered a contract is entitled to, at a minimum, roughly one-sixth of his 2016 salary as termination pay if he gets released.
Others who became free agents were Oakland first baseman Ike Davis; San Francisco pitcher Yusmeiro Petit; injured Miami pitchers Henderson Alvarez and Aaron Crow; Angels reliever Cesar Ramos; San Diego third baseman Will Middlebrooks; Detroit right-handers Neftali Feliz and Al Alburquerque; White Sox catcher Tyler Flowers and right-hander Jacob Turner; and Atlanta left-hander Mike Minor.
Oakland agreed to one-year deals with four arbitration-eligible players: left-hander Marc Rzepczynski ($2.95 million), left-hander Felix Doubront ($2 million), infielder Eric Sogard ($1.5 million) and outfielder Sam Fuld ($1,925,000).
Other arbitration-eligible players who agreed to one-year deals were Dodgers catcher A.J. Ellis ($4.5 million); Toronto first baseman Justin Smoak ($3.9 million); Colorado right-hander Jordan Lyles ($2,975,000); Baltimore right-hander Vance Worley ($2.6 million); Philadelphia outfielder Peter Bourjos ($2 million) and infielder Andres Blanco ($1.45 million); Cubs left-handers Clayton Richard ($2 million) and Rex Brothers ($1.42 million); Baltimore outfielder Nolan Reimold ($1.3 million); Texas catcher Chris Gimenez ($975,000); San Diego first baseman Brett Wallace ($1 million); Cleveland outfielder Collin Cowgill ($1 million); and Washington catcher Jose Lobaton ($1,387,500) and first baseman Tyler Moore ($900,000).
On the trade front, Baltimore added a bat as protection in case it loses Chris Davis, acquiring power-hitting Mark Trumbo and left-hander C.J. Riefenhauser from Seattle for catcher Steve Clevenger.
Oakland obtained first baseman Yonder Alonso and Rzepczynski from San Diego for left-handers Drew Pomeranz and Jose Torres plus a player to be named.
In addition, the Padres announced they hired Mark McGwire as bench coach.
Ahead of its $217 million, seven-year contract with left-hander David Price, a deal likely to be completed Friday, Boston finalized a $13 million, two-year agreement with right-handed-hitting outfielder Chris Young.
"I feel good about the roster as it is. I think we've been able to address really our biggest needs," new Red Sox president of baseball operations Dave Dombrowski said. "I think our major moves are done. But when you go into the winter meetings, you never know what happens."
Young, 32, had been with the New York Yankees since August 2014, batting .252 with 14 homers and 42 RBIs in 318 at-bats this year. He hit .327 against left-handers this season; with its 37-foot-high Green Monster just 310 feet from the plate in left field, Fenway Park seems ideal for his swing.
"One of my major strengths is pulling the ball. I think that Fenway can be advantageous to that," Young said. "Hopefully, my just-misses, I can get rewarded for that."
Seattle agreed to a one-year contract with outfielder Nori Aoki, according to two people with knowledge of the deal who spoke on condition of anonymity because it has not been finalized. Aoki was limited to 93 games with San Francisco this year due to a broken right leg and a severe concussion in the second half of the season.
The Mariners also agreed to a $750,000 deal with reliever Justin De Fratus, who became a free agent after the season rather than accept an outright assignment to the minors by the Phillies. Bourjos off waivers from St. Louis, and Kansas City acquired backup catcher Tony Cruz from St. Louis for infielder Jose Martinez.
Veteran infielder Gordon Beckham, an Atlanta native and former University of Georgia standout, agreed to a $1.25 million, one-year contract with the Braves, pending a physical.
Cleveland obtained Cowgill from the Los Angeles Angels for cash. Cowgill missed about half of last season because of a sprained right wrist and hit .188 in 69 at-bats.
Houston traded catcher Hank Conger to Tampa Bay for cash.
---
---