Utah Jazz vs. Denver Nuggets: Keys to the Game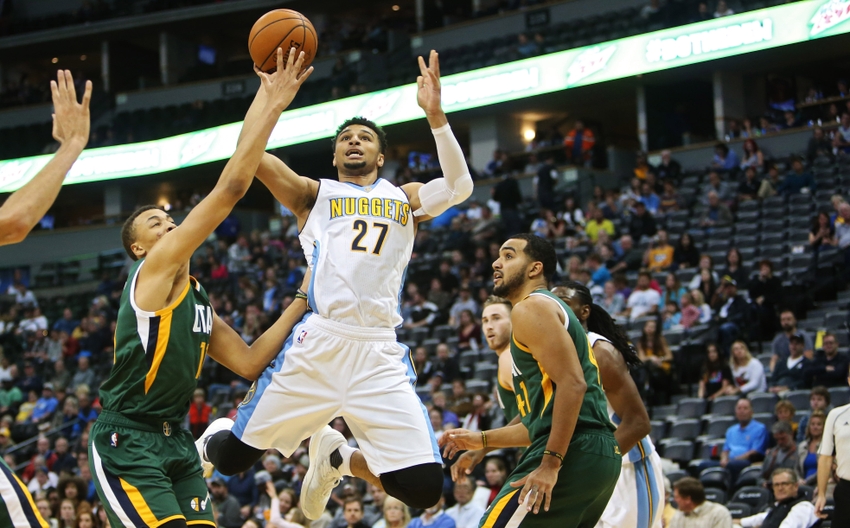 The Utah Jazz will have several advantages, including the likely return of George Hill, as they look to take revenge for Sunday's loss in tonight's contest against the Denver Nuggets.
With the Utah Jazz taking on the Denver Nuggets for the second time in a row and coming off a loss in their last meeting, it's pretty clear that they have a lot to change from last game in order to come away with a win this time around.
While the Jazz did actually do an exceptional job in keeping up on the boards against the NBA's top-rebounding team, which was one of my keys for their first meeting, their main issue was that they came out with little energy and were essentially run out of the Pepsi Center from the opening tip.
The Jazz have had two days to recuperate since then, so hopefully we'll see a refreshed and invigorated team that is ready to go out and defend their home court in tonight's contest.
They'll certainly have a great reason to come out confident as it was announced this morning that George Hill will more than likely be making his return to action in tonight's contest against the Nuggets. He's still listed as a game-time decision, but indications are positive that he will indeed suit up.
Though he has played in just seven games for the Jazz, he was a clearly instrumental piece to their success in those contests. Having him back on the court will help the offensive flow, allow Dante Exum to slide to the second unit to strengthen the bench and allow the Jazz to utilize Hill as a wing stopper, something they desperately needed on Sunday as Utah was unable to contain Nuggets rookie Jamal Murray.
Therefore, with a rested squad, home-court advantage and the probable return of George Hill, the Utah Jazz should be feeling pretty good about tonight's bout with the Nuggets. Nevertheless, their poor play in Sunday's match-up won't just fix itself automatically given those positives. If the Jazz hope to come away with a win, they'll need to shore up several key areas.
Key Match-up – George Hill and Emmanuel Mudiay
While it's definitely exciting to likely have George Hill back in action in tonight's contest, it's also a little nerve-wracking. He's reportedly still dealing with soreness in his thumb, so as great as it is to have him on the court, the Jazz's veteran point guard will have to be extra careful to prevent re-aggravating it.
Yet given the fact that the Jazz have already been cautious with him by giving him several games off and considering that he successfully went through practice yesterday and shootaround this morning, it looks like the George Hill we grew accustomed to in the early season may just be the one we get tonight.
And the Jazz will certainly need him to be at the top of his game to help slow down Nuggets point guard Emmanuel Mudiay. Utah did a good job of containing Mudiay in Sunday's contest, but the young and exhilarating point guard is off to a solid start in his second year of NBA action.
He's currently averaging 15.1 points, 5.1 rebounds and 4.1 assists per game and has been the catalyst for Denver's offense. He has, however, struggled to find his shot. He's currently shooting just 36.3 percent from the field and an abysmal 26.3 percent from deep.
But despite the shooting woes, Mudiay consistently finds a way to contribute. He logged eight of the Nuggets impressive 31 assists in Sunday's victory and is the kind of player that always provides energy and hustle when the squad needs it most.
To be effective against Mudiay and the Nuggets, George Hill will need to not only contain Mudiay's scoring ability, but also make life miserable for him defensively to prevent easy passes and defense-collapsing cuts to the lane. If Hill is able to do so while also tiring Mudiay out by being an offensive threat, then the Jazz will likely find themselves in a good spot to take control of the game.
Key Stat – Assists
If energy was a measurable stat, that would definitely be the key for this game, because in these two teams' previous match-up the Nuggets "out-energied" the Jazz 10 to 1.
While energy isn't measurable, assists sure are. And the Nuggets racked up 31 of them against the Jazz last game. It was an impressive showing of ball movement and teamwork that came as a direct result of the Nuggets' incredible energy throughout the game.
The Jazz on the other hand put up less than half as many assists as the Nuggets, finishing with just 15. Utah currently sits at second to last in the league in assists per game, a figure that will have to see marked improvement tonight if they hope to produce enough offensive firepower to top this high-paced Denver team.
The return of George Hill should help the ball movement, flow and therefore, the assist numbers, but Utah needs to have a better offensive commitment from the entire team. In too many occasions the ball has stuck to one player or one side of the court. Unless the Jazz move the ball and produce easier looks at the basket, their offense will likely remain stagnant and facilitate a second straight Nuggets win.
Key Performer – Rudy Gobert
While Rudy Gobert certainly didn't have the best of nights in the last contest against the Nuggets, he was one of the few Jazz players who appeared to bring some energy to the table. He finished the game with six points, seven rebounds and two blocks but was hindered by early foul trouble that prevented him from making as big of an impact as he's capable of.
But I fully expect Rudy to bounce back in tonight's contest. When he can avoid fouling and stay on the floor, he has been as daunting as ever this year defensively and should be able to take advantage of his match-up at the center position.
Don't get me wrong, Jusuf Nurkic is a tough cover as evidenced by his 16 points in the previous contest and his season average of 10.9, but Rudy's extra year of experience coupled with his length and athleticism should allow him to outmaneuver Nurkic and challenge him all night long.
With the Nuggets boasting a prolific power forward in Kenneth Faried and with the Jazz missing Derrick Favors, they'll need Rudy Gobert to have a big game in the paint to help them secure the victory.
Prediction – Jazz 101, Nuggets 91
My feeble attempt at reverse psychology certainly didn't work last game as picking the Nuggets to win did indeed end up being the case. This time around, I'm going with the Jazz by a score of 101-91, just as I predicted in my week five preview.
The fact that Utah is finally well-rested, is playing on their home court and will benefit from the return of George Hill makes me all the more confident that we'll see a more energized Jazz team pull away and take the win from a young and developing Nuggets squad.
Denver proved in Sunday's contest that they are a team that you absolutely cannot fall asleep against, but with veteran leader Hill back on the floor to help control the tempo, the Jazz will be much better equipped to deal with this foe.
And that's good news, because the Jazz, who are currently in a four-game slump, are in need of a win to get them back on track. Especially as they prepare to face a tough Atlanta team on Friday then return to a busy four-game week next week, they truly need to take care of business in this winnable game and come away with the victory.
All stats courtesy of NBA.com
This article originally appeared on