The Indiana Pacers have big problems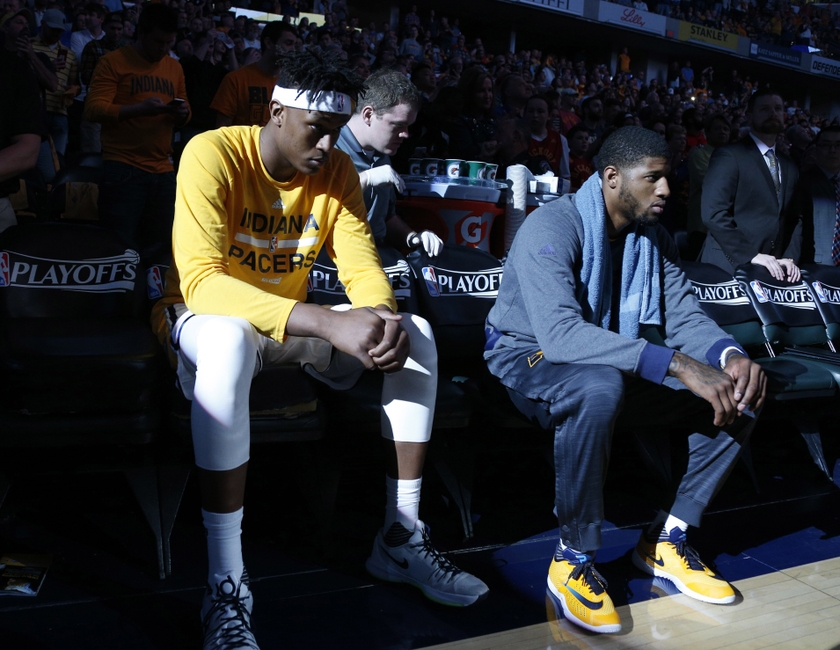 The impression the first 19 games of the Indiana Pacers' season have left on you likely depends on the expectations you had for them coming into the year.
A somewhat fashionable pick to jump into the top half of the Eastern Conference playoff bracket, the Pacers are off to a 9-10 start to the season and sport the point differential of an 8-11 team, per Basketball-Reference, despite having played the fourth-easiest schedule in the NBA to date. They've been dreadful on the road, losing to the Brooklyn Nets and Philadelphia 76ers and getting blown out by the Chicago Bulls (17), Milwaukee Bucks (18), Charlotte Hornets (22), and the Portland Trail Blazers last night (22). Their seven double-digit losses are more than all but three teams and they've needed overtime for three of their nine victories.
Those expecting the team's shift to a smaller, quicker lineup powered by Jeff Teague at the point, to lead to a goosed up offensive efficiency have been disappointed. Indiana is indeed playing faster (10th in possessions per game prior to Wednesday's loss, per NBA.com) but that increased speed has not yielded increased efficiency (23rd in offensive rating). Thus far, the Pacers have been a league-average shooting team that almost never goes to the line (27th in free-throw rate) and rarely makes opponents pay on the glass after misses (22nd in offensive rebound rate).
Read More: How Chris Paul changed his game and extended his prime
Paul George has picked up right where he left off, Myles Turner has taken a step forward, and the Pacers have gotten ace deep shooting from C.J. Miles and even Thaddeus Young; but Jeff Teague (shooting 41 percent from the field and 26 percent from three) has been a major disappointment as the engine that was supposed to power an improved offense and has failed to mesh with Monta Ellis–whose usage rate has plummeted to a career-low and whose effectiveness has been neutered–in any manner. Al Jefferson, who was supposed to dominate backup bigs in the post, instead ranks in just the 60th percentile among post scorers, per Synergy Sports, and on only 3.4 such plays per game.
Possessions can turn into dribble-fests as George or Teague or Ellis maneuvers at the top of the key, waiting for an opening that never comes. Everything looks smoother when Indiana puts one of them in a pick and pop with Turner, as they did repeatedly in beating the Clippers–without George–the other night. Stop me if you've heard this before, but a true big man that can hit consistently from the outside throws a crimp into every defense's game plan. Turner is shooting an incredible 56.9 percent as the roll man, per Synergy, fourth-best among the 34 players taking at least two such shots per game. A healthy portion of those looks have been jumpers, and he's knocked them down–he's shooting 45.5 percent on catch-and-shoots so far this season. Stretching the defense by directly involving him in the action just makes everything cleaner for everyone else. Driving lanes are wider, the basket isn't as well-protected, helpers have to worry about an additional threat.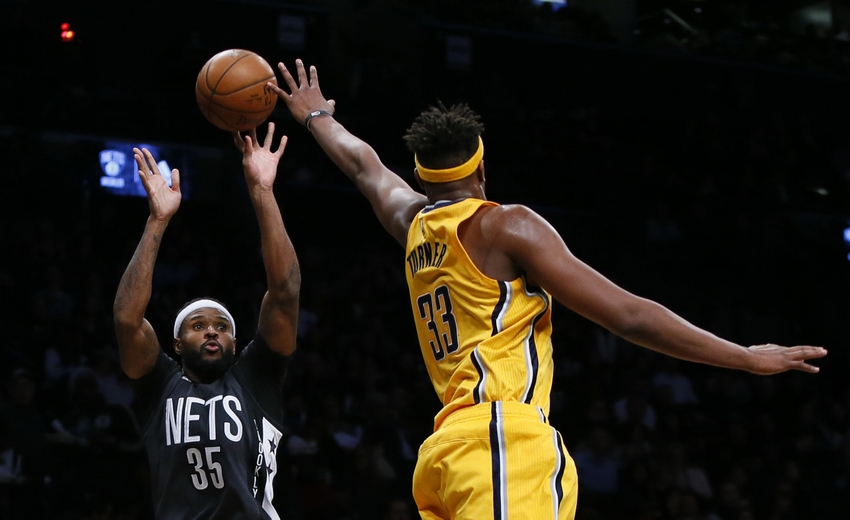 On the other end of the floor, it's fair to say the Pacers have exceeded expectations. They're just a smidge outside the top-10 in defensive efficiency, and that's despite starting minus defenders at both guard spots and a 20-year old in his second season at center. George's usual All-Defense caliber work is a huge factor in that near-top-10 ranking, but he's already missed seven games. Turner's ability to work as a back-line protector and space-eater quicker than expected has played a big role. He showed last year that he has excellent timing when coming over in help defense to block shots near the rim, but there were too many occasions where he looked lost and couldn't get to the shot in the first place. He's contesting over 10 shots per game this year, per NBA.com's new hustle stats, and he's one of only 30 players doing so.
Here's the thing about the Pacers' defense, though: it may be a house of cards that's in danger of collapsing fairly soon. The Pacers protect the rim (opponents have shot only 57.9 percent in the restricted area, 24th in the NBA) and force a ton of turnovers (16.5 percent of opponent possessions have ended with the Pacers taking the ball away, second-most in the NBA), but they don't do anything else exceptionally well — or even well at all.
They have the league's third-lowest defensive rebound rate, which has led to them yielding the fourth-most second chance points per game. They've given up the sixth-most points per game off turnovers and only the Bucks have given up more 3-point looks per game from the corners. Only five teams have allowed more above-the-break three attempts per game, and opponents have shot an unsustainably low 31 percent on those attempts. That number is extremely likely to tick up over the rest of the season. No team has shown a consistent ability to force teams into missed threes — the only way to stop threes from being made is to stop them from being attempted in the first place, and the Pacers have let their opponents take 29.5 triples a game. That's a figure exceeded by only one team.
The Pacers have also yielded a league-high 19.2 "wide-open" shots per game, per NBA.com's SportVU data, a concerning figure, particularly when you consider that the rest of the bottom five features the Sixers, Pelicans, Nets, and Suns. They've gotten incredibly lucky in that their opponents have connected on those looks at a rate that is 1.5 percent worse than the league average.
Pairing a considerably below-average offense with a defense that isn't quite top-notch and is likely to regress is not the recipe for an Eastern Conference contender. On one side of the floor or the other, the Pacers are going to have to figure something else out. George is the team's lone true two-way star at this point, though Turner is pushing for that status as well. How soon he can get there may determine whether the Pacers' playoff dreams become a reality.
More from FanSided
This article originally appeared on