Post-Game Grades: Portland Trail Blazers Steamroll Past Indiana Pacers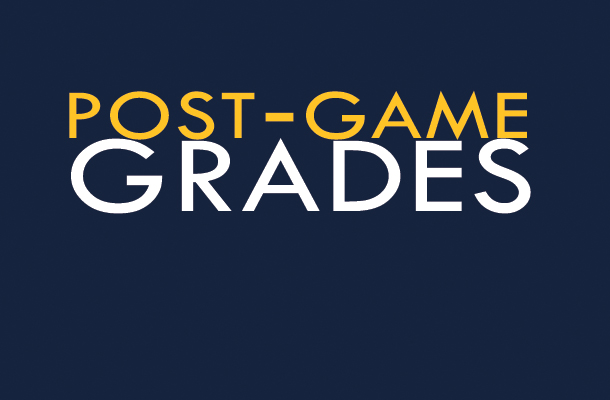 109

131
The Indiana Pacers fell to 9-10 on the season following a blowout loss to the Portland Trail Blazers on Wednesday night.
The Good: The offense was there. The Pacers lost this game on the defensive end. They scored 58 first half points, which is a good number, and finished the game with 109 points. Another good thing was that the Pacers fought back in the fourth quarter. They had it down to 13 at one point, which was great considering they were down by well over 20 in the third.
The Bad: After some really solid consecutive games on the defensive end, it seemed the Pacers couldn't string together multiple stops at all tonight. They allowed 131 points, which is obviously not a good number.
MVP: Damian Lillard. Lillard torched the Pacers from inside and out and had his fingerprints all over this game. Dame finished with a double-double of 28 points and 10 assists.
LVP: Monta Ellis. Monta just couldn't get it going and was only able to get five shots up. He also had the tough task of guarding C.J. McCollum, who scored 19 points.
X-Factor: Maurice Harkless. Harkless had another double-digit scoring outing for Portland. He knocked down threes and helped Portland blow the game open very early. Harkless finished with
Jeff
Teague
Point Guard,
Indiana Pacers
B+
Teague was aggressive on the offensive end, but couldn't stop Damian Lillard. The good thing is that he made one of his two three-point attempts, handed out 8 assists, and scored 25 points on 7-13 shooting.
Monta
Ellis
Shooting Guard,
Indiana Pacers
D
Monta wasn't engaged in the offense and scored just 4 points on 1-5 shooting from the field. He also had to guard C.J. McCollum, who scored 19. Some of it was just ridiculous shot-making ability, but there were instances where McCollum got wide open for a score.
Myles
Turner
Center,
Indiana Pacers
B
Turner came to play and scored 19 points to go with 10 rebounds in 31 minutes. He got to the foul line 5 times, making all of his attempts. Turner looked comfortable out there, but it was in an unfortunate losing effort for the Pacers.
Thaddeus
Young
Power Forward,
Indiana Pacers
F+
Thad struggled from the very beginning and easily had one of his worst games of the year. He finished with 4 points and 3 turnovers in 23 minutes. He didn't get it done on either end of the floor.
Glenn
Robinson III
Small Forward,
Indiana Pacers
B
III didn't get as much shots as we would have liked to see, especially with him knocking them down, but he put together another solid performance in a start. He scored 15 points on 6-10 shooting and grabbed 4 rebounds in 34 minutes.
Rodney
Stuckey
Shooting Guard,
Indiana Pacers
C-
Stuck was his usual aggressive self and got to the foul line six times, making five of his attempts. He shot 2-6 from the field, though. Stuckey finished with 9 points in 24 minutes.
Al
Jefferson
Center,
Indiana Pacers
C
Big Al got torched on defense in the first half, but found some rhythm in the fourth quarter on the offensive end. He finished the game with 13 points on 5-8 shooting and 1 rebound in 21 minutes.
Lavoy
Allen
Power Forward,
Indiana Pacers
C
Allen was quiet, but did block 2 shots in just 17 minutes of play. He hit two free-throws for 2 points, grabbed 2 rebounds and handed out 2 assists.
Aaron
Brooks
Point Guard,
Indiana Pacers
B+
Brooks knocked down shots again and was the only rotation player to post a positive plus-minus tonight (+6). He finished with 16 points on 6-10 shooting (3-5 from deep) and 3 turnovers.
More from 8 Points, 9 Seconds
This article originally appeared on