Orlando Sentinel: Devin Booker lobbied Orlando Magic to draft him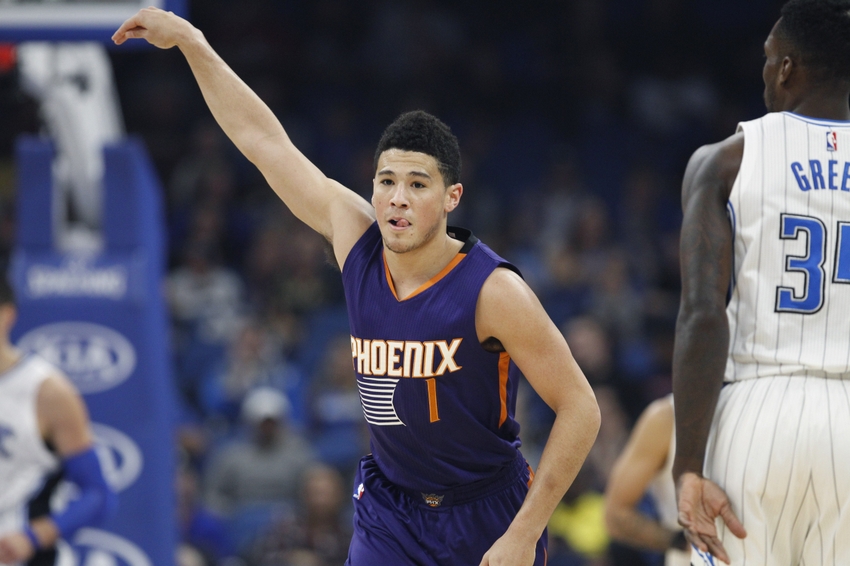 Devin Booker is happy to be a Phoenix Suns player. But if he had his way during the 2015 NBA Draft, he might have ended up in Orlando with the Magic.
The Orlando Magic gave their fifth overall pick from the 2015 Draft a chance early in the fourth quarter after leaving him out of the rotation for much of the past two weeks.
The assignment Mario Hezonja drew is one that has become something of a microcosm for discussion regarding Mario Hezonja and that fateful draft. He drew Devin Booker, and almost immediately the 13th overall pick from the draft hit a jumper over Hezonja.
Watching Booker light up the scoreboard with the Phoenix Suns — he had only 11 points on 4-for-10 shooting in 34 minutes Wednesday — has left Magic fans wondering what could have been.
Booker, although happy in Phoenix, also may be thinking about what could have been too.
The young guard from Kentucky told Josh Robbins of the Orlando Sentinel he lobbied Orlando Magic owner, and fellow Grand Rapids, Mich., native, Rich DeVos to take him with the fifth overall pick in that draft.
"I'm really close with the owners here," Booker said Wednesday before the game. "It was funny. They had a top-five pick. Obviously, I wasn't being rated that high. But I'm good friends with the DeVoses because we're both from Grand Rapids, Mich. I was telling them, 'I need to come to Orlando.' But I knew it wasn't going to happen. It was a long shot. I'm happy where I'm at."
Considering Hezonja has struggled to crack the rotation or find his footing in the NBA with the Magic and Booker has become a scoring machine for the Suns, that certainly throws some shade on Rob Hennigan and the selection he made two years ago.
In fairness, Booker is right. Few mock drafts or draft experts had Booker going as high as fifth, where the Magic picked. The highest Booker was slated to go at was seventh to Denver (the Denver Nuggets picked Emmanuel Mudiay). I personally had Booker going ninth on my final published mock draft (the Charlotte Hornets selected Frank Kaminsky instead).
Most projections for the Magic at the time had them deciding between Hezonja, Kristaps Porzingis (he went fourth to the New York Knicks) and Justise Winslow (he went 10th to the Miami Heat).
This is all to say, the Draft is a giant crapshoot sometimes. Scouts and prognosticators get a lot of things wrong and miss on prospects a lot. Every team has a story about a player who got away in the Draft for one reason or another.
With the Magic, though, trying desperately to make the Playoffs this season, they needed contribution from several of their young players and for the team to step up. Hezonja was certainly included in that group.
Hezonja is struggling, averaging 5.1 points per game and shooting 30.3 percent from the floor and 17.2 percent from beyond the arc. He has played in only 10 of the Magic's 15 games and is out of the rotation now. Playing time is not guaranteed to him. His offense was supposed to give him the edge over the defensive-minded Winslow to many from that draft.
Booker has proven himself to be a much more capable shooter. With the freedom to let it fly, Booker is averaging 19.3 points per game and shooting 41.8 percent and 32.9 percent from beyond the arc on 17.1 field goal attempts per game. Hezonja never had that freedom to shoot his way out of mistakes. Booker has taken advantage to put up some gaudy numbers.
In any case, the Magic, like many teams, missed out on something in Booker. The fact Booker had a desire to and may have actually lobbied the Magic to pick him, only makes that sting worse.
But every NBA team likely can tell a story of a draft pick they just missed on for one reason or another. This one only stings more for how important Hezonja's development has proven to be and the struggles he has faced so far this season.
More from Orlando Magic Daily
This article originally appeared on