Milwaukee Bucks Daily: Bucks Poke Fun At Warriors Fans In Bradley Center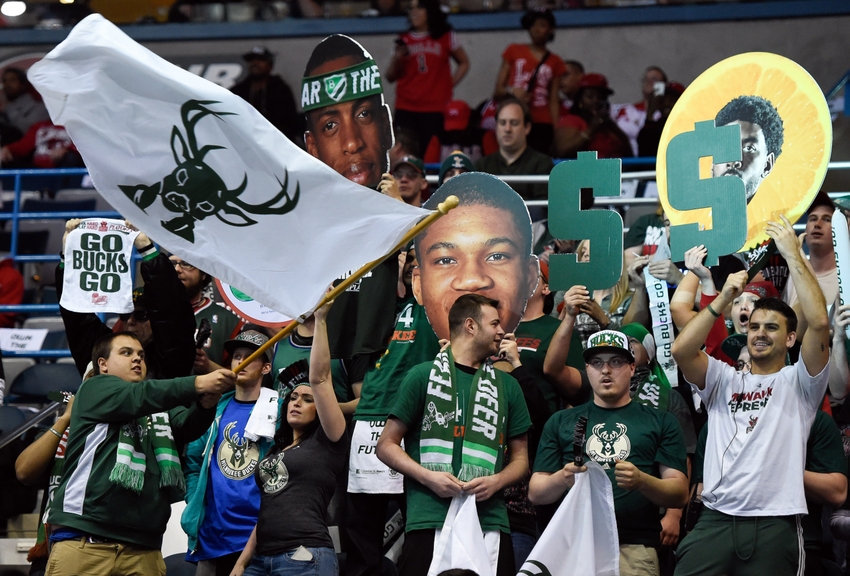 The latest Milwaukee Bucks Daily is here as the Bucks poked fun at some of the Warriors fans in attendance at Saturday's game.
Welcome back to Milwaukee Bucks Daily.
If this is your first time joining us for the daily roundup, the idea of this piece is generally to help keep you up to date on the best of all the latest Bucks news on a day-to-day basis.
This column acts as a means to recap what you might have missed from us at Behind The Buck Pass on the previous day, but also more importantly to share with you some of the work from around the internet that is worth your attention as a Bucks fan.
As usual, if you spot something that you think might be of interest, you can send it our way too. Tweet it to @BehindTheBucks or mail it to winin6podcast@gmail.com.
Let's get down to it:
Best of Behind The Buck Pass From 11/20/16
Milwaukee Bucks: Takeaways From Loss To Golden State Warriors (read here): I took a look back on the narrow loss to the Warriors on Saturday, highlighting some of the good and the bad from that loss.
Milwaukee Bucks: Grades From 124-121 Loss To Golden State Warriors (read here): Ti Windisch also looked back at the action from the Golden State defeat, grading each Bucks player, Jason Kidd and the Warriors.
Best of Bucks Across The Internet From 11/20/16
Bucks embarrass Golden State Warriors fans with "Bandwagon Cam" (read here): As the Warriors visited the Bradley Center on Saturday, Milwaukee's game ops crew had some fun with a bandwagon cam to highlight some of the Golden State fans in attendance.
Sterling defense at finish gives Bucks hope (read here): Charles Gardner of the Milwaukee Journal Sentinel spoke to Jason Kidd and many of the Bucks players about the team's late game defense against the Warriors on Saturday.
Westchester Knicks bolt past Canton Charge for third consecutive win (read here): The Westchester Knicks picked up a dominant win on Sunday, as Rashad Vaughn played a relatively small role in the action. Vaughn only played 11 minutes, scoring eight points and grabbing six rebounds while shooting 3-7 from the field.
That's it for today's roundup but check back in tomorrow when we'll do it all again.
More from Behind the Buck Pass
This article originally appeared on