LeBron James Has God Mode Game Against Charlotte, Again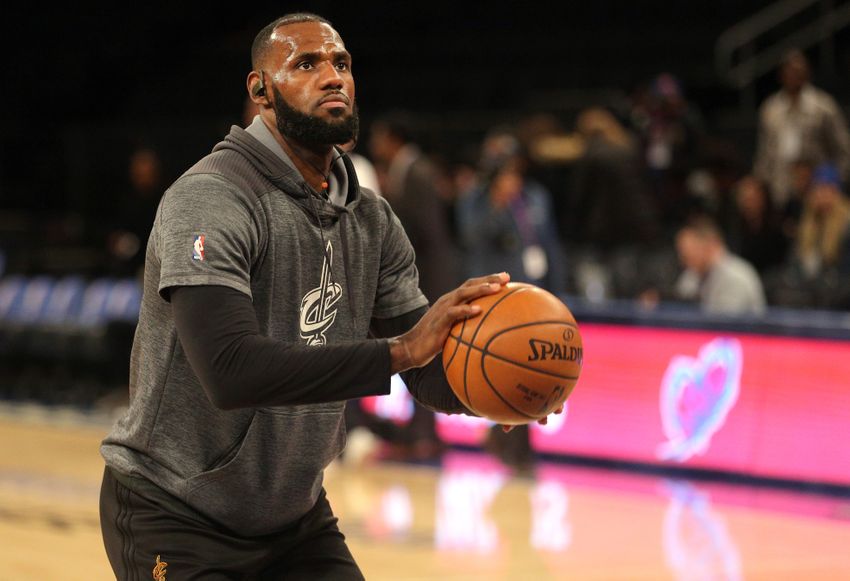 LeBron James has a fixation on surpassing Michael Jordan and it's never been more clear than when he plays the Charlotte Hornets.
LeBron James has beat the Charlotte Hornets in 25 of their last 26 meetings and just had his highest regular season scoring game in two years as he scored 44 points in what was truly a vintage performance for the Cavs as they donned their orange Hardwood Classis uniforms for the second night in a row.
In the 2013-2014 season, his 61-point performance against the then-Charlotte Bobcats set his career-high in points and a franchise record for the Miami Heat. In dropping those 61 points, James scored 25 points in the third quarter and another 12 in the fourth. His 25 points in the quarter and 37 points in the half were also Miami Heat franchise records.
There are astonishing similarities between the two games.
The night he scored 61, as he put forth a godly performance that included going 8-of-10 from the three-point line with an assortment of heat checks, he also went 22-of-33 from the field in a remarkably efficient fashion. He actually made 61 points look easy that night. Donning a face mask that made him look every bit like a superhero. Some black-clothed figure there to save the citizens of South Beach with a mixture of wrath, ninjutsu and special intelligence.
As was previously mentioned, James scored 25 points in the third quarter and another 12 points in the final frame to lead his team to a 124-107 victory over the Charlotte Bobcats.
In scoring his 44 points against the Hornets, James went 17-of-24 from the field and 5-of-10 from three-point range. He went through his heat checks and found himself to be as close as Apollo to the sun. He scored 25 of his team's last 26 points. A feat that conjures memories of his 25 straight points against the Detroit Pistons in Game 5 of the 2007 Eastern Conference Playoffs, James was truly unguardable and unfortunately for the Hornets, he knew it.
Like his performance against the Bobcats, James was dominant all-around against the Hornets, adding in 10 assists and 9 rebounds (James had 5 assists and 7 rebounds against the Bobcats) to a healthy box score. Michael Kidd-Gilchrist, renowned for his defensive capabilities, was once again thrown into the torture chamber as James got anything he wanted offensively and held Kidd-Gilchrist, who is already a non-scorer, to 2 points. Against the Bobcats, James held Kidd-Gilchrist to 8 points.
In the midst of the game, James passed Elvin Hayes for ninth all-time in career points and now needs just 50 points to pass Moses Malone. After that, James can begin chasing Shaquille O'Neal and his 28,596 points. That's a number James should pass by the end of the season if he keeps up his scoring pace of 25.0 points per game and plays about 48 more games this season.
James also became the first player with 27,000 points, 7,000 assists and 7,000 rebounds for his career. He's in a class of his own when it comes to all-around dominance. Even more impressive is that James is likely to have 30,000 points, 10,000 assists and 10,000 rebounds if he plays into his late 30s. For a man who wants to be bigger than Michael Jordan, statistical achievements like that go a long way towards helping his cause. So do nights like this, where James' dominance from every area of the floor but especially the Jordan-esque turnaround fadeaway jumper he kept hitting all night long, shows that anything Jordan did on the floor James could do too.
Maybe even better.
If James played all his games at Madison Square Garden or against Jordan's team, the dominance he'd put on display would dwarf the dominance seen from him in any recent event except his NBA Finals performances against the Golden State Warriors. He can't, and Cleveland Cavaliers fans would give him an earful if he tried to, but on the biggest stage the King delivers again and again.
Did you see LeBron James' performance against the Charlotte Hornets last night? Let us know in the comments section or Twitter @KJG_NBA!
More from King James Gospel
This article originally appeared on