Joel Embiid Won't Travel or Play on Wednesday vs. Pacers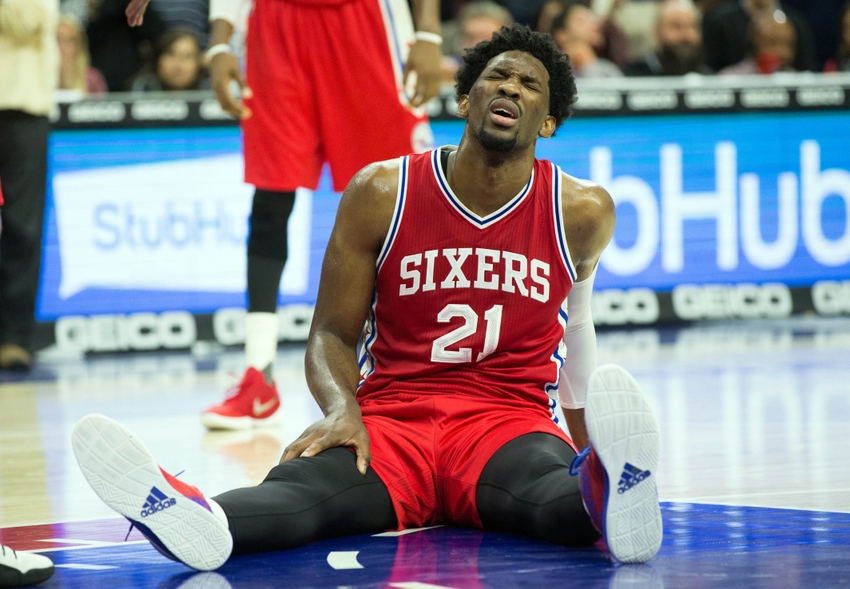 The Philadelphia 76ers announced on Tuesday after practice that Joel Embiid would not travel with the team or play on Wednesday.
The Philadelphia 76ers warned us at the beginning of the season that rookie sensation Joel Embiid probably wasn't going to be appearing in many — if any at all — back-to-back games. This was due to Embiid coming off of two straight seasons of being injured.
What we're finding out now, however, is that there may be the occasional non-back-to-back night that Embiid sits out, just to be cautious. With the Sixers being scheduled for six games over the next eight days, the team has decided it would be best to sit Embiid for Wednesday's game against the Pacers.
This away game will be the Sixers' second away game of the season, and will be the second away game that Embiid will not be playing in. It makes a lot of sense for the Sixers to sit Embiid after having a game on Monday as well. Although he has not shown many serious signs of injury, he has had some minor issues in-game that are to be expected from any NBA player. He was noticeably limping after a tough play against the Cavaliers on Saturday.
This actually sets the Sixers up nicely. They will go into their game against the Pacers on Wednesday without Embiid, but will have a chance to learn what the Pacers are all about and how to counter their best efforts.
Then, on Friday, the Sixers host the Pacers, and will also be able to play Embiid, who, in this case, can be seen as a "secret weapon" of sorts. The Pacers obviously know about Embiid and have seen what he can do, but facing him in real life, on the court can be a whole different story. If the Pacers saw him on Wednesday, they might have a better plan for countering him on Friday.
Instead, the Pacers won't see him Wednesday, but will have to go up against him, not knowing exactly how he plays, and with three full days of rest and no travel. And also, Embiid has the home court advantage.
It's looking more and more like the Sixers will walk away from this home-and-home against the Pacers with at least one win.
More from The Sixer Sense
This article originally appeared on