Giannis Antetokounmpo Isn't Fair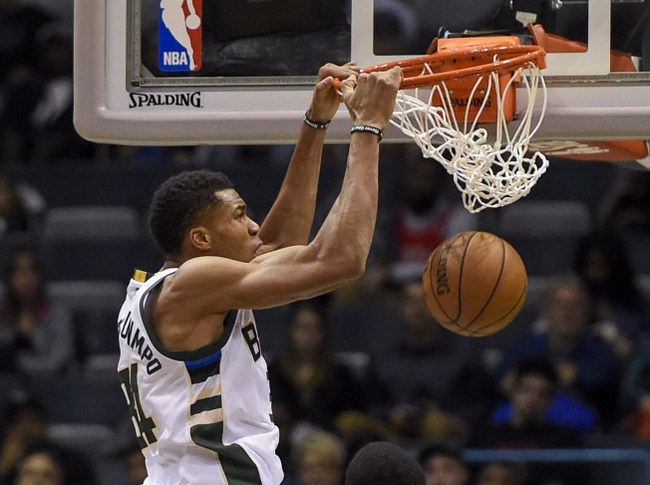 After three years as an Internet sensation, Giannis Antetokounmpo is making the leap to legitimate stardom.
From the moment Giannis Antetokounmpo was drafted by the Milwaukee Bucks, he was an Internet sensation.
Drafted as a 6-foot-9, 196-pound 18-year-old who had spent the past year playing in Greece's second-tier basketball league, the potential was there but the game wasn't.
With his one-of-a-kind size, length and athleticism, people fell in love with the idea of Antetokounmpo more than the reality of who he was.
While it was fun to think of what type of player he could become, there was always a little doubt about whether or not he'd be able to fulfill his endless potential.
Throughout the first few games of this season, he's been downright unfair.
So far, Antetokounmpo is averaging 21.1 points, 8.4 rebounds, 6.0 assists, 1.9 steals, and 1.9 blocks per game on 51.3 percent shooting.
Looking at numbers at this point in the season is often a foolish endeavor.
Five games isn't enough to accurately measure a player, but when the numbers are close to being in line for our expectations, we can have a bit more confidence that the output in a small sample size is a sign of things to come and not just a flash in the pan.
The Bucks decided to unleash Point Giannis on the league full-time on Feb. 22 in a game against the Los Angeles Lakers. In that game, Antetokounmpo went off for 27 points, 12 rebounds and 10 assists.
From that game until the end of the season, Antetokounmpo averaged 18.8 points, 8.4 rebounds, 7.5 assists, 1.5 steals and 1.9 blocks while shooting 51.5 percent from the field.
The list of players in NBA history who have compiled those points, rebounds and assist averages over an entire season goes as follows: Wilt Chamberlain, Oscar Robertson, Larry Bird, John Havlicek, Fat Lever, Magic Johnson, LeBron James and Russell Westbrook.
That was the company he was in last season, and he's only gotten better.
The numbers that Antetekounmpo are putting up aren't a brand new thing, but show the latest evolution of his game.
The numbers are fascinating but seeing how they're generated is what makes Antetokounmpo terrifying for opponents. With his unreal frame, he can do things on a basketball court that very few, if anyone can do.
At least once a game, Antetokounmpo does something that only a handful players in the entire league can make.
Even his misses have been jaw-dropping.
Antetokounmpo's growth in his fourth season was expected, but it's still breathtaking to watch. Somehow, he's only 21 years old.
In his brief career, part of the mystery was wondering what he is. Is he a small forward? Power forward? Can he give you minutes at center?
With his role as a point-forward solidified for now, we can stop treating Antetkounmpo as a mystery and start looking at what he can do. With his unique skill set paired with a unique body, he's truly unlike anyone else in the league.
This isn't to say that he isn't without his weaknesses.
Antetokounmpo's most glaring weakness is his shooting, which still has a ways to go. He has found a way to mitigate that weakness though.
Who needs a jump shot when you can get to the rim and finish there at an elite level?
That thought is short-sighted, but it's worked for Antetokounmpo thus far. Instead of strengthening his weaknesses, Antetokounmpo has made his strength an elite skill and something he can do more frequently. Just take a look at that same shot chart for last season.
If Antetokounmpo were to continue at his current pace and play in 80 games (his total last season), he'd attempt 175 more shots at the rim than he did last season.
Think of it him like early Blake Griffin or Dwyane Wade, who made their living at the rim despite a lack of a consistent jump shot. Instead of expanding their games, they spent their early years getting even better at their strength.
At only age 21, Antetokounmpo still has plenty of time to develop some semblance of a jump shot and expand his shooting range, but for now he's most effective when he's getting to the rim.
Antetokounmpo isn't a finished project, but he's making the leap from "intriguing prospect" to "All-Star" pretty quickly.
If Antetokounmpo continues playing at a high level and the 4-3 Bucks can stay around .500, he should challenge Paul George and Carmelo Anthony for a starting spot in the 2017 All-Star Game.
Whether Antetokounmpo and the Bucks' success continues or not, he'll be a show unlike any other player in the league.
This article originally appeared on