CBS Sports: Serge Ibaka top free agent with something to prove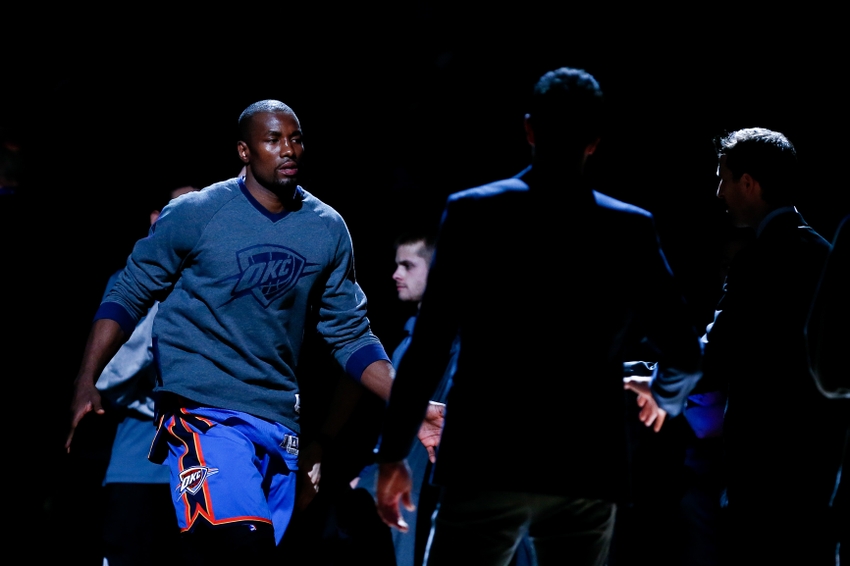 Serge Ibaka is entering an important contract year that could very well determine the rest of his career. That is why he has the most pressure this year.
Serge Ibaka is at a turning point in his career.
Any contract year is really a turning point. In a sport where nothing is guaranteed and value is illusory, each new contract represents risk. Nothing is ever guaranteed in sports.
Serge Ibaka became one of the most unique and dominant players in the league in the first half of his career. He built up a reputation as one of the best rim protectors in the league. He still is by all accounts.
In the crazy world of the NBA, Ibaka has begun to see a decline in his defensive numbers and his scoring the last few years. The Thunder certainly felt comfortable parting ways with him this offseason.
Ibaka is not quite the game-changing player he once was. Coming off a four-year, $49-million extension that ends after this season, it is hard to assess what kind of value Ibaka has. Certainly he will see a raise from his $12.4 million. But just how much in this new NBA reality and whether he could get more is a question he and the Magic are going to answer together this season.
It is why James Herbert of CBS Sports writes Ibaka is the potential 2017 free agent with the most to play for this season:
"A couple of years ago, every team wanted someone like Ibaka. His efficiency dropped when Kevin Durant missed most of the 2014-15 season, though, and his 3-point shooting fell off last year (until the playoffs started, anyway). He's still one of the best rim protectors in the league, but he has spent more time on the perimeter on both ends in the last two years. If that's where he's going to stay, then he needs to be a consistent shooter and a willing passer."
Ibaka is coming off a season that continued a general downward trend for him. He averaged 12.6 points, 6.8 rebounds and 1.9 blocks per game. Those are all lows since 2012 in points and his rookie year in 2010 for rebounds and blocks.
While not the be-all, end-all for measuring his defensive impact, his defensive win shares the last two years were 2.7 and 3.0, his lowest since his rookie year. His defensive box plus minus of 1.3 and 1.0 were his lowest since 2011.
Ibaka is working to reverse a pretty clear downward trend for his career.
The good news, he should have every opportunity to show exactly what he can do this year in Orlando. At 26 years old, Ibaka could be looking to get his last shot at a max contract. He is entering what would typically be the prime of his career.
This season presents a huge opportunity for him to show he can be more than defensive ace. He has never used more than 20 percent of a team's possessions in his career offensively. The Magic figure to feature him prominently on the ball in the post. And they will need him to play at that defensive peak and become a leader to achieve their goals.
It puts a lot of pressure on Ibaka to perform.
That pressure is there anyway as it is on all players entering a contract year. How the Magic proceed with Ibaka and how Ibaka's career winds next gets determined almost wholly on how he plays this season.
Ibaka has value. He is still a very strong defender — an elite rim protector. What he is beyond that though is yet to be determined. And will be the story of the 2017 season.
More from Orlando Magic Daily
This article originally appeared on