Bucks (11-11) at Raptors (16-7): Preview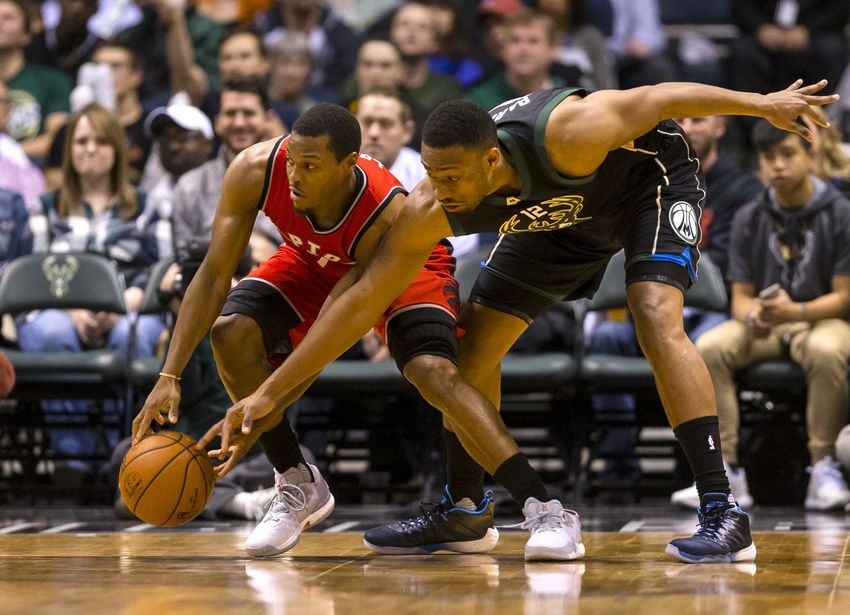 The youthful Bucks travel to Toronto seeking revenge for the defeat the Raptors laid on them in their building last month.
Milwaukee has a team which has hovered around .500 for several years. They were supposed to turn the corner last season, but instead made a U-turn and badly missed the playoffs after going 41-41 (see?) the year before.
I sense a new-found maturity with these Bucks. They have made the needed adjustments since losing shooting guard Khris Middleton to injury, and I expect them to be battling for the eighth seed all year.
I may pull that prediction in a hurry if a certain Greek Freak hurts himself. Giannis Antetokounmpo leads the Bucks in points, rebounds, and assists, plus the unofficial category of highlight reel dunks.
Jabari Parker has seen a significant spike in his scoring this season, a development viewed with great relief by the Bucks, who used the #2 pick on him in 2014. He's 21 and averaging 19 points PG, so the sky may be the limit for this fellow.
3 keys to Raptors victory
Don't let others get loose. Close out on Matthew Dellavedova beyond the arc, for instance. The Bucks are a middle-of-the-road offensive team without Middleton, with modest secondary scoring. In Toronto's win, veterans Jason Terry and Michael Beasley played 38 minutes, and managed one basket between them.
Play big. The Bucks have little rim protection. Both John Henson and Greg Monroe appear to be in coach Jason Kidd's doghouse, and Miles Plumlee is a stopgap at center. Dwane Casey likes Patrick Patterson to sort-of play center in small lineups but I'd keep either JV or Bebe on the floor. Make these guys play one-&-done.
Harass the Freak. Antetokounmpo leads the Bucks in turnovers so bother him when he plays the point. Take the ball at him when he's defending. He averages 3.8 fouls PG, the most on his team. Sit him down.
Conclusion & Final Score
The Bucks are going to be formidable in perhaps 2 more seasons. In the meantime, their lack of a frontcourt anchor will make them a pesky team, rather than a truly dangerous one.
Raptors 113 – Bucks 104
More from Raptors Rapture
This article originally appeared on