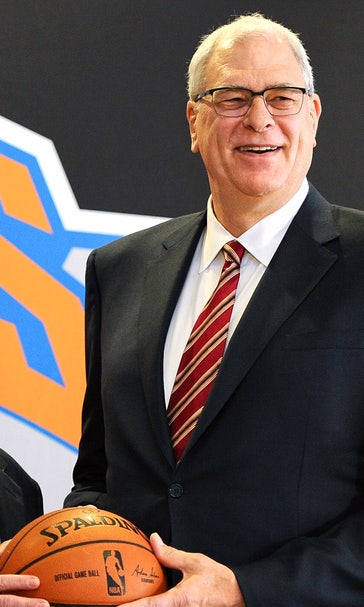 James Dolan's best quotes from the Phil Jackson intro aftermath
BY foxsports • March 18, 2014
James Dolan needed this.
Much maligned for a perceived ineptitude at running a basketball franchise, the New York Knicks owner finally found himself with something to brag about on Tuesday -- the introduction of Phil Jackson as team president.
The move was roundly praised, the only media criticism seeming to be a fear that Dolan will get in the way of his new prized ops man.
We can't predict the future, but we do know that Dolan -- his lack of love for talking to the media one of his many knocks -- was in the mood to be open and candid on Tuesday. Some of our favorite Dolan moments from what was certainly a happy, stress-relieving day:
He said he doesn't know anything about basketball
"I am by no means an expert in basketball. I'm a fan. My expertise lies in managing companies and businesses. I think I'm a little out of my element when it comes to the team."
That all makes sense.
He let fans know exactly when they should expect the next price increase for their already exorbitant tickets
"It's been a tough year. It's the tradition we've had since we've been with the organization, we will not raise ticket prices for next year. Instead, we'll have a great year next year at the same price, and hopefully everyone will find that product is more valuable, and probably after that we'll raise ticket prices. But not next year."
Start saving, kids.
He has already figured out how to pass blame if this goes South
"We're here today because a mutual friend of mine and Phil's, Irving Azoff, invited us to a party at his home back in December. Thank you, Irving. And if this doesn't go well, we'll blame you, OK? But I know it will."
That's Azoff. A-Z-O-F-F. Phone number 555-...
Stop asking him what's wrong with the team, please
"The really good news is I got Phil Jackson now. And Phil Jackson can figure that out."
Go get 'em, Phil. There's a big stack of papers on your desk already.
---
---