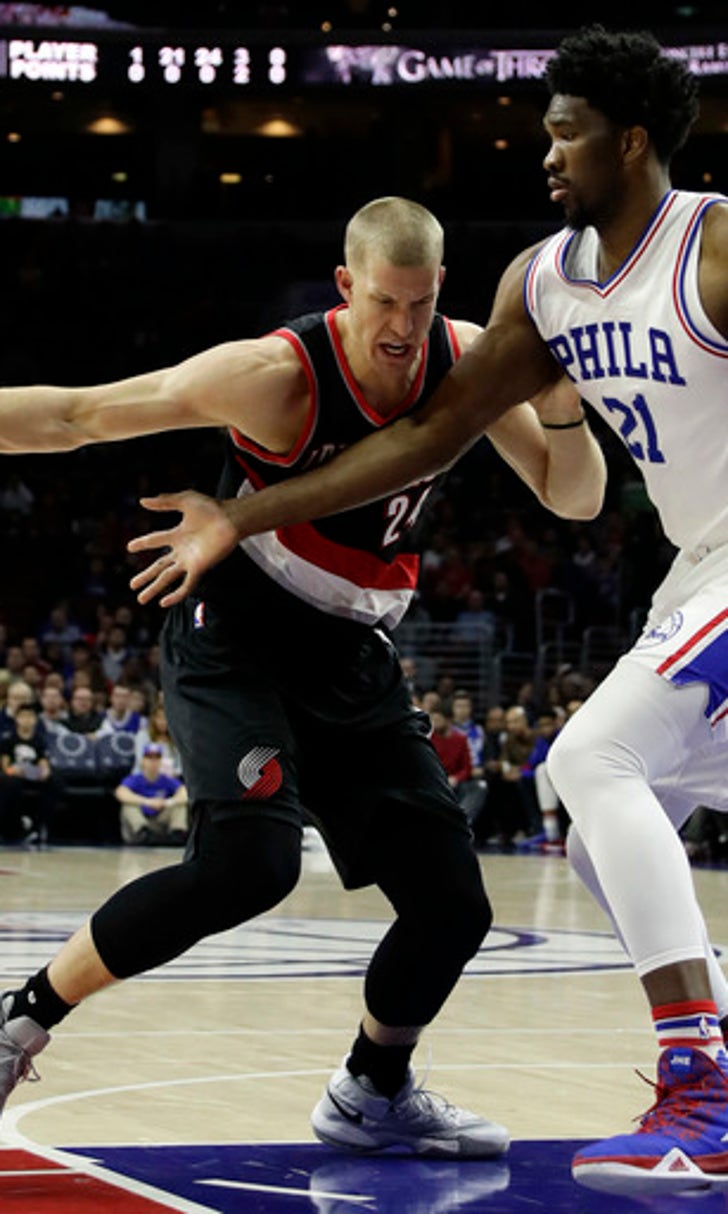 Covington, Sixers rally for 93-92 win over Blazers (Jan 20, 2017)
BY AP • January 20, 2017
PHILADELPHIA (AP) Booed relentlessly just a few weeks ago, Robert Covington is quickly becoming one of the most popular athletes in Philadelphia.
Covington scored 22 points and made two 3-pointers in the final 40 seconds to lead the streaking 76ers to a come-from-behind 93-92 win over the Portland Trail Blazers on Friday night.
It was Covington's second game-winning basket this month after his buzzer-beater stunned Minnesota on Jan. 3.
''I'm a fighter,'' said Covington, a sharpshooter who endured some struggles earlier this season. ''That's what I've been my whole life. Fans were booing me at one point. I just kept working, that's the main thing. I'm not going to let that deteriorate my game.''
Ersan Ilyasova scored 24 points and Joel Embiid had 18 points, 10 rebounds, five assists and four blocks before leaving the game with a minor injury for the Sixers, who have won three straight and eight of their last 10.
Embiid, who sparked the recent surge, bruised his left knee in the second half and didn't play the final 8:50 of the game.
But the Sixers rallied for the victory without their prized center as Covington drilled the winner with 4.5 seconds left before Mason Plumlee missed a shot at the buzzer on the other end.
''These guys are fun,'' said Embiid, who was the first person off the bench to celebrate with Covington. ''When the game is close like that and you're able to pull it out, it's fun. The crowd is into it. Cov made a big shot once again, and we got a win.''
Damian Lillard scored 30 points to lead the Blazers, who have lost four straight. C.J. McCollum had 16 points and Plumlee finished with 14.
''I thought we played hard,'' Portland coach Terry Stotts said. ''And I thought we deserved to win the game.''
Trailing by 13 at the half, the Sixers charged back to take their first lead at 66-65 with 3:23 left in the third quarter on Covington's three-point play. Covington later hit a 3-pointer to pull Philly within one at 91-90 with 38.2 seconds remaining in the game after the Blazers led for almost all of the fourth quarter while Embiid sat on the bench.
Embiid's injury occurred midway through the third quarter when he came down awkwardly after a thunderous dunk, bringing a hush to the nervous crowd. The star center, who missed his first two NBA seasons because of injuries, came back in to start the fourth quarter to massive cheers and ''Trust the Process'' chants from a near-sellout crowd at the Wells Fargo Center.
But Embiid only played a few more minutes before the Sixers decided to sit him for the remainder of the game for precautionary reasons. His streak of 10 straight games with 20 points or more was snapped.
''You're concerned,'' Brown acknowledged. ''He plays with such reckless abandon, I think we're going to be feeling this regularly. That's just who he is. As he plays more basketball and continues to grow, he will not avoid those situations but manage them a little more.''
TIP-INS
Blazers: Portland dropped to 7-18 on the road this season, which includes a 5-11 mark vs. the Eastern Conference. ... Former Sixer Evan Turner, who played in Philly from 2010-14, scored four points on 2-for-10 shooting and was booed every time he touched the ball.
76ers: The Sixers signed Chasson Randle to a second 10-day contract before the game. Since initially being signed on Jan. 9, Randle has appeared in two games for Philly and had 10 points in 16 minutes in Monday's win over Milwaukee. . After learning Embiid wasn't named an Eastern Conference starter in the All-Star Game, Brown said he'll get to work trying to help convince fellow coaches to name him a reserve. ''I think Joel is gonna slide in there,'' the Sixers coach said. ''I think the people that are now going to close the deal understand how unique and special he is.''
THE SHOT THEY WANTED
Plumlee had no regrets about taking the final shot of the game, feeling like he got a ''good look'' at the basket.
''I make it, we win; I miss it, we lose,'' he said. ''So I'm OK with it. But it was a good play.''
Lillard was equally frustrated that he missed a free throw right before Covington's winning 3.
''That's the one that's going to keep me up at night,'' he said. ''This one's on me.''
IT'S NOT HOW YOU START ...
Lillard was hot early for Portland, scoring nine points in the first 4 1/2 minutes and finishing with 16 points in the first quarter to help Portland take a 33-22 lead after one. The Blazers, who went with a different starting lineup that featured Turner and Noah Vonleh in place of Al-Farouq Aminu and Maurice Harkless, maintained a double-digit lead for most of the second quarter before taking a 56-43 lead into halftime.
''We just didn't finish,'' Plumlee said. ''We played better throughout the game than we have in the past three or four, but you've got to finish it to get a win.''
UP NEXT
Blazers: Close a four-game road trip at Boston on Saturday.
76ers: Visit Atlanta on Saturday night to try to beat the Hawks for the first time in six matchups.
---
---