Winnipeg Jets: Patrik Laine Leads the League Again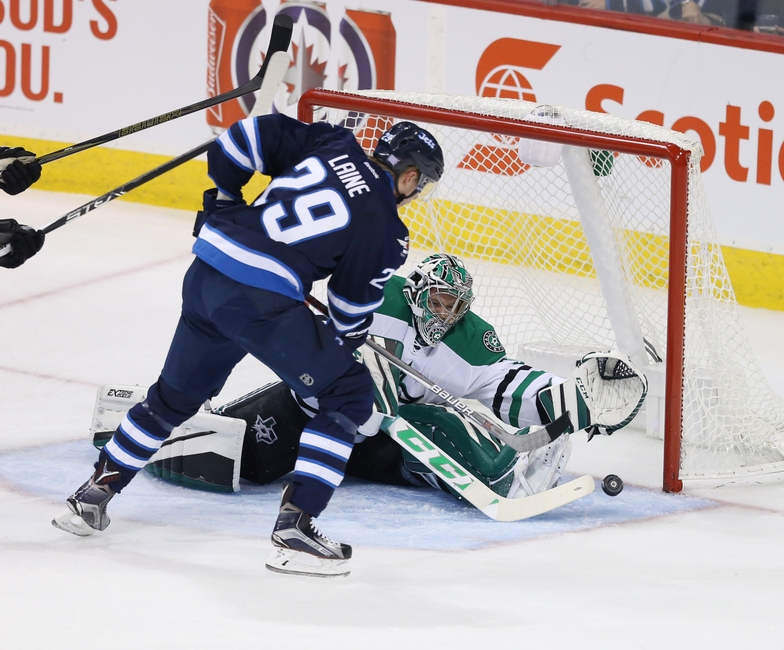 Watching the scoring race as a Winnipeg Jets fan this season is kind of like watching election polls as an avid american citizen.
Patrik Laine scored another brilliant hat-trick last night against the Dallas Stars. All three goals were due to his strong awareness of where the play is, and where he should be accordingly. The first two were "garbage goals", in front of the net, but the third was a perfectly placed shot off a two-on-one.
Coming into the game, Laine was tied for the league lead in scoring with Sidney Crosby, Artem Anisimov, and David Pastrnak. The tightness of the race was too much for the 18-year-old, as he decided his second hat-trick in 14 games in the NHL was the right call. Both hat-grabs came on Winnipeg's home soil, giving Jets fans more to cheer about.
Laine was such a dominant force throughout the game, that multiple Dallas Stars tried to lure him into taking stupid penalties. Those attempts were made not to give Dallas a power play opportunity, but to have two minutes without Laine forcing the action. Especially having him off the ice for the power play was huge, but the one time Dallas avoided that, Scheifele scored his second of the night.
Want your voice heard? Join the Jets White Out team!
It's quite frankly unimaginable what a torrid pace the teenager in on. Not only Laine but his entire line, Nikolaj Ehlers, and Mark Scheifele. Laine leads the league with 11 goals. In second, yes it is, Mark Scheifele with nine. It's the first season the Jets have had players competitive for scoring titles, and Laine is on pace to finish with one. His pace of 11 goals every 14 games would lead him to a 63 goal season, if he were to play all 82 games. No one has had over 60 goals, since Alex Ovechkin collected 65 in the 2007-08 season.
Surely Laine won't have ten hat-tricks by the time the season is over, but he may have 40 goals, since he's already more than a quarter of the way there. His quick stick, and moves in tight are what throws his game over the top. As Scheifele, Ehlers, and Laine continue to grow their chemistry together, we should be seeing more and more goal scoring. That's scary considering that line alone contributed to five of Winnipeg's six goals against Dallas. WOW!
More from Jets White Out
This article originally appeared on