Washington Capitals: Team Prediction Roundtable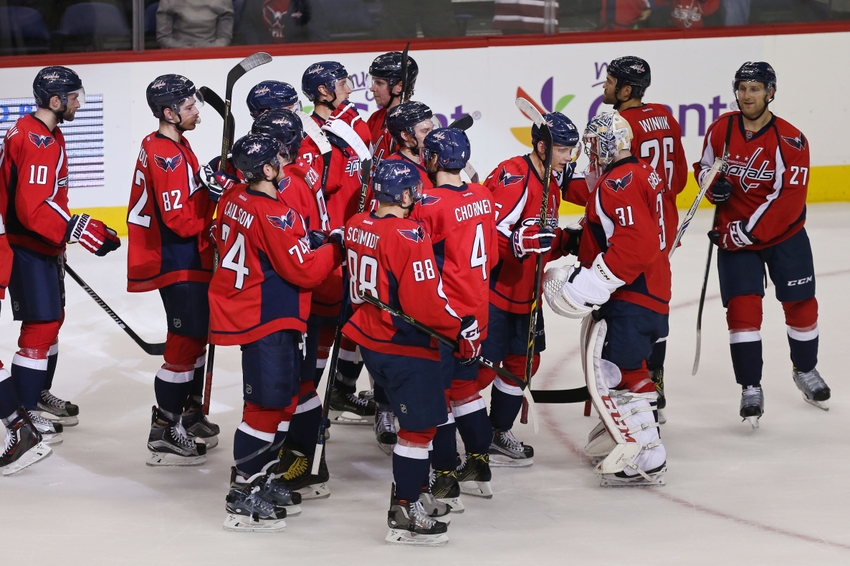 With the season opener against the Pittsburgh Penguins fast approaching, the Washington Capitals head into the season with high expectations. For us at Stars and Sticks, we'll get together and discuss our thoughts and expectations of the team for the upcoming season.
The season is set to begin for the Washington Capitals, and expectations are riding high for the team. What will happen this season? We'll take a look at the team and ask where the team is currently and how they will finish. In addition, we will discuss players who will have an impact on the team. Without further ado, here is our roundtable discussion about the Washington Capitals.
What is your overall assessment of the team?
Nick Millini: We've been here before, but this is a team that pretty much has everything it needs to win the Stanley Cup. What makes this team different compared to years past? Two words: determination and experience. Getting bounced out of the second round last year to the Penguins should give these guys the incentive to play harder than they've ever played. This is a team that needed a couple additions to their already great team, which they addressed over this offseason. I expect that the Caps will be competing heavily with the Penguins all season for that number one spot in the Metro and the East.
More from Stars and Sticks
Ira Rabin: I think this team may take a step back from last year. Offensively the top 2 lines should produce and the PP has the potential to be elite once again. My concern is team speed and puck movement, especially in the defensive zone. Many times the Caps got burned last year not taking an easy clear or chipping the puck out of the zone, opting instead for flow reversal or high risk passes. How durable is Brooks Orpik? Will Dmitry Orlov develop his game more? Holtby's play masked some defensive lapses throughout this season which finally were exposed in the 2nd round and just as much a factor in the 2nd round exit as was the lack of secondary scoring. I'd also like to see Kuzy and Burakovsky add some snarl to their game. As seasons wear on and especially come playoff time, skill alone is not enough. They both learned that the hard way last spring.
Nathan Sick: Just because you made a good bet and caught a bad break doesn't mean you shouldn't place a good bet again. I'm going to double down and say that I still think that the Capitals are the best team in the league to start the season, at least on paper. While they don't have a bonafide elite number one defenseman and while their low-to-high systems play may need some tweaks, they have solid depth at every position. There is not a player on the Capitals roster who doesn't fully deserve to be in the NHL. And while the acquisitions of Lars Eller and Brett Connolly may be seen as playing it safe, they are still significant improvements. The team has also made promising statements about their plans, suggesting that there will be a shakeup on defensive ice time and that they will be experimenting with different line combinations and systems. Overall, this is as good a shot as the Caps have had at winning the Cup since they actually got there in 1998.
Pierre Smith: The Caps, on paper, are arguably better on paper than they were last year, but that doesn't mean another Presidents Trophy winning season is a foregone conclusion. Washington wasn't an elite possession team last season and had an astronomically high PDO for parts of December and January. That being said, this team is a Stanley Cup contender. The window will close soon, but it's open for this season.
Nick Clark: Last playoffs, everyone who watches hockey saw the Geico commercial of Backstrom asking Lord Stanley the secret to winning a Stanley Cup, a commercial which haunted all Washington fans as we watched Pittsburgh end our dream season in game 6. I think Washington management has finally figured out the secret to hosting Lord Stanley, which is having a deep team through and through. With the additions of the speedy Brett Connolly, the well rounded center Lars Eller and young buck Zach Sanford making the lineup, Washington is as deep as it gets. On the drawing board, this is the most loaded roster Washington has ever produced to skate on the icy pond this year. If there is ever a time for the Caps to hoist ole Lord Stanley, the time is now.
Name a player you think will have a great season that nobody expects.
Nick M: If there's a player I think could have a good season this year, that nobody expects him to, that player would have to be Tom Wilson. Wilson's been primed as a successor to guys like Joel Ward and Jason Chimera, both of whom are no longer on the team anymore. He has the toughness, all Tom needs now is the scoring capabilities. I think that this would be the year for him to prove his worth.
Ira: I'm looking at Tom Wilson. I think he NEEDS to have a breakout year. He has the talent to score way more than the 7 goals (only 3 more than Karl Alzner did if that adds a little perspective) he did last year. If he can add some offense to his grit he could be the next Claude Lemieux. Everyone talks about needing more production. He would be a great place to start. If he can score 15 and maybe even become a shorthanded threat (the caps only scored 2 shorthanded goals all year,) the caps could finally have some serious production beyond the top 6.
Nathan: If anyone is primed to break out it's Dmitry Orlov. Recently signed to a new "prove it" contract, Orlov is fresh off a season where he played all 82 games and produced primary points at an elite rate at even strength. He also dominated the possession game with less than stellar defensive partners, and the team has openly said they'd like to see him get a little more ice time, and Orpik get a little less. I expect to see Orlov eat big minutes, score 10+ goals again, and be an important player on a well-rounded defense.
Pierre: "Nobody expects" rules out Burakovsky, Orlov and Eller. I'm going to go with Brooks Orpik. Now, hear me out. Brooks was tasked with playing a top-4 role last season, and he was exposed several times. This year it looks like he'll be relegated to third pair duties, and thus won't be consistently playing against other team's top-lines (and fast, skilled players). I think we will thrive on the decreased responsibility and will be able to use his physical game much more effectively.
Nick C: The two skaters I see breaking the mold and emerging as consistent producers for the Caps are Orlov and Burakovsky. Orlov is expected to finally get the minutes he rightfully deserves. As these minutes come, his offensive instincts will become more apparent to the league and not just Caps fans. Burakovsky on the other hand is a star in the making. Many projected him to have a breakout year last year and at times he showcased his elite skill, but not nearly enough. With Burakovsky mainly playing in the top 6 this year, look for a 20-25 goal year for him while adding another 20-30 apples in his Austrian basket.
Who is the one player Caps fans should keep an eye on?
Nick M: Dmitry Orlov. All offseason, fans were speculating if he'd re-sign with the Capitals. Fortunately, he once again will be suiting up in Caps red this season, and now is the time for him to step up. Given his contract, I think Orlov will be eager to prove he belongs on the team. Expect a good year out of him.
Ira: Stanislav Galiev. In 24 games last year he managed only 3 assists. Yes, he is still young at 24, but he is at the point that he needs to start making the most of his opportunities. I'm not saying it's make or break time for someone who has only appeared in 26 career games. But for a team with a number of young forwards looking to break in, Galiev needs to start making an impact when called upon.
Nathan: Tom Wilson. Despite his spot being secure with the Capitals for the next two years, this will be a crucial year for the young first round pick. For the team as a whole it's do-or-die time, and it's key that Wilson is a contributing member of the team's forward corps, at both ends of the rink. Thankfully he has shown a great deal of maturity, and a desire to grow into the Joel Ward 2.0 that the team has said they want him to be. Let's hope for a goal total somewhere in the teens, a career low in PIMs, steady PKing, and being a difference maker in the playoffs (which this team so sorely needs).
Pierre: Lars Eller. Look at the Pens last season. They went out and got Bonino to round out their center core behind Crosby and Malkin. The result was three scoring lines that won them the Cup. If Eller can be the stable third line center the Caps were looking for all of last season, he could be the missing piece that was needed.
Nick C: I think most Capitals fans probably already have an eye on him, partly due to his flawless flow and shootout heroics, but I think T.J. Oshie is going to have a phenomenal year. Oshie did not disappoint last year, tallying 26 goals, 51 points and producing 10 points in the postseason, including the game 1 hat trick against our bitter rivals. I felt Oshie really began to thrive towards the halfway mark of the season and the post season. Playing opposite wing of Ovechkin and having elite centers being either Kuzy or Backstrom, I predict Oshie will break the 30 goal mark and showcase a 60-65-point season.
What is your bold prediction about the season?
Nick M: Andre Burakovsky continues to get better and has a 20+ goal, 50+ point season. By the end of this season, teams will learn to be fearful of him as they will be of Ovechkin, Backstrom, and Kuznetsov.
Ira: The Metro division is a dogfight until the end of the season. As champs, the Penguins must be considered the team to beat. The Islanders lost some key players in the offseason but also added 25 goal scorer Andrew Ladd to complement John Tavares who will compete for the Hart trophy. Many think the Rangers will struggle this year, but with King Henrik, he has and still at 34 can carry the Rangers single handedly. I think the Flyers will surprise folks. Michal Neuvirth may be their stable netminder finally and Dave Hakstol will get the most out of his young D and offensive threats like Simmonds and Giroux. Even the Devils should be improved. They pulled off the steal of the summer getting Taylor Hall and still have the goaltending and defense to make some noise. The Caps better be prepared night in and night out. This is a division that once again could send 5 teams to the playoffs.
Nathan: That by the end of the year Kuznetsov shows that last year wasn't a fluke and finishes as the top line center, Burakovsky will score 25+ goals, and Orlov will produce offense at a higher rate than John Carlson. The youngsters will assert their dominance this year, and lead the way into an uncertain future.
Pierre: One of Sanford or Vrana is in the game 1 lineup for the Caps in the playoffs. The Caps have a hole on the third line at right wing, right behind Oshie and Williams. Their options right now look like the two rookies, plus Wilson and Connolly. Given the offensive upside of the young guns and the coaching staff's willingness to play with 3 scoring lines, I think one of them will win that job by April.
Nick C: Besides winning the Stanley Cup, I predict Holtby will be just as sensational as he was this past season. Will he break the 48 wins record? I think that depends on how the team is doing as a whole, but it's not out of the question with this loaded roster. I see no signs of Holtby slowing down as he is just entering his prime. Look for some sensational highlight reel saves from Holtbeast and some solid goaltending from Grubauer as well when he's called upon.
Where will the Washington Capitals finish this season? How far do you think they will go in the playoffs?
Nick M: It's very plausible to think they could finish first again. This is almost a carbon copy of last year's campaign, save for a couple changes of the bit players. Caps fans have been waiting for this moment to see Alexander Ovechkin hold the cup, to hear all the wacky antics the team has with it, and finally silence all the doubters. Realistically, I am inclined to believe that somehow, the Washington Capitals will find a way to blow it all. However, I have to say this time will be different. It has to be. These guys are way too talented to not win the cup. IF there's a year where it all goes right, it's going to have to be this one.
Ira: 3rd in the Metro division. Until the Caps can prove they can get some secondary scoring and a shutdown defenseman there is nothing other than wishful thinking to predict they will advance pass round 2 in an even more competitive division.
Nathan: I have no choice but to predict that the Capitals will finish first in the Metropolitan Division and win the Stanley Cup. I see them as the most complete and well rounded team on paper, and their roster has improved from what was already a historically dominant season. Furthermore, that dominance showed very little warning signs of regression – it feels very repeatable, except for hopefully that whole losing in the second round thing… Let's see them repeat everything but that, and then some.
Pierre: It will be interesting to see if the Penguins are really as good as their miracle run last year suggested. If they are, then they are the team to beat in the Metropolitan Division. I think the Caps are built-better on paper, and just need to get lucky and hot at the right time. I have the Caps first in the Metro but second in the East to Tampa. As for the playoffs, call me when we get there, but here goes: Caps win the Cup. I like Eller. I think Orlov will have a great season. The Caps are arguably the best team in the league on paper, and this might be their last chance for a while.
Nick C: The Capitals will finish first in the Metro, first in the East Conference and wait for it… first in the league claiming back to back Presidents' trophies. Statistically, if I was a betting man, I would bet on the Capitals to find a way to blow a 3-0 series lead in the second round just because it's the second round. However, I'm not a betting man, mainly because I am dirt poor post grad student. After years of shortcomings, critiques, and disappointment, this is the year. This is the year Washington finally gets over the second round hump, wins the Eastern Conference and hoist Lord Stanley for its first time in Franchise history. This is the year I finally get to see my childhood team hoist the Cup. This is the year I get to see all the Ovechkin critics eat their words. I need this, Capitals fans need this, Harambe needs this, Pierre McGuire's nose needs this. The world needs this. You can do this Washington, bring her home.
This article originally appeared on