Vancouver Canucks vs. Anaheim Ducks: TV, Radio, News, Predictions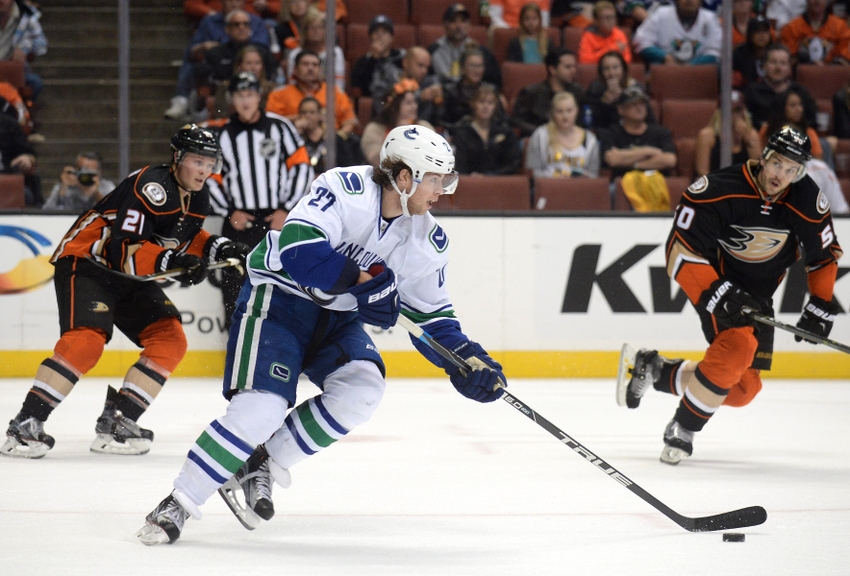 The Vancouver Canucks will try to win three in a row when their perennial Pacific Division foes, the Anaheim Ducks, pay them a visit.
Despite a losing season in 2016-17, the Vancouver Canucks won their season series against the Anaheim Ducks.
The Canucks lost their opening game against Anaheim this season. They'll get a chance to even the series tonight.
Vancouver may be in luck. Anaheim has been mediocre on the road, managing only a 4-4-3 record. They did beat the Montreal Canadiens their last game, but only because of a superhuman performance from John Gibson.
Corey Perry and Ryan Getzlaf are also struggling to score.
So, though the Canucks are missing Jannik Hansen, Alexander Edler and Chris Tanev, this may be a winnable game against a divisional opponent.
With a win tonight, Vancouver will only be two points back of a Pacific Division playoff spot.
Here are your last-minute need-to-knows:


Vancouver Canucks vs. Anaheim Ducks – 7:00 PM PT

Rogers Arena — Vancouver, BC
TV: SN360, KCOP-13
Radio: TSN1040
Online Streaming: Rogers NHL GameCentre LIVE, NHL.TV
Canucks Record: (5th in Pacific Division, 25th in NHL)
Opponent Record:  (2nd in Pacific Division, 11th in NHL)
Gameday Notes:
Lineup News:
Gibson will start tonight for the Ducks. Ryan Miller is expected to start for the Canucks.
No other lineup changes expected for the Canucks or the Ducks.
Predictions
Janik Beichler:

4

1
Gerald Morton: 

1

2
Alex Hoegler: 

2

3
Jeff Godley:

4

2
More from The Canuck Way
This article originally appeared on