Vancouver Canucks: Sedins Back on Track for 1000 Points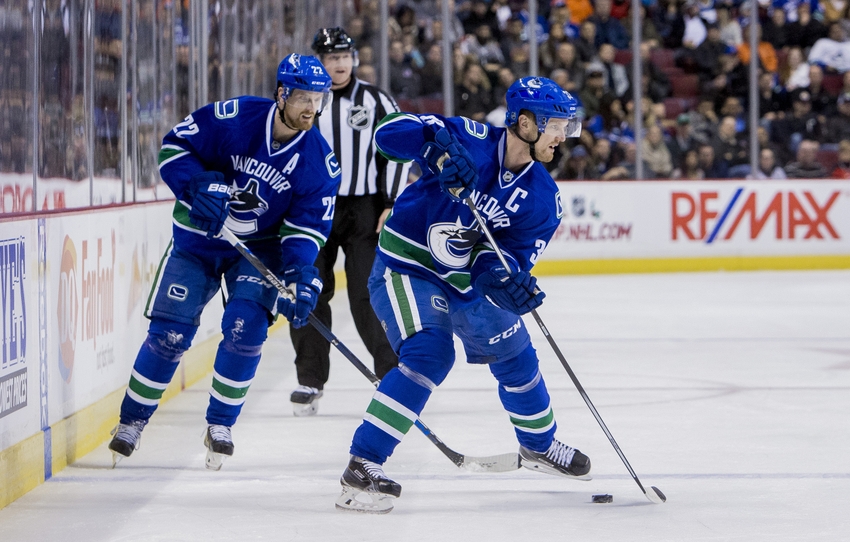 After a slow start, Vancouver Canucks' franchise point leaders are once again on pace to reach 1000 points later this season.
No one in franchise history has scored 1000 points in Vancouver Canucks uniform.
Henrik Sedin and Daniel Sedin are poised to do just that.
To begin this season, Henrik needed only 30 points, while Daniel needed 58. But in the first dozen games of the season, it looked like neither would produce enough to make the millenium mark.
Through Nov. 7, Henrik had only scored six points, Daniel only five. At that pace, Hank would have taken until Game 60 to reach his milestone. His brother would have kept us waiting until next season.
But the twins cannot be held at bay forever. They have caught fire lately, combining for 14 points in their last seven games. That is excellent news for the Canucks, who had been desperate for goals up until that point.
For now, the scoring struggles are over for both the team and their star players. With the Sedins setting a point-a-game pace, the Canucks scored the fourth-most goals of any team in the last two weeks. This comes after they were from dead-last in goal-scoring to start the season. Now, they are in a three-way tie for 25th in scoring — a small improvement, but we'll take it.
So where does that leave the Sedins in their quest for 1000? Let's do some quick math.
How Soon can we Celebrate?
Henrik is sitting on 12 points in 19 games — that's 0.63 points-per-game. At that pace, it will take him another 28 games to reach 30 on the season and 1000 in his career.
That would happen sometime in mid-January.
But, let's take a more optimistic approach. While a point-a-game might be too much to ask for a 36-year-old on a stuggling team, let's suppose that he can keep his November pace up for the rest of the year.
Henrik has seven points in 10 games this month. At that pace he would need only 25 games or so to get the extra 18 points he needs, which saves him about a week.
So January looks like the earliest time we'd be discussing Henrik joining the thousand point club. Either way, barring injury the eldest twin is a safe bet to reach the milestone comfortably this season.
Daniel, meanwhile, has more ground to make up. While waiting for next season would not be the worst outcome, having both twins reach 1000 in the same season would be poetic. They've done everything together their whole careers; it's only fitting they do this together, too.
O Brother, Where Art Thou?
So let's run the same math for Daniel's 45 remaining points.
This season to date, he has 13 points in 19 games. At 0.68 points-per-game, it will take about 66 more games — and the Canucks only have 63 games remaining this season. In that case, we're looking at the last game of this season, or the first few games of next.
It become a much better scenario, though, if he scores the same way he has in November. He's managed two more points than his brother, with nine in 10 games. At that rate, it will only take him 50 games. That means he could reach 1000 with a month left in this season.
All told, it looks like we are mere weeks away from celebrating Henrik's 1000th NHL point. The only thing he has to do is stay healthy.
Daniel needs to both stay healthy and continue to produce at a high rate. It will be a tougher task, but the twins have shown that they are still a forced to be reckoned with even at age 36.
It won't be long before the Vancouver Canucks welcome their first 1000-point scorers in franchise history. It couldn't happen to two more deserving players.
This article originally appeared on