Vancouver Canucks D Troy Stecher Making Significant Impact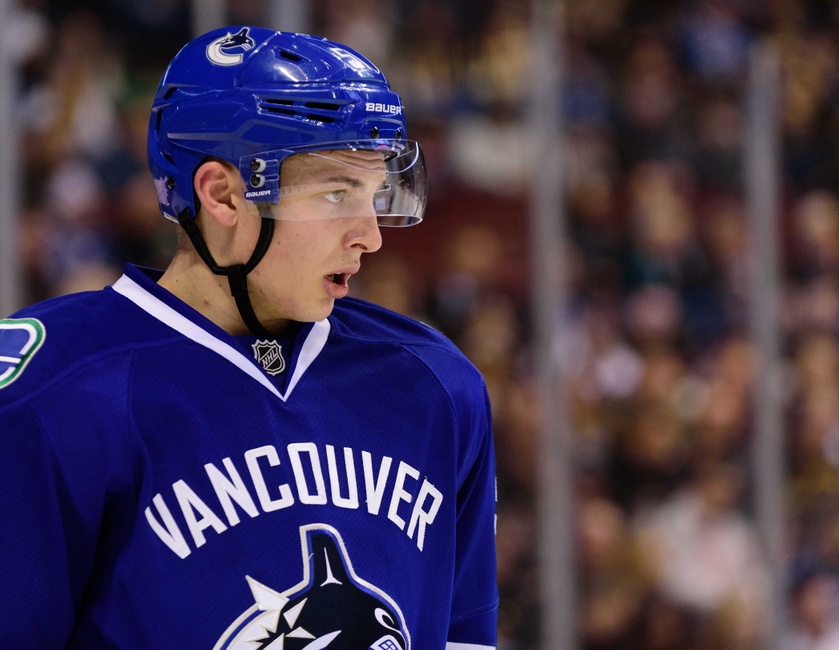 Fans got excited when the Vancouver Canucks managed to lure Troy Stecher, one of the NCAA's most coveted free agents, to the Pacific coast. But nobody expected him to make an immediate impact.
Everyone knows the Vancouver Canucks don't have much to offer to free agents who can pick any one of the NHL's 30 teams. Hence, fans were extremely happy to hear that defenceman Troy Stecher of the University of North Dakota would join Canada's most western club.
An undrafted free agent, Stecher was expected to start the year with the AHL Utica Comets. With a little bit of luck, he would be ready for the big club in the second half of the season. But instead, Stecher decided to surprise everyone.
In preseason, he was paired with veteran Alex Edler and was one of the biggest standouts. Waivers and Vancouver's contract situation on the blue line were the only reasons why Stecher had to start the season in the AHL nevertheless.
Luckily for him, Chris Tanev needed to be replaced early in the year, and Stecher is back on the Canucks' top pairing. He took the fast track to being an NHL regular, and it is paying off for him and the whole team.
On a team that has had a notoriously bad defence for quite some time now, it was easy for Stecher to stand out. While he takes a lot of pride in his defensive game, he stands out particularly on offence, thanks to his strong skating and puck skills.
Stecher's edge work & pivoting is textbook. That's why you do your power skating, kids, to one day walk the line like Troy Stecher. #Canucks

— Grady Sas (@GradySas) October 29, 2016
But are we biased when analysing Stecher's play? Do we ignore the bad things and focus on the positives because we really want him to succeed? Analytics can answer that question.
The Stats
In 12 games with the Canucks, Stecher has a goal and two assists. But when has offensive output ever told us the full story about Vancouver's players anyway?
The eye test says Stecher spends a lot of time in the offensive zone, trying to set up scoring chances. Indeed, he currently ranks third among all Canucks in Corsi for per 60 minutes of five-on-five time, at 57.5 — only Loui Eriksson and Daniel Sedin are better.
Furthermore, Stecher ranks fourth among all Canucks in Corsi against at 49.74 — only Derek Dorsett, Brendan Gaunce and Henrik Sedin are better.
When Stecher is on the ice, the Canucks spend more time on offence than on defence, resulting in a 53.6 Corsi-for percentage. With that, he is tied for 37th among all NHL blue liners.
Alex Edler
Stecher was lucky enough to be paired with a seasoned veteran from day one. There is little doubt that it is easier to come into the league and play with someone like Edler than be paired with Luca Sbisa or Nikita Tryamkin for your first few games. But what do the numbers say?
In roughly 190 minutes of five-on-five time with Stecher, Edler recorded a 54.8 Corsi-for percentage. In 170 minutes without Stecher, his Corsi-for percentage was 46 percent. With Edler but not Stecher on the ice, the Canucks surrendered over 12 more shot attempts per 60 minutes than with the Edler-Stecher pairing.
Stecher has only been on the ice for 18:08 without Edler, so we can't draw any conclusions from that. Maybe Stecher is making Edler better, maybe they just have great chemistry and profit from each other.
Either option works.
The Context
Advanced stats are more accurate than simple goal and point counts, but they don't tell the whole story without a little bit of context either.
We have only seen a small sample of Stecher in pro hockey, so we should take everything with a grain of salt. Yet, almost everything we can say after his first 12 games is positive, even when his numbers are put into context.
Want your voice heard? Join the The Canuck Way team!
Stecher was on the ice for 237 face-offs so far. Out of that number, 33.8 percent were taken in the offensive zone. That is the same percentage as that of Edler and Erik Gudbranson, tying for fourth among Canucks D-men. Sbisa, Philip Larsen and Ben Hutton are the ones who have been getting the most "sheltered" minutes.
It is not like Stecher has been starting all his shifts in the neutral zone either. In fact, he has the second-highest percentage of defensive-zone starts. In his first professional season, Stecher is playing on the top pairing and he is being deployed accordingly.
Conclusion
It is no secret that Stecher was only recalled to Vancouver because of Tanev's injury. However, he has quickly established himself as a strong NHL defenceman.
Once Tanev returns, things may or may not change. It would be smart to keep Vancouver's strongest and most consistent pairing together. In order to do that, Tanev could be paired with Sbisa or Tryamkin. That would give Vancouver three decent pairings that could play roughly equal minutes.
No matter what happens, though, it is great to see that Stecher does not only look promising to fans, but he is also creating positive results. Being just 22 years old, Stecher is at the very beginning of his career. Judging by his first games, it will be a long one.
*All stats via stats.hockeyanalysis.com
This article originally appeared on