St. Louis Blues: Nail Yakupov Souring Already?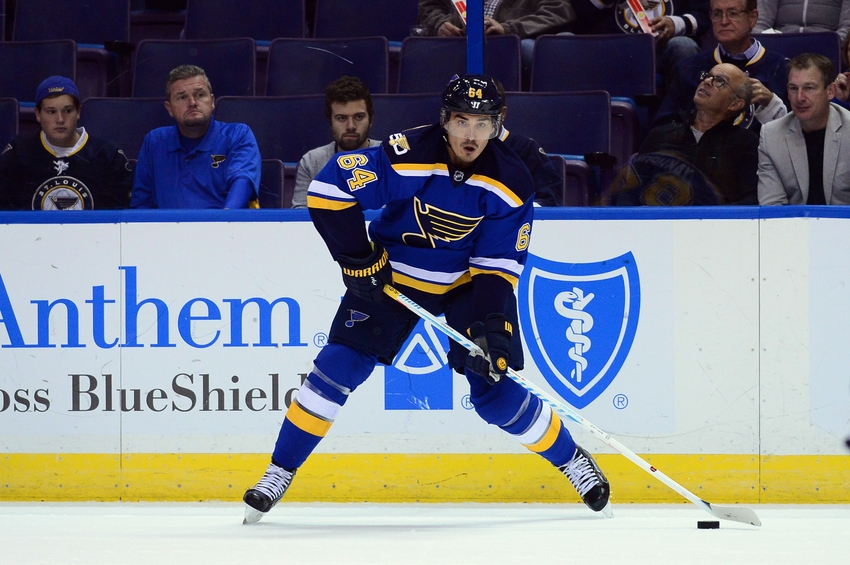 After a hot start to his St. Louis Blues career, things have cooled off considerably for Nail Yakupov. Sitting in the press box is not sitting well with him.
The St. Louis Blues took a flyer by trading for Nail Yakupov just before the 2016-17 season began. After getting off to a good start, things have turned the other direction fairly fast.
Yakupov is going to be a healthy scratch for Wednesday's clash against the Chicago Blackhawks. It will mark the third consecutive game he will have to watch from upstairs.
It is completely understandable that the Blues want more consistency. They won two games with Yakupov not on the roster and want to carry that momentum into the rivalry matchup.
On the other hand, Yakupov had been told he would return to the lineup on Sunday against the Avalanche. He ended up not being on the ice and was said to be visibly upset while walking around in the press box.
He's a player. Players have pride. He should be upset.  I'd be disappointed if he was not upset.
The bigger question is whether or not the team is already souring on him. We should all hope not because he can still be an invaluable piece for this team due to his speed and puck handling ability.
Yakupov has been very hit or miss during his brief Blues career. He has two goals and four points.
He has not scored a point since October 22. Yakupov also started showing more of the defensive deficiencies he had become known for in Edmonton.
The YakAttack was a minus-1 over his last six games. However, his Corsi rating is not that bad at all.
So, the question is simply where Yakupov sits with the coaching staff. Obviously that sits mostly with the head man, Ken Hitchcock.
Whether you like Hitchcock or not – there are plenty on the not side, but that doesn't matter much – he has his favorites and has those that he doesn't budge much on.
Ty Rattie has been placed in purgatory. He has been given a few chances here and there and honestly has not done enough to warrant more. Even so, the players that have been placed in the roster with more regularity have not exactly wowed either, so that makes the absences a bit more glaring.
The same can be applied to Yakupov. Sure, four points isn't great but he has more goals and more points than Robby Fabbri. He has more goals than Dmitrij Jaskin and Jori Lehtera and some others as well, but has been placed on the short leash.
A comparable player is David Perron. With the exception of a three-goal night, earlier in the season, Perron has been wildly inconsistent.
He currently only has one more point than Yakupov. Without that hat-trick, he wouldn't be much better off point wise.
So, you have to go to the defensive side of the game. That is harder to examine, especially when coaches want to see certain things that aren't going to show up on your stat sheet.
Even then, you have to wonder why Yakupov is being singled out. From the viewpoint of the novice, which most of us fans are, no matter how long we've been involved with the sport, he just doesn't seem like he was doing anything much worse than some of the other guys on the ice.
Clearly he was in the minds of the coaches, enough to take out of the lineup anyway. We are now left with the question of whether this is simply riding the wave the current lineup started or whether it is an indication of where Yakupov stands with the franchise.
The Blues clearly need a lineup that is willing to help defend. They were bleeding goals and needed to find a way to stop it.
That said, he was not a main reason those goals were going in. The Blues are going to need a player like Yakupov over the long haul.
We all knew he wasn't going to be the best defensive player in the world. However, if the team really wants to make this transition to a speed team, they need a player that is capable of blowing by an opponent.
The bottom line is the Blues need Yakupov in the future. Sadly, it would not be shocking if he finds himself in the doghouse if the Blues keep winning without him though.
Hopefully the team will keep in mind that they are not necessarily winning because he is not playing, but because they have returned to the style that made them look so good in the first week.
This article originally appeared on