NHL Trade Rumors: 5 names to watch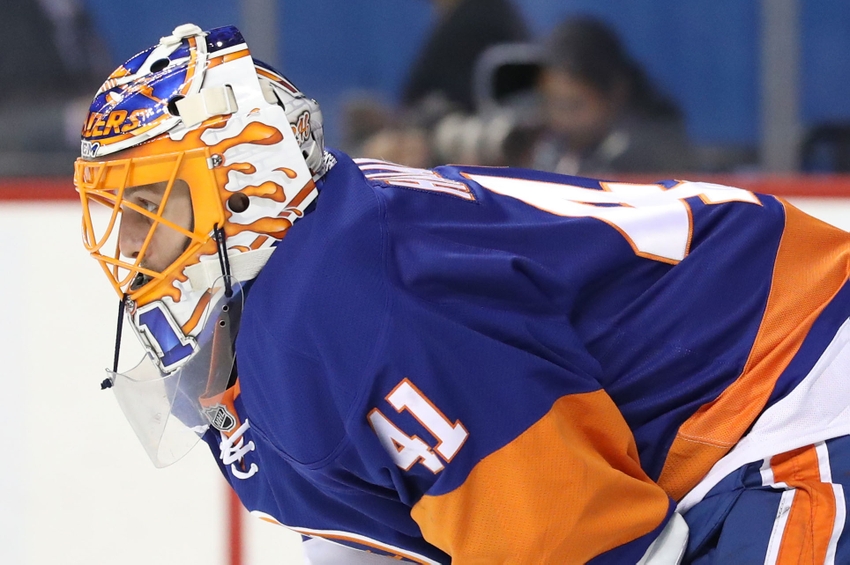 This week in NHL trade rumors, teams are starting to narrow down what they're looking for and Jaroslav Halak could be on the move.
With the beginning of the month of November, NHL teams are starting to realize their needs. Because few teams make the playoffs after being as few as four points out of a playoff spot once November starts, sellers and buyers are starting to form. This week, there have been some intriguing names thrown around.
Both the Montreal Canadiens and Vancouver Canucks have needs. They're starting to be aggressive in looking for their respective needs. It's not a secret the Boston Bruins need to add to their blue line. Would they be willing to part with Ryan Spooner in order to do so? Where might Jaroslav Halak go, and why will it likely be so hard to trade him? After signing Hampus Lindholm, where do the Anaheim Ducks stand?
5. Where do the Anaheim Ducks stand?
After signing Hampus Lindholm, many thought the next corresponding move would be a Cam Fowler trade. Due to the long-term injury to defenseman Simon Despres, the inevitable trade is likely going to be postponed for the time being. However, at some point before the expansion draft, the Ducks are likely going to have to trade someone.
Lindholm is out of the question. Why sign someone to a long-term below market value extension if you're just going to trade him? Unless general manager Bob Murray can talk a team into taking Kevin Bieksa (who has a no movement clause) or Clayton Stoner, it'll have to be either Fowler or Sami Vatanen.
Murray wants to keep the team together for at least one more run. Considering the age of Ryan Getzlaf and Corey Perry, that's probably a good idea. But if they fail, the Ducks are going to have to make a decision for which there might not be a right answer.
4. Montreal Canadiens seek defenseman
The Montreal Canadiens have gotten 17 out of a possible 18 points entering November 2nd. Everything is going right for them. However, they are still looking to upgrade one of the better rosters in the NHL. They were hoping Mikhail Sergachev could be an immediate contributor, but he's not quite NHL ready. According to Sportsnet, they could be looking to add a top-four defenseman.
Currently, the Canadiens have just over $3.11 million of cap space according to CapFriendly.com. Their greatest asset might be their draft picks. They have two second round picks in 2017 and three in 2018. Looking at the 2017 UFA class, it's not very deep. But there is one name on there who might be appealing to the Canadiens: Michael Del Zotto.
Del Zotto is a bit of a surplus with the Philadelphia Flyers. They have a plethora of young defensemen who are better than him. Del Zotto is recovering from an injury, but he would give Montreal a defenseman who can move the puck down the ice. The Canadiens have tried to find an ideal partner for the more static Shea Weber, but don't have a left-handed puck mover. Philadelphia would get at least one second round pick for a guy they probably don't need anyway. Makes sense for both sides.
3. Vancouver Canucks looking for a goal scorer
The Vancouver Canucks have lost five straight games after winning their first four. A large part of this is due to an inept offense that is last in the NHL in scoring. Canucks general manager Jim Benning isn't ready to throw in the towel for the season yet, though. According to reports, he wants to add a 20 goal scorer.
This would certainly help the Canucks' chances for this season. They have no real go-to goal scorer, especially with Loui Eriksson's only goal in October being one he put into his own net. Vancouver is feeling the pressure to win a Stanley Cup with the Sedin twins.
Realistically, 20 goal scorers don't grow on trees. Only 101 NHL forwards scored 20 goals or more last season and Vancouver has three of them. Matt Duchene is an intriguing option, but since Patrick Roy is out of Colorado, that's not happening. Depending on how the Hurricanes feel about Jeff Skinner, he could be available, but even if he is, Carolina would likely demand nothing short of a king's ransom for him. Jordan Eberle isn't a first overall pick, so Peter Chiarelli won't trade him.
However, one name on the list could make sense – Scott Hartnell of the Columbus Blue Jackets. Hartnell would have to waive his no-trade clause in order to facilitate the move, but he'd have a relatively cheap price tag on him.
2. The complicated case of Jaroslav Halak
Going into the season with three goaltenders was a bit of a risk for the New York Islanders. It was one they thought would pay off. So far, it's not. Jaroslav Halak's agent criticized the Islanders on Twitter over their goalie situation. General manager Garth Snow responded by letting every NHL team know he's available. So far, the Islanders have not gotten any calls about him.
There's a lot more to this situation than meets the eye. The Islanders have a complicated future in goal. Thomas Greiss could be gone after this season. If he isn't, he'll be back with a very expensive raise. This puts Halak's future with the Islanders in jeopardy. Perhaps Snow is hoping the Las Vegas expansion team takes Halak. But it's a bit weird the Islanders have let it get to this point.
Halak makes sense for several teams but unless the Islanders want to trade him to the Carolina Hurricanes, there aren't too many teams who make sense. Perhaps the Dallas Stars would, but that might involve having to do something with Kari Lehtonen or Antti Niemi. This could be the end of the line for Halak. Not just for his Islanders career, but his career as a starter.
1. Boston Bruins willing to trade Ryan Spooner?
It's not a secret that the Boston Bruins covet a young defenseman on their blue line to help them replace Zdeno Chara. Naturally, teams don't give away young defensemen without a hefty price. Could the price for the Bruins include promising young forward Ryan Spooner?
"I don't think it's so quick that the Bruins want to move him but I think they will listen," said Elliotte Friedman, via Sportsnet. "If it's a top, young defenseman that could come the other way, I think there's a possibility."
The Bruins likely aren't going to trade a great young player like Spooner for anything less than a quality young defenseman. Multiple teams have expressed interest in the 49 point scorer from last season.
But here's the issue because Spooner's best position is as a center. Patrice Bergeron is going to be in Boston for a very long time and David Krejci and David Backes will be around for a bit as well. Unless the Bruins trade one of those two players, Spooner will either be traded or continue his transition to the wing. Entering November 2, he has two points in eight games as a wing.
Jacob Trouba could be a trade target for the Bruins if the Jets decide to replace a top young defenseman with a first round pick.
More from FanSided
This article originally appeared on