New York Rangers sit at number two in ESPN's power rankings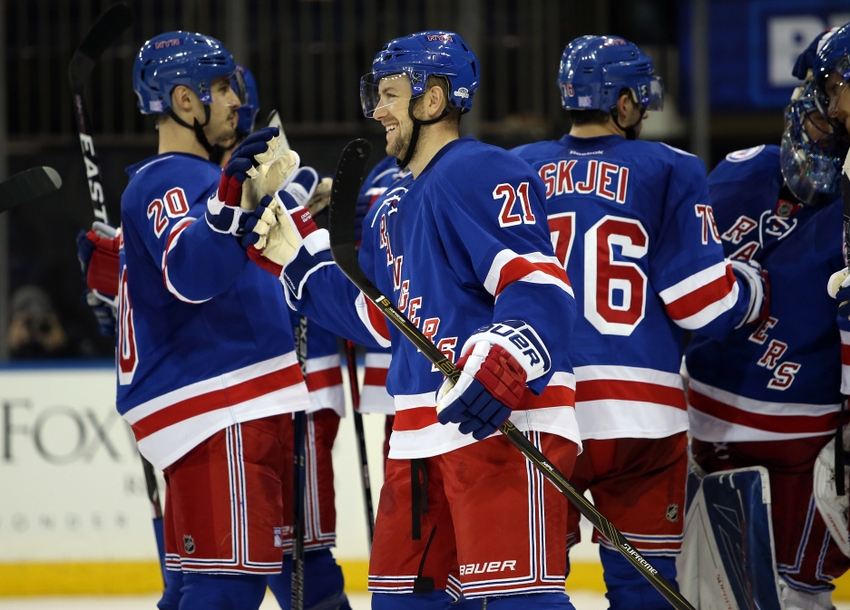 After weeks of being disrespected by Scott Burnside's rankings, the New York Rangers are close to the top of Pierre LeBrun's ESPN power rankings. Did he get them right this week?
I have had a problem with ESPN's Scott Burnside rankings all season long. That problem culminated last week when he ranked the New York Rangers–who led the league in goals even at that time–8th in the league.
I am the furthest thing from a Rangers homer despite being a die hard fan. In fact, I can sometimes be their hardest critic. But after the way they had been playing, there is no way they should have been ranked that low–albeit in the top ten.
This week, Pierre LeBrun took over power ranking duties for the month, and his actually seem to make some logical sense. He ranked the Rangers second to only the Washington Capitals in this week's edition.
"It's funny — back in August, when Jimmy Vesey picked the Blueshirts in his personal sweepstakes, I thought, "Why them? They're in transition mode, you're not going to win there anytime soon." Well, given the way the Rangers have exploded out of the gate, I need to rethink that. They're so much fun to watch, and they lead the NHL with 4.23 goals per game," wrote LeBrun.
I will say, though, that I did think the Rangers were still going to be contenders this year even though they played so poorly down the stretch last year.
The Verdict?
I believe that power rankings should have to do with the best team at that moment, and I truly
believe that at this very moment, the New York Rangers are the best team in the NHL, and deserve to be ranked as such. When you are able to score 4.2 goals per game over a 12 game stretch, that is uncanny.
The Rangers have scored 5 or more goals in each of their last 5 games and in 6 of their last 7.
When was the last time a team was able to put those numbers up on a consistent basis? Sure as hell wasn't anytime recently.
The Rangers offense hasn't been the only thing working for them. They also rank 5th in the league in goals allowed per game, while only allowing 2.23 a game. In their last 5 games, they have only given up 8 goals.
The Washington Capitals are no doubt a good team. They have an unbelievably skilled lineup, a steady defense and a rock in net with Braden Holtby. However, the way the New York Rangers are playing right now is other-worldly.
Even though they might not be the best team in the league come the end of the season with a bigger sample size of games played, right now, as we stand here on November 7th–as this is being written–the New York Rangers have been the best team in the NHL.
This article originally appeared on