Montreal Canadiens Shouldn't Trade Tomas Plekanec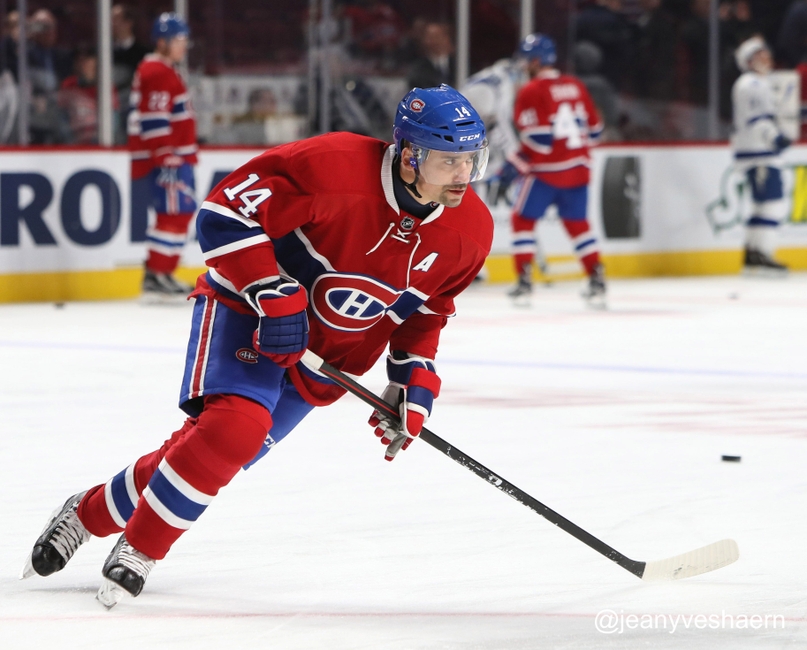 The Montreal Canadiens fans shouldn't want to trade Forward Tomas Plekanec because he helps the team in so many areas.
Montreal Canadiens Forward Tomas Plekanec has had a brutal start to the season offensively. At 34 years of age it's clear to see that Plekanec isn't the same player that he once was.
In 19 games, Plekanec has only managed to score one goal and four assists which totals only five points. Plekanec's shooting percentage is a brutal 2.5 percent and is way lower than 10.3 shooting percent average.
Plekanec has also had a revolving door of wingers to play with this season. He has played with Alexander Radulov, Max Pacioretty and Brendan Gallagher, the teams top offensive producers. However, Plekanec just doesn't seem to be able to develop much chemistry with any of them.
More from A Winning Habit
Plekanec is currently getting payed an average of 6 million dollars a year and is the Habs highest payed forward. When any forward who is payed that amount of money in Montreal but doesn't produce it's very rarely ignored and often leads to trade rumors.
The Fans have started grumbling about the slumping center and wondering what trading him could get the Habs in return. However, trading Plekanec would be extremely unwise as his value goes way beyond scoring.
Plekanec's Defensive Ability
Through the Plekanec's career in Montreal the Forward has always been one of the most underrated defensive players in the league. Even in years past some have praised him to the point he should win the Selke Award as the NHL's best defensive player. Tomas still has not lost his terrific defensive ability and plays a ton in the defensive zone.
Want your voice heard? Join the A Winning Habit team!
Plekanec is currently leading the Canadiens Forwards in the total amount of shifts taken, with 481, and shifts per game, with 25.3. Tomas is also leading all Canadiens forwards in shorthanded Ice Time, playing an average of 2:19 per game. Plekanec is Michel Therrien's most trusted and responsible forward on the team.
Just as an example to show how trusted Plekanec is, let's compare him to the Habs current number one center Alex Galchenyuk. The comparison is in what zone the two centers take their face offs.
  Face-offs taken by Zone
                                              Offensive Zone               Neutral Zone          Defensive Zone
Alex Galchenyuk                        102                                   79                                 34
Tomas Plekanec                          76                                   133                              138
Clearly, Plekanec is the more trusted center in the defensive zone and the neutral zone. If Plekanec had more opportunity in the offensive zone his scoring stats may improve. Plekanec has also been excellent when taking face offs this season and he is currently winning 51 percent of the time.
Final Thoughts
With a player who is given a ton of defensive responsibility, it doesn't make sense for Plekanec to take so much heat from the fans even. It's also crazy to consider trading trading Plekanec because he is one of their veteran leaders.
Also Plekanec's shooting percentage shouldn't stay that low all season and some of those shots will find the back of the net. Canadiens Fans should be patient with Pleky because he has been the Habs most consistent player for a decade.
This article originally appeared on