Minnesota Wild: Rusty Goaltending Not Just Because of the Goaltenders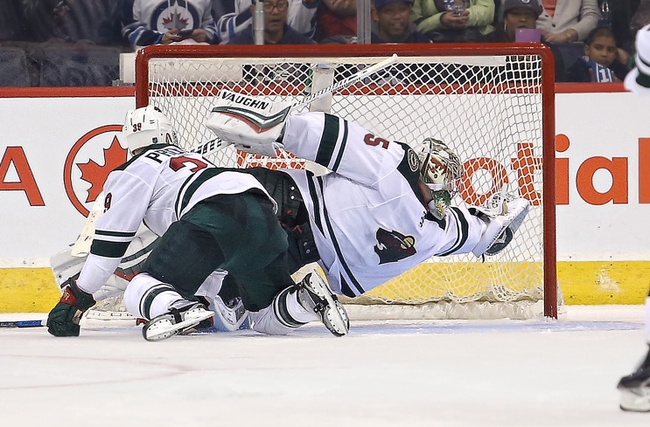 The Minnesota Wild have struggled a bit in the last two preseason games after an excellent win in their first preseason tilt.  The goaltending by Devan Dubnyk and Darcy Kuemper in the last two games has been called rusty, and while that might be the case,  who is really to blame for the subpar performances?
Team Europe One of the Best Hockey Stories in Years
After three preseason games the Minnesota Wild are sitting at a slightly unexpected 1-2 record.  Most observers seem not to be taking it too seriously because after all its preseason and the lineup to this point has largely been NHL hopefuls and not very many NHL veterans.  Also the team is learning a new head coach's system and quirks, so there's bound to be some growing pains.
However, the goaltenders in all three games have been three different players with extensive NHL experience.  Alex Stalock who started preseason game one in State College has appeared in 62 NHL contests, Devan Dubnyk who started game two has 298 NHL appearances, and Darcy Kuemper who took game three has 84 games under his belt.  So not really a group of NHL novices, but by all accounts, many seem to feel like they were a bit rusty in their starts.
Dubnyk who is the Wild's franchise goaltender turned in what can only be called a rough first start.  He stopped 26 of 29 shots for a below average saver percentage of 0.89.  All night he seemed rusty giving up a lot of rebounds and just had general timing issues.  It was just a hard tune-up for him as he saw a lot more shots than he's been used to in the preseason against the Avalanche.  As he explained to Michael Russo of the Star Tribune after the game "I think I saw more shots in the first period than I did all of the preseason last year."
Kuemper had a bit rougher of a night than his counterpart Dubynk.  Against the Jets Kuemper stopped 24 of 28 shots for a 0.85 save percentage.  That's a pretty rough number at any level.  Kuemper admitted to Phil Ervin of wild.com after the game that he might have had a little issue with getting used to game action again.   "You can take all the shots you want in practice, but then you get into a game situation, you're looking in and around bodies and there's traffic.  It's hard to get that without playing an actual game. That first one's nice to get out of the way. It gives you something to build off of. It comes back quick."
Stalock was surprisingly the best of the group with a 2-1 against the Sabres at Penn State.  He had a much busier yet successful night than Kuemper and Dubs, as he saw 40 shots and stopped 39 of them for an impressive 0.97 save percentage.  He showed a lot of poise and made some excellent stops on some of the NHL level talent of the Sabres like Evander Kane who he stoned at point blank range.  Of course when asked by Ervin about his performance he downplayed his performance and gave credit to his defense "We kept it simple — kept them to the outside and blocked shots when we needed to."
So really when you take a step back, look at who was playing in front of these netminders, and how they played you'd be hard pressed to shoulder them with all the blame.  When the defenders are not used to the system they are supposed to be playing, and are not up to the pace of the game it's hard to expect them to keep the shots down or keep the opposing forwards out of the higher scoring areas.
Also to expect that even seasoned players like Dubs and Kuemper would be able to come out in their first action after the summer off and not have some issues is a bit unrealistic.  The true gauge will be the subsequent games they start.  Dubnyk will start tonight against Carolina and Kuemper will more than likely start one of the two remaining games after that.
As Boudreau explained to Michael Russo yesterday "It could be rustiness…I hope that's all it is. They're going to get chances to go back in and we'll see how it works."
I guess the last thought on the goaltending thus far is that Stalock's performance was great and should be recognized as something special.  He had the same factors of a lot of time off and subpar defenders like Dubnyk and Kuemper, but he put all that aside and just won.  He's got a lot riding on this season and he made a statement.
Going forward the goaltending may have been rusty, but it seems like the whole team has been as well.  These last three games should yield better goaltending as the defense and the team as a whole improve.  Sure Dubs and Kuemper need to improve a bit, but they'll have the chance to in practice and in the games.  They're professionals they know what they need to do to improve, and odds are they are doing it right now.
This article originally appeared on