Edmonton Oilers Face Difficult Decision on Right Wing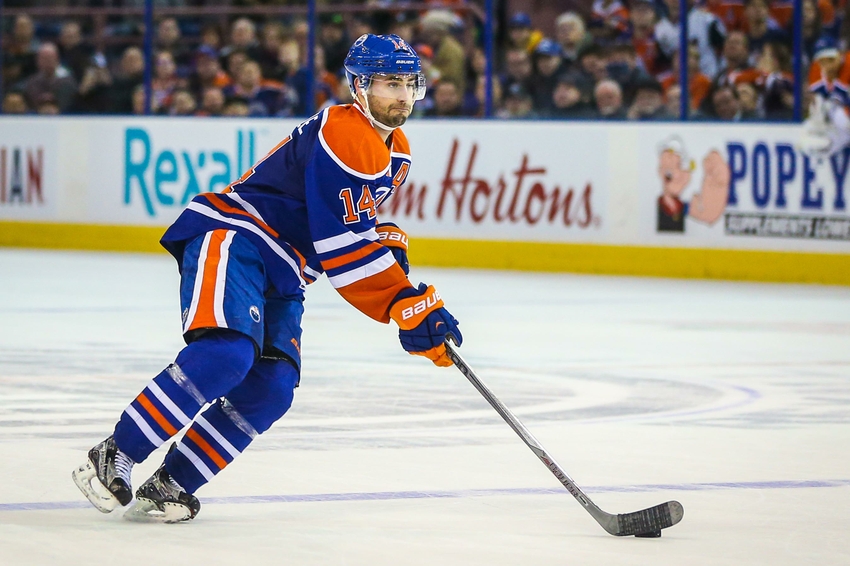 The Edmonton Oilers are hoping that the numbers game they have going on Right Wing this autumn will eventually work in their favor. But while there are a numbers of ways in which the starboard side could work out, none of them would seem to be a slam-dunk for head coach Todd McLellan.
Most argue that Jordan Eberle is the number one winger on the club, and I would concur. He is an elite-level NHL scorer, even though his other skills may keep him from over-all "elite" status. As a result, I would put him with the Edmonton Oilers best player. We've already seen how effective Eberle is with Connor McDavid. Why mess with success? Well, actually, there are some other alternatives worth considering, even though in the end…I don't believe the Edmonton Oilers should go with any of them.
Edmonton Oilers: Mark Letestu Has Room for Improvement
The idea-de-jour around Edmonton and on Twitter these days is whether or not to put Nail Yakupov with McDavid and Milan Lucic. That's not a terrible idea. One, we've seen a few previews of that movie before Yakupov got injured last season, and those sneak peeks were pretty exciting. And it would allow Eberle to "drop" to the line with Ryan Nugent-Hopkins and Benoit Pouliot…a very good NHL line, indeed. Over-all, it "may" give the Edmonton Oilers more balance. Detractors would say "Nail Yakupov hasn't earned time on the top line". Hmmm. Let's say you're right. But tell me again why we care? If the two have chemistry and produce, you win. If they don't, you swap wingers, and bam…you're done. What's the big deal? Anyway, I digress.
But what if you DON'T put Yakupov on the #1 line? Does he automatically move to Nugent-Hopkins and Pouliot. I'm not so sure. I have that line down for hard assignments this season, and I'm not sure Yak (while I love him) is up to that. Ideally, Zack Kassian makes the team…as I think he fits that bill. Problem is: If we accept that Yakupov is not a tough-minutes winger, and Kassian does not return to form in camp…then who DOES fit on that line? Jesse Puljujarvi? I know he's played against men in Finland, but I'll believe he can handle this assignment when I see it. It's a big, big jump.
However, the alternative would seem to be Iiro Pakarinen. And while I admire his work ethic and his willingness to no what's necessary, I have seen nothing that suggests Pakarinen has the offence to be a Top 6 player in the NHL…Ever. In the end, pending what transpires at camp, I would go Eberle, Kassian, Yakupov and Pakarinen on the right side, in that order:
LINE 4: Pakarinen with Mark Letestu and Matt Hendricks could be an effective, grind-'em-out 4th line with lots of P.K. time.
LINE 3: Yakupov on a "soft-minutes" line with Leon Draisaitl and Patrick Maroon could be a real offensive hit. That kind of excites me.
LINE 2: IF (if) Zack Kassian is the "Vancouver Canucks" edition of Zack Kassian, I really like him with Nuge & Pouliot. Like…really.
LINE 1: It makes the most sense to play your best winger with your best Center. Eberle SHOULD start with McDavid. Period.
What's that? What if Todd McLellan elects to play Leon Draisaitl on the win, and he might? Well, then Kassian drops to 4, and Pakarinen takes a seat. Although I think it's more likely Leon gets spot duty on starboard. That is, after all, how Todd McLellan has operated in the past.
And what of young Jesse Puljujarvi? Well, I think it's ideal if he starts in the AHL. But if he's the 2nd best right wing on the team in camp?
Well…then one of the names listed above loses his job. It's a tough business.
This article originally appeared on