Colorado Avalanche: Jared Bednar Impressing with Clear Message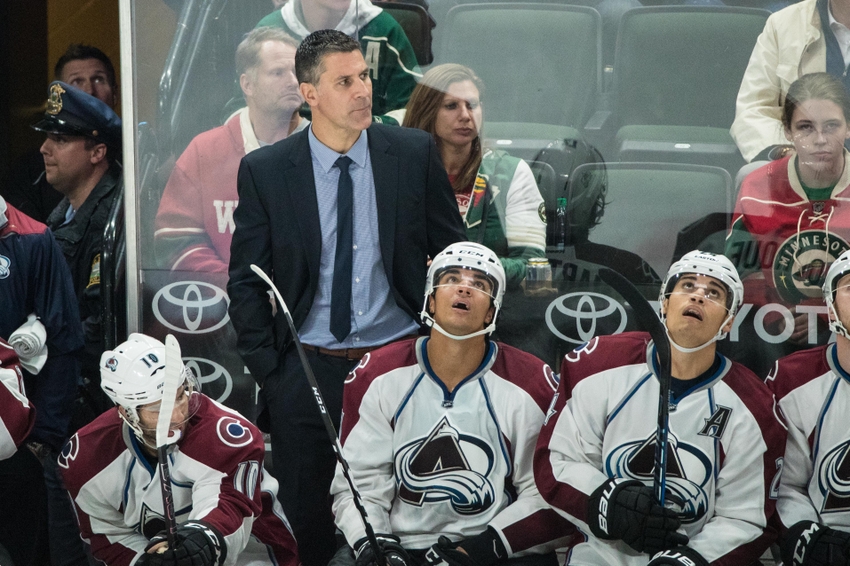 Colorado Avalanche head coach Jared Bednar is having success with his systems and structure during the preseason, and players are resonating with that message.
The Colorado Avalanche are 3-0 through their first three preseason games, and Jared Bednar's clearly articulated systems and structure are a large reason for that success.
I believe this all starts with Bednar's understanding of both the AHL lineup and the NHL lineup, as well as his ability to adjust to the World Cup. Bednar understands that his best players will be returning near the end of training camp.
This reminds me a little bit of an American League training camp — there's more players, your best players start coming to you later on [World Cup] in the training camp. It's just [about] making sure we get them up to speed, and they get all the reps they need to be ready to go to start the season.
Due to his AHL coaching experience, he knows how to use his AHL roster to his advantage in the meantime. In other words, he's using this time to evaluate his AHL players within the new systems, while also making sure that the structure stays the same throughout the organization.
However, systems and structures are only useful if they are communicated properly, and if they resonate with the players.
More from Mile High Sticking
Fortunately, the new systems are getting praise unanimously by players on the Colorado Avalanche.
The Systems are Resonating with Avalanche Players
You could just watch the games and know that the new systems are proving fruitful for the team. However, that confidence is more easily represented by what the players have to say about the new systems.
First of all, Bednar seems to be clearly relaying his message to his players, as Tyson Barrie eloquently related*:
The systems are really sharp. [Bednar] is a really sharp guy, he's very articulate. He's laying the systems out in a way that I'm finding easy to understand, and I think all the guys are on same page. His systems are straightforward, they're going to be fast.
Each time a player discusses Bednar's new systems they're conscious to include their teammates in that comprehension. Plus, there's a lot of agreement in how they should play. Here's what John Mitchell had to say:
It's different — and it's great, because I've talked to some of the guys and we've all come to the conclusion that this is the way we should play. This is going to be good. We have a fast team. So let's use our speed, our best attribute.
Also, the players seem to respect Bednar's path to the NHL. Here's what Nathan MacKinnon had to say:
[Bednar] is a very clear communicator, he's very smart. He's won the [ECHL] and the [AHL]. What he's done and implemented at those levels will definitely translate here.
All the players seem to be grasping the systems and executing them properly. Here's what Mikhail Grigorenko had to say:
Everyone understands what to do on the ice. We're playing good hockey; there's still a lot of things to learn. I feel confident, and I think that comes with knowing all the systems. It's been fun playing for Jared.
Most importantly however, is that the players are having fun playing these new systems, and are excited for the implications. Here's what Gabe Landeskog had to say:
I'm really exited about having Jared here. It feels like he brings in a lot of fresh air and comes in with a lot of optimism about this group. It feels like he believes in us.
Bednar is instilling a lot of confidence in this group, which is clearly echoed by what the players have to say on the matter.
*All quotes were taken from the Colorado Avalanche website, and The Denver Post.
Conclusion
Jared Bednar has only been with the Colorado Avalanche for a short time, but it's clear that his impact is already being felt.
When multiple players echo the same sentiment about his ability to articulate and also excite them with the new systems, you know good things are happening in Colorado.
More From Mile High Sticking: Ben Smith Could Make Opening Night Roster
The Colorado Avalanche don't play their next game until Tuesday night against the Minnesota Wild. With a good amount of time off between games, expect some roster cuts as the coaches deliberate on their roster.
As the roster inches closer to the opening night lineup, expect Bednar's demands to be higher for those players. For example, here's what he had to say about Nathan MacKinnon's play against the Kings:
Well, he was good. He was good. I hold him to a real high standard. He skated hard, he worked hard, he drove it to the net a couple times, he was back defensively. There's no panic in his game with the puck. I would like to see him shoot it a little bit more. He's hanging onto [the puck] a little bit. A little more of attack mode for him because when he does that pucks are getting to the net, there's traffic down there. So, I think he can create a little bit more, but he was good for his first game back.
That's what this team needs — for the best players to be held to a high standard. MacK scored a goal against the Kings, but he also held onto the puck too much, and wasn't shooting it enough.
The only way these players are going to reach their full potential is if someone is there to harp on their play in all facets. As the top players from the Colorado Avalanche get used to the new systems with more regularity, there should be more concise execution.
Nonetheless, coach Jared Bednar has started out strong for the Avs. And, Colorado Avalanche Fans should be excited to see how it all comes together this season.
Anyway, let's end this on a great video of Mikhail Grigorenko becoming the player the Avs need him to be:
Yeah, that was a beauty by Grigs. Now that he has three goals in his first two preseason games, it's time to be stoked about this upcoming season for the young man.
That's all for today folks, thank you for stopping by!
This article originally appeared on