Calgary Flames Lack of Discipline Leads to Three Goals in 1:41 Minutes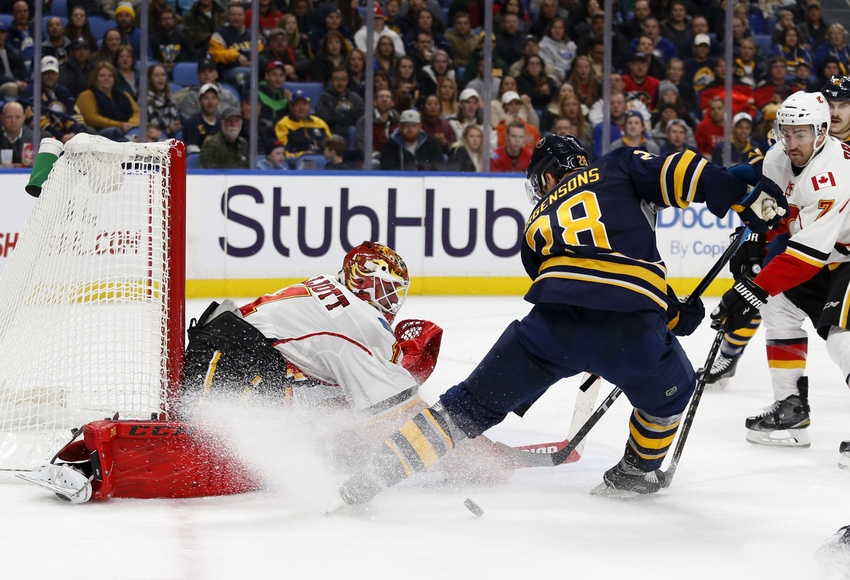 The Calgary Flames get too many consecutive penalties and it leads to three power play goals by the Buffalo Sabres in a minute and 41 seconds.
The Calgary Flames were leading after 20 minutes of play. Then the second period happened and everything fell apart. Including me. And Twitter.
The Flames and Buffalo Sabres get into a bit of a scrum, so it becomes 4-on-4. Then the Flames get a delayed penalty from a slashing call from Troy Brouwer (surprised that the officials know what a slash is. Sorry, I couldn't help it. Moving on).
There's a delayed call, and during that delayed call, Dougie Hamilton gets a tripping call as well. So after a confusing penalty situation, it would be 4-on-3 then become 5-on-3. During that 5-on-3, the Sabres scored. Then it's 5-on-4 and the Sabres score again. 35 seconds later.
Then Brouwer gets another penalty 53 seconds later. And, spoiler alert, Sabres score another power play goal 12 seconds later.
Before that, Calgary Flames G Brian Elliott had made 17 saves before the first goal by the Sabres. Then everything just fell apart. Including my hopes and dreams.
I will say, some of the calls made the players and fans very frustrated. Not necessarily for the calls themselves, but because the Flames are getting penalized for things other teams don't get penalized for doing AGAINST the Flames. Leaving many to think #WidemanGate is in full effect.
Twitter Time
Let's check Twitter and see how people reacted to the consecutive penalties.
2 penalties at same time. Wideman effect in full force. #Flames

— Sam (@sam_corea) November 22, 2016
Somewhere Johnny Gaudreau is watching this game and curious how Brouwer's slash was different from the several he took in Minny.#Flames

— Randy Sportak (@RandySportak) November 22, 2016
LOL boarding on the ridiculous now #Flames can't even look at anyone the wrong way What a sham

— Sam (@sam_corea) November 22, 2016
— Rob Lozon (@RobL76) November 22, 2016
Ive said it before. As long as Dennis Wideman is a Flame….Flames won't climb out of the basement, opponent will ALWAYS have Ref Help

— MattBritton 14-3-2🍁 (@GoHabsGo1976) November 22, 2016
surprised we didnt get a penalty for taking the puck away from here there. #Flames

— Jay (@jayrlocked) November 22, 2016
@ChinookArchYYC refs decided they weren't getting enough TV time.

— Jesse (@JT_FlamesFan_17) November 22, 2016
Trust me, there were MANY more where this came from. But I didn't want this article to be ten pages long.
What do you guys think? Are all the penalties completely the Calgary Flames fault and their lack of discipline? Or is there some sort of bias by the officials against the Flames? I don't know how relevant my opinion is since, of course, I'm a Flames fan. So I may be biased as well.
But the Wideman Effect seems to be in full force.
This article originally appeared on