Calgary Flames Head Coach Glen Gulutzan Needs To Go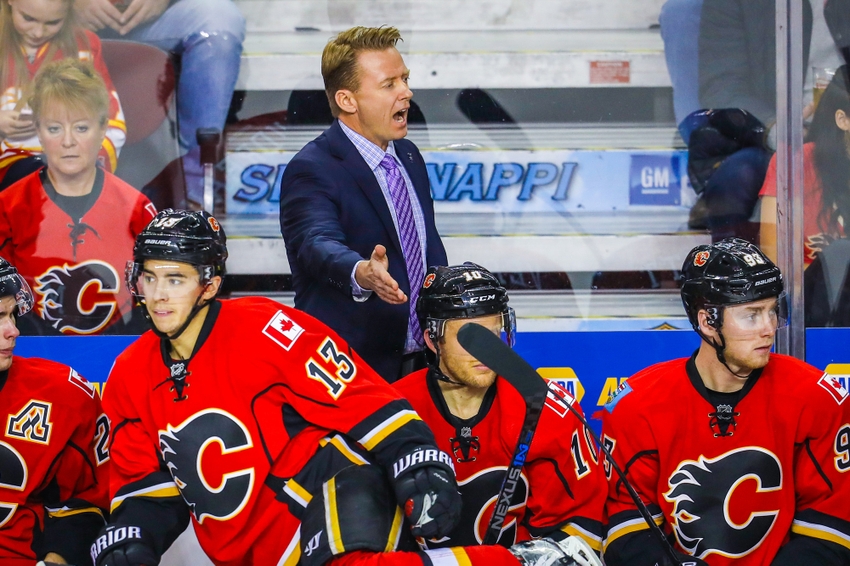 The Calgary Flames are 6-10-1 through the first seventeen games of their season and they're 28th in the league. Some things need to change, including the head coach.
The head coach of the Calgary Flames, Glen Gulutzan, is not having a good impression to start this season. The team is 6-10-1 through the first seventeen games and they are the first team this season to reach ten regulation losses.
In his two seasons as head coach for the Dallas Stars in 2011-2012 and 2012-2013, they ranked 4th and 5th in their division, respectively. They still managed to keep over 0.500 both seasons, but never made the playoffs.
Many fans are calling for the firing of Gulutzan, along with some assistant coaches as well. The Calgary Flames rank 28th and 29th for the power play and penalty kill, respectively. This is leaving many fans wanting pp coach Dave Cameron gone, more so than anybody else really. If you've watched any Flames game this season, you would know how horrendous the pp has been.
However lately, many people are wanting Gulutzan gone more than anything. I mean, most people want him gone. There is someone who thinks he should stay. And that person, to no surprise, is Eric Francis. Francis is a reporter and a sports columnist for the Calgary Sun, and the reason this is no surprise, is that he usually seems to disagree with the popular opinion.
Eric Francis: Firing Gulutzan is "absurd talk"
Per Francis in the Calgary Sun:
Some wonder if his new system is too complex for the players, others suggest he's been unable to command respect in the room.

Many don't care why – they simply want him fired.

It's as absurd a notion as it is symbolic of the world we live in today. Everyone wants instant results, and instead of trying to strive for solutions they propose the easy, knee-jerk reactions.
Many of the players come to the defense of Gulutzan as well, as you would imagine. Flames GM, Brad Treliving, hired Gulutzan in the off season after the firing of former coach Bob Hartley. The reason for this is because of Gulutzan's fast-paced style and possession-based game over Hartley's hard-hitting play.
This however, has not been the case with the Flames. The puck possession and fast-paced style hasn't completely worked in their favor. They're currently in fifth place for giveaways with 160 of them. At one point, they were doing pretty well with takeaways, but lately this has not been the case, and now they're 14th in that category.
Me and Francis are not one
This is why I have to disagree with Francis. Not only for their amount of giveaways and how they haven't been strong in the neutral zone because of this fast-paced style, but also because of the constant line-up changes and the line-up decisions.
More from Flame for Thought
It was no secret that Calgary Flames fans were not pleased with D Nicklas Grossmann from the beginning. On the day of his signing, fans were already mad at not only Treliving's decision to sign him, but Gulutzan's decision as well. Gulutzan has history with Grossmann and thought he was a good fit with this team. So, since fans are already not too pleased, it probably didn't help that he won a spot on the opening night roster. And that he got two giveaways that led to goals in the first period.
Luckily for fans, Grossmann recently had his contract terminated so he will no longer be playing with the Flames.
But then there are also the constant lineup changes. Of course, if you're not winning games and you're struggling with scoring, there are going to be changes in the lineup. That's inevitable. However, what fans disagree on is the splitting of defencemen Mark Giordano and TJ Brodie. Of course, they need to change some players around to try and find something that works. But don't split up what is actually working.
Coaching isn't completely to blame – but they are partially
Now of course I know that you can't completely put the blame on the coaching staff. Some of the Calgary Flames top players aren't producing to the best of their abilities. However, like what they said over at Matchsticks and Gasoline: "At the end of the day though, it's the coach's job to put the team in a position to succeed through strong systems and inspire confidence in his players while doing so, which is something Gulutzan simply hasn't done."
So what do you think? Should Gulutzan be given a chance until the end of the season? Or should the Flames cut the cord now and do a mid-season coaching change?
All I know is that the Flames need to win about two-thirds of their remaining games if they want a chance at playoffs. And seeing how their season has been going under the current coaching staff, that isn't going to happen.
This article originally appeared on