Calgary Flames Goaltender Chad Johnson Taking Over Starting Gig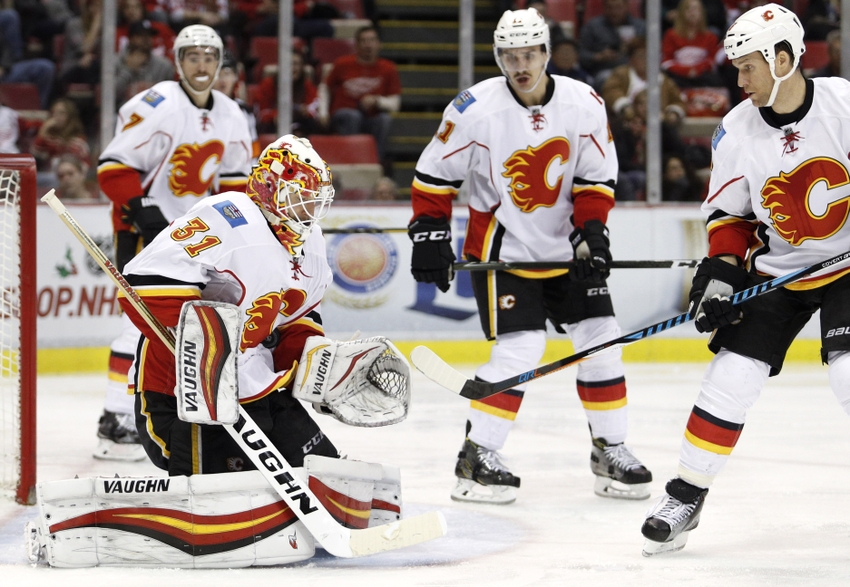 Calgary Flames goaltender Chad Johnson has been nothing short of spectacular and looks to be staking his claim on the starter role moving forward.
Calgary Flames G Chad Johnson has posted a 6-3-1 record, while the Flames sit sixth in the Wild Card standings with a 9-12-1 record.
Notice the problem?
The Flames brought in Brian Elliott to man the crease, but the 31-year old has been abysmal. He currently sports an ugly 3-9-0 record, with a 3.42 goals against average, and a 0.882 save percentage. Not to mention, this was with Flames star Johnny Gaudreau in the lineup, but the Flames lost their speedy winger to a fractured finger last week.
Without question, Johnson has been the better goalie, and the overall numbers prove it. Johnson sports a 2.08 goals against average, with an impressive 0.922 save percentage, and two shutouts. Needless to say, all those knocks on the defensive group in Calgary seem to be in the rear-view mirror as Johnson continues to shine with enough help on the back end.
What's Happening with Brian Elliott?
The fact is, Elliott has never shined as a go-to goalie. His best years have been as a tandem, or fighting for a starting role. Will he make a comeback this season? Surely the Flames would like to see that, but riding the better goalie is always the way to go.
After Elliott left the Ottawa Senators for his first major starting role with the Colorado Avalanche, the wheels fell off relatively quick. He played just 12 games for the Avs and finished with a 2-8-1 record and an ugly 3.83 goals against average. His numbers in Ottawa during the first half of 2010-11 were no better, as he ended his Sens career with a 13-19-8 record, a 3.19 goals against average, and 0.894 save percentage.
Despite both teams being at the bottom of the standings, Elliott was no help to either team, resulting in his move to the St. Louis Blues the following season.
As a member of a tandem with the Blues, Elliot excelled. He was an absolute backbone in net, and outlasted Jaroslav Halak as the veteran netminder. Once Jake Allen came of age, it was time for Elliott to find a new home. Now with the Flames, Elliott has not been able to perform at the same level since taking over in Calgary, and seems to have lost his starting job to Johnson.
Calgary Flames Goaltending Future
As it stands, Johnson will be given as many starts as possible until Elliott can prove himself, and rightfully so. The Calgary Flames were supposed to be a much better team this year, and the lack of scoring to start did not help their cause. With Gaudreau sidelined and Elliott struggling, it will be interesting to see just how well the Flames can do.
If this turns into a goaltending tandem for the near future, so be it. This was a potential playoff team heading into the season, and they must right the ship as soon as possible. Sean Monahan has started to play better, but the Flames need a lot more from their star center, especially now.
They have the depth and the defensive group to do well in the NHL, and they need all the pieces to come together. With Johnson in net, it seems that is exactly what is happening, and the Flames will need to tread carefully as they try to turn their season around in the next 60 games.
This article originally appeared on