Buffalo Sabres 2016-17 Predictions: November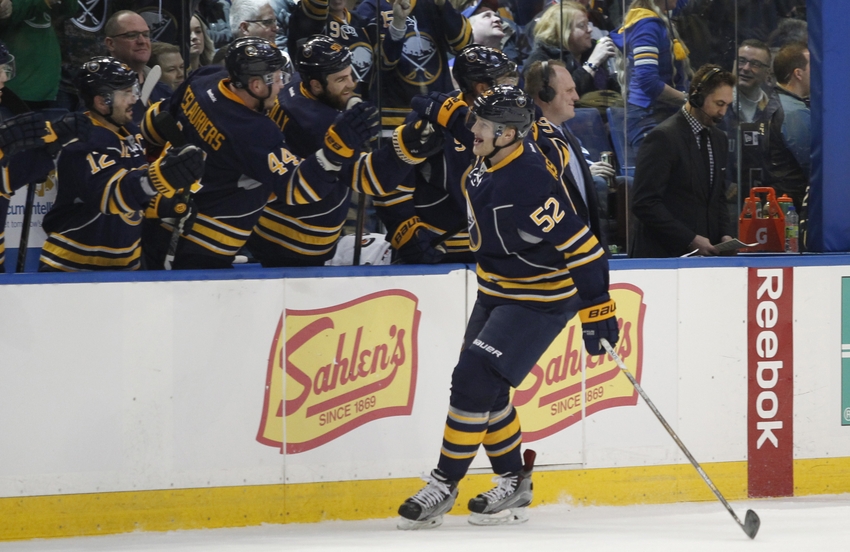 The Buffalo Sabres begin their 2016-17 with a challenging October schedule – will their second month be any easier?
The Buffalo Sabres have their fans dreaming about a return to the postseason following a tank rebuild that made professional hockey in the 716 a bit painful to watch the past few years.
Unfortunately, as I covered here, the first month of the 2016-17 season is not a favorable one for the Sabres.  With only three home games and five away games, including a 3-game West Canada road trip, the Sabres will be lucky to emerge from October with a .500 record, and I projected them to finish 3-3-2.
Of course, part of my projection was based on the fact that the team needs to integrate new players in Kyle Okposo and Dmitry Kulikov, as well as find a line on which Tyler Ennis will fit.  Those problems may no longer be a factor once the Sabres roll into November, so let's look at the schedule for Turkey Month and see what's in store!
November Schedule
Tuesday, November 1: Buffalo Sabres vs. Minnesota Wild
Thursday, November 3: Toronto Maple Leafs vs. Buffalo Sabres
Saturday, November 5: Buffalo Sabres vs. Ottawa Seantors
Monday, November 7: Buffalo Sabres vs. Boston Bruins
Wednesday, November 9: Ottawa Senators vs. Buffalo Sabres
Friday, November 11: New Jersey Devils vs. Buffalo Sabres
Saturday, November 12: Buffalo Sabres vs. New Jersey Devils
Tuesday, November 15: Buffalo Sabres vs. St. Louis Blues
Thursday, November 17: Tampa Bay Lightning vs. Buffalo Sabres
Saturday, November 19: Pittsburgh Penguins vs. Buffalo Sabres
Monday, November 21: Calgary Flames vs. Buffalo Sabres
Wednesday, November 23: Detroit Red Wings vs. Buffalo Sabres
Friday, November 25: Buffalo Sabres vs. Washington Capitals
Tuesday, November 29: Buffalo Sabres vs. Ottawa Senators
For what it's worth, the November slate of games is a little more friendly to the Sabres in terms of travel.  The Sabres don't play more than two road games in a row during the month, and two out of the three times that the team plays back-to-backs, the Sabres will enjoy two full days in between contests.
Furthermore, the Sabres play at home seven times this month, including a nice little 4-game homestand.  Nice . . . unless the Sabres protect home ice as well as they did last season, when the team was 16-19-6 in First Niagara Center.  Let's hope this squad gives the home crowd more reasons to celebrate.
Also working to Buffalo's advantage is that many of their foes in November will be playing on the second night of back-to-back games.  The Ottawa Senators will be coming into Buffalo on November 9 following a road game against the Nashville Predators on November 8.  Later, the Pittsburgh Penguins visit Buffalo one night after they play the New York Islanders in Brooklyn (and the Pens have to play the Washington Capitals in DC on Wednesday the 16, as well).  Last but not least, the Calgary Flames will be entering Buffalo on the heels of a Sunday evening match-up in Detroit.   You have to think that the Sabres will be able to jump on a few of these tired foes and earn Ws.
Sabres record in November: 7-6-1
Although I don't believe the Buffalo Sabres will ultimately make the playoffs in 2017, I have gone on the record as they should be fighting for a playoff spot come February and possibly even March.   A shaky October should give way to November, in which the Sabres earn around 15 points and enter December with a record that is close to .500.
This article originally appeared on