Boston Bruins: Jimmy Hayes Gets On The Scoresheet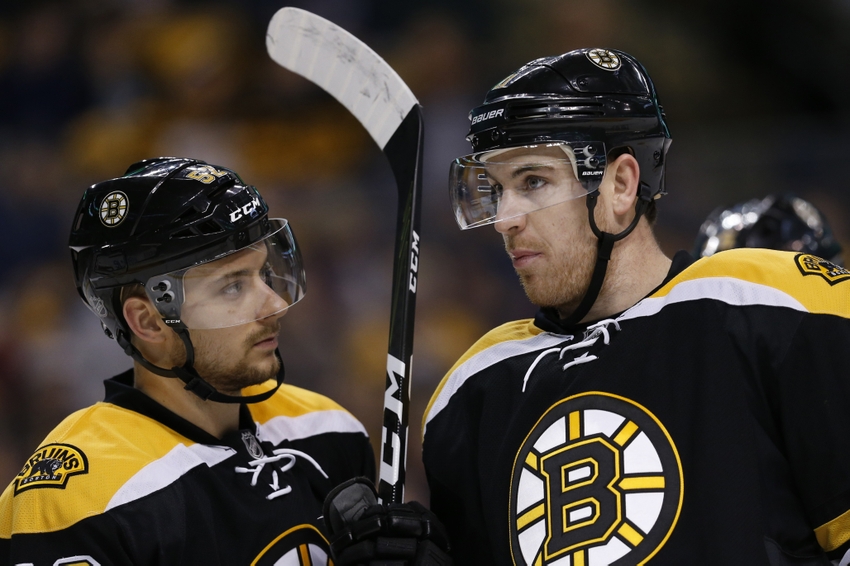 Boston Bruins forward scored his first goal and earned his first point in Sunday's game against the Tampa Bay Lightning. It's been a long time coming for the Dorchester native.
Fans of the Boston Bruins have developed a love-hate relationship with forward Jimmy Hayes. To be frank, a lot of the fans love to hate him. The Bruins brought in Hayes because he was everything Cam Neely and Don Sweeney wanted: A tough, gritty, big-bodied, physical player that happened to be from the neighborhood.
Sounds like a plan for success, right?
It certainly hasn't been. The 6'6″ Hayes has found himself being out-played and out-muscled by much smaller players this season. Until Sunday, Hayes was working on a 35-game goalless streak stretching back nine months. The Bruins coaches kept defending Hayes, arguing about how he was helping the team in other ways.  The Bruins are among the bottom in the league in goal production, and that's what they needed from Hayes.
It was getting ugly for Hayes in Boston. The fans were agitated, the front office was baffled, and all Hayes could do was keep working and hope for a change.
That change finally came on Sunday. Hayes was able to tip-in a David Krejci shot to get the puck past Ben Bishop and into the crease.  Needless to say Hayes was happy to finally get on the board for Boston.
"It's been a struggle to score some goals here," said Hayes of his extended scoring drought.  "To put one in is a nice feeling. We had been struggling to score goals…to put a four spot on a solid team like that is good for our confidence."
The Bruins forward is certainly having a rough go of it this season. He's already been a healthy scratch for two games earlier this month, and his goal against the Lightning was his first point of the season. Still, Hayes knows that he can't take his foot off the gas pedal now.
"Just have to continue to work hard," said Hayes. "Put your head down and find a way to put a puck in the back of the net. I started to get some chances here lately. To get one to go in was nice."
As the season progressed, Hayes found himself moving further down the lines until he ended up on the fourth-line.  In the last few games, he has found himself on the wing of a line that has been centered by Dominic Moore.  Moore has been a stabilizing influence on the fourth-line and has been a decent source of supplemental scoring.
Moore certainly understands what it's like to have tough times on and off the ice. He also understands the value of not over-thinking a situation.
"Sometimes you end up trying too hard sometimes," said Moore. "We've all been in those kinds of situations. It was great to see him get that monkey off his back.
"I think every player has been in a tough stretch. We were all, obviously, pulling for him. He's working so hard and he really works his butt off every night, so it was really nice to see him get rewarded tonight."
This article originally appeared on