Boston Bruins: Bruins Preseason Winners And Losers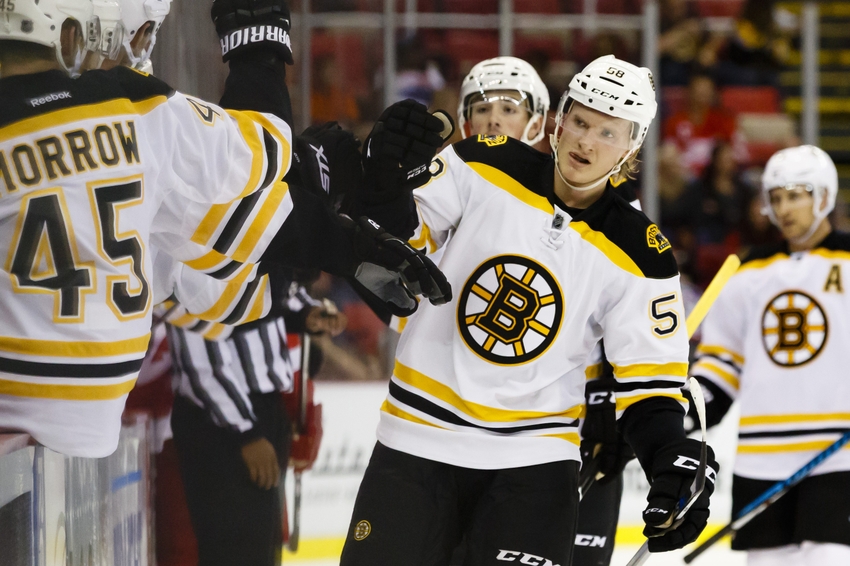 Identifying Which Boston Bruins Have Stood Out Or Failed To Impress Through Four Preseason Games
It's been a mixed bag thus far for the Black and Gold, though things have been on a definite upswing following back to back OT victories. We've seen several exciting youngsters either solidify, or build a case for inclusion on the parent club's 22 man roster. Players have returned home from the World Cup of Hockey and made an immediate, significant impact. We've also seen some very loose and dangerous play in the defensive zone, low scoring outputs, and several younger Bruins with pro experience yet to show they're ready for a larger role. The preseason is less about results and more about habits, especially for a team with as many question marks as Boston. And though the preseason has shown us just four games thus far, several things have become a touch clearer for the Black and Gold. Without further ado:
Winners
Danton Heinen
I couldn't type Danton Heinen's name into this column quickly enough. Thank you, yes please, may I have another, wham-bam thank you ma'am, Heinen has been even better than advertised. With three goals in as many games (with a single tally in each) Heinen has easily been the brightest spot for the Bruins up to this point. He tied up Monday's tilt against Columbus with a BEAUTIFUL redirect from the high slot off a Brandon Carlo shot from the point. He finished off a ferocious forecheck started by RIley Nash and Zachary Senshyn by going five-hole (from his knees) on Jimmy Howard. The third period tally tied the game (again), and broke a scoreless streak of 74 minutes for the Black and Gold. He started off the scoring Saturday against Philadelphia, and then potted his chance in the shootout. While the regulation goal was hardly a thing of beauty, the adage of "They don't ask you how, they ask you how many," comes to mind, as does the one about good things happening when players drive to the net with their stick on the ice. More importantly, all three goals for Heinen came with different linemates. Prior to the preseason we heard all about Heinen's Hockey IQ and ability to play anywhere in the lineup. He has done just that in each of his three games, and in the wake of Frank Vatrano's injury and extended absence has all but solidified a roster spot for Opening Night.
Brandon Carlo
Brandon Carlo has gotten off to a very solid and promising start to the upcoming campaign. In the opener, Carlo notched the primary assist on Danton Heinen's goal, snapping off a quick and low shot from the point which Heinen redirected. He logged over 20 minutes of ice time, displayed great positioning and decision making, and showed us some of the snarl he brings to the ice. He was whistled for penalty in the second period after winning a shoving match in front of Anton Khudobin. Though he'd been doing so all night, this particular instance was a bit more spirited than the others, as he decisively and emphatically dispatched the crease-crasher to the ice. Carlo had this to say, following the game: "He was coming hard to the net, so I just held him off a little bit and he gave me an extra shove. And I'm not the guy who's going to just sit there. I'll probably give the shove back."
Some serious moxie there from the 19 year old. After being referred to by Assistant Coach Bruce Cassidy as "arguably our best defenseman," after the opener against Columbus, he followed his season debut with a solid all around performance against Detroit alongside veteran John-Michael Liles. This is a tandem that we could very well see again this season, and if Carlo keeps it up we could see it sooner than later.
Austin Czarnik
The second-year pro out of Miami University has turned more than a few heads up to this point. After notching 20 goals and 61 points last season for Providence, Czarnik found himself stuck toward the back end of Boston's logjam at center. To this point, Czarnik has notched one goal and one assist through three games, scoring Boston's lone tally in their 5-1 drubbing at the hands of Detroit. He has displayed great quickness and speed to go along with notable playmaking ability, and has also shown attention to detail in every facet of the game. He has been tenacious on the forecheck, has shown no fear in regards to to crashing the net, and has played well (in an admittedly small sample size) on Ryan Spooner's wing. With spots up for grabs in Boston's Bottom 6, Czarnik could very well find himself on the opening night roster should he continue to show a willingness to do "the little things" while also producing offensively from the wing.
Though they've only played one game thus far, it was too impactful of a game to not include "The Davids" on this list. Suiting up for the first time since their respective three-game stints in the World Cup, Backes and Pastrnak were "Straight-Up Mawnstahs, dood" against Philly Saturday night. "Pasta" finished with two goals and an assist, while Backes assisted on all three of Boston's regulation goals. It was certainly an encouraging way for the pair to begin the season, and it's likely we see the duo on a line together in the near future, if not in Boston's next tilt.
Mixed Bag
Joe Morrow
We've seen some ups and downs thus far for Joe Morrow. Against Columbus, Morrow was an absolute ghost. With the lineup chock full of rookies and prospects, he did not stand out at all as a veteran of three-plus pro hockey seasons amongst them, and was on the ice for Columbus' first goal. Most recently, we've had some encouraging play, as he finished off Friday's victory over Detroit with some great work down low, followed by a gorgeous pass while falling down to a streaking Ryan Spooner. The helper on the OT winner capped off a great night for Morrow, which also included two hits, two shots, and even a fight in nearly 20:00 of ice time. The fight (literal and figurative) shown by Morrow suggests he's well-aware of his standing amongst a sea of prospects, as well as newly-arrived Christian Erhoff, whose PTO has yet to commence. More performances like this from Morrow will either cement a place in Boston's Top 7, or will at least serve as an attractive audition for teams around the NHL.
Subban, like Morrow, has shown flashes of the talent that made him a First Round Draft Selection, as well as the inconsistency that has followed each of them through their young careers. While the .893 save percentage through two appearances certainly leaves something to be desired, it's important to note that poor Malcolm was COMPLETELY hung out to dry by the defense in front of him during Wednesday's tilt with Detroit. Despite being left for dead to the tune of 4 goals against on 34 shots through two periods, Subban displayed tremendous athleticism at several points, robbing numerous Grade A scoring opportunities. Against Philly on Saturday, Subban yielded 3 goals on 32 shots, and made a big stop on Nick Cousins in the shootout to help secure the victory. With the Expansion Draft looming, the plan all along has been to hide Subban this upcoming season. It was going to take a significant statement from Subban to supplant Khudobin as the team's backup, and that has yet to occur. More importantly for Malcolm than making a massive statement from the get-go will be to build some confidence and to work on technique and rebound control at the AHL level following last year's scary larynx injury.
The….Not….Winners (Losers Is A Bit Harsh)
Though he hasn't been a liability (or even done anything egregious) this preseason, Griffith has done nothing to this point to distance himself from other youngsters looking to solidify a role with the parent club. He's been on the ice for a couple goals against, took a penalty which lead to Detroit's only goal in Friday's 2-1 win, and has been a non-factor offensively after posting 77 points last season in Providence. With both Danton Heinen and Austin Czarnik looking far more impressive to this point, Griffith will likely begin the season back in Providence barring a more consistent and tangible impact in the preseason's remaining three games.
See: Griffith, Seth
Peter Mueller (in Boston on a PTO) has played in three of Boston's four preseason contests, and has yet to have much of an impact. With Heinen, Czarnik, and Jake DeBrusk outpacing Mueller, and with the lack of a contract, Mueller is going to need to start putting (or helping) pucks into the net soon, should he wish to secure a contract and a spot on the roster.
Following his 19 game stint with Boston to close out last season, Noel Acciari appeared to have the inside track as the team's fourth line center moving forward. The Bruins signed both Dominic Moore and Riley Nash this past offseason, clouding the picture slightly. Once the preseason kicked off, Acciari was forced to leave Wednesday's game with a lower body injury. Though Dominic Moore was also shelved with a minor injury, Moore (like Nash) are on one-way contracts, meaning both would be exposed to waivers should the Bruins wish to send either of them down to Providence. Acciari's two-way contract does not require waivers, and this fact (in conjunction with his injury and limited offensive potential) have made an uphill climb out of what was virtually a level playing field for the second year pro. He'll need a couple impact games following his unfortunate injury to make the Bruins' Opening Night roster.
We've seen just four preseason games thus far, and not one Bruin has dressed for all four. It's currently a very, very small sample size. I'm not ready to hang Danton Heinen's jersey from the rafters, call Malcolm Subban a bust, nor count out Seth Griffith. This article has merely been an exercise in examining who has made the most of their opportunities through week one, and who hasn't. With the NHL regulars set to reclaim more ice time through the coming week and a half, it will be imperative for those mentioned above to either keep on trucking, or to kick things into a higher gear with their remaining chances.
Through it all, the biggest winners of the week would have to be us, the fans.
Because Boston Bruins hockey is back, baby.
More from Causeway Crowd
This article originally appeared on