Arizona Coyotes' Lawson Crouse Blossoming Into Valuable Role Player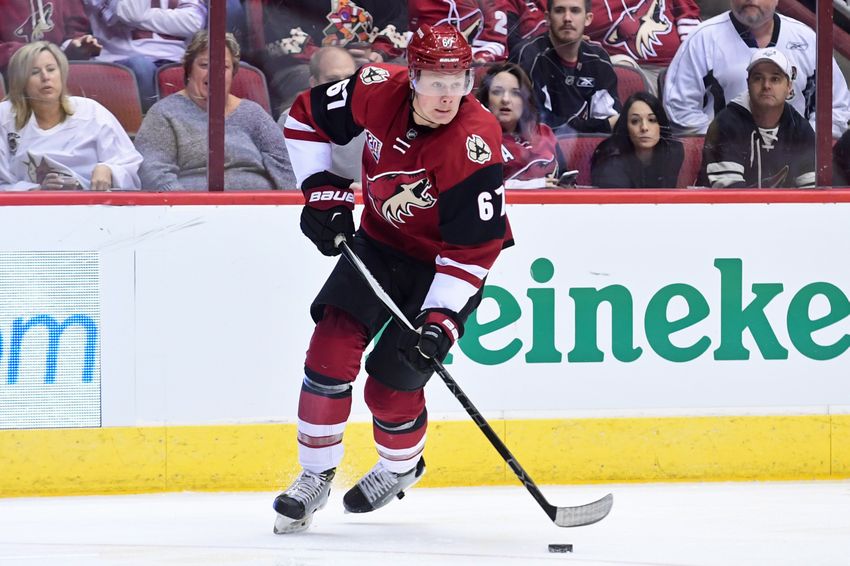 The Arizona Coyotes found their offense in an enthusiastic 4-1 thumping of the Nashville Predators, and Lawson Crouse participated in both the offense and the thumping.
The Arizona Coyotes put together a solid game in defeating Nashville on Saturday night.
They played hard. They were physical. The kids found their groove.
One of those kids is Lawson Crouse.
A few days back, I wrote a column detailing why the Arizona Coyotes need Max Domi scoring, not fighting.
Beyond the fact that he may get injured and miss time, as he is right now, there's the fact that other guys on the roster are paid to take care of situations like that.
One of those guys is Ryan White, who makes his living as a pest.
The other is Crouse, who earned himself the nickname of "The Sheriff" during his junior career.
Crouse didn't fight a lot in junior, but then again he likely didn't have to.
A kid his size would be pretty imposing to the majority of the youngsters playing with him, many of whom are just growing into their own adult bodies.
In the NHL, however? Crouse might need to tango a little more often. Tonight he did just that.
P.K. Subban definitely bit off a bit more than he could chew, and that's kind of the point.
If Crouse begins to make his presence known, he's a natural deterrent.
Lawson Crouse doesn't need to fight all the time like Tom Wilson did early in his career, but the Yotes definitely need him getting physical and providing a little intimidation on the ice every night.
He hasn't been doing that consistently in his first 23 games, but tonight was a huge step forward.
Fortunately for Arizona, Crouse can do more than be a big brute. He also has some skill.
He was all over the ice against the Nashville Predators, and picked up an assist on Alex Goligoski's goal in the first period.
In fact, Goli's goal was about 75% Crouse's hard work and hustle behind the net.
For his hard work and team-first performance, Crouse got a sweet reward.
And @oel_23 passes the game belt on to… pic.twitter.com/ZIwxQv8EMf

— Arizona Coyotes (@ArizonaCoyotes) December 11, 2016
Oliver Ekman-Larsson awarded the 19-year-old the Arizona Coyotes Player of the Game belt.
We don't know Lawson Crouse's ceiling. Hell, we don't know the true ceiling of just about any of the Coyotes' highly touted pups.
Tonight, though, Crouser gave us a glimpse of both sides of his game.
If he keeps stringing together performances like that, he'll be a fan favorite in Glendale in no time.
This article originally appeared on