Video Rewind: Steph and KD connect for sweet alley-oop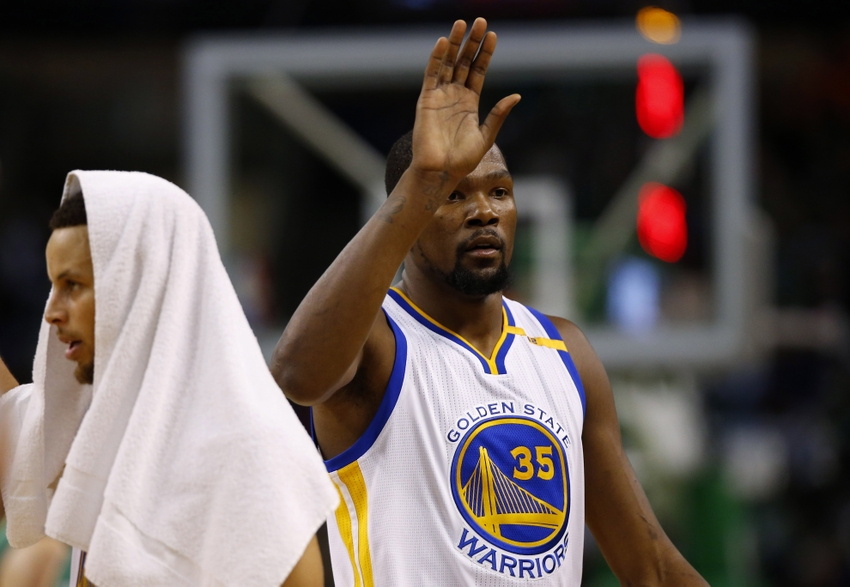 The Golden State Warriors' two MVPs, Steph Curry and Kevin Durant, connected for an amazing alley-oop.
The Golden State Warriors have two MVPs that, as it turns out, are pretty good at basketball. It's not that they're just two of the best players in the entire league, they're also two of the most exciting we've ever seen. It's pretty great that we get to watch them play together on a nightly basis.
Many questioned whether or not Stephen Curry and Kevin Durant could actually play alongside each other. They wondered if the two MVPs–with Klay Thompson and Draymond Green–could share the ball. Would they thrive?
Well, the Warriors are now 10-2 and have started to put it together. They're not completely in sync and are still figuring out how to put together a complete 48 minutes. But they've shown some flashes of what they can be. And its completely awesome.
Check out this amazing sequence from the MVPs.
Look at this beautiful play by the Dubs' superstars. It started on the defensive end with Durant sticking with Avery Bradley. He deflected a pass high into the air then he batted it forward. Curry came from the opposite side and picked the ball up.
The Warriors had a two-on-one and the 5'9 Isiah Thomas had no chance. There aren't a lot of ways a defender can really come away winning when you have two of the top three players in the world flying full speed down court.
I'm going to be honest–I thought Curry threw the ball away. Over the last couple of years, the Warriors haven't had a lot of weaknesses. One of them, for whatever reason, has been throwing alley-oops. They just haven't been able to do it well.
Lucky for Curry, he wasn't throwing the lob to a human being. Durant, being the freakishly long alien that he is, rose up high, used every inch of his incredible wingspan, and snagged the ball out of the air with his huge hand. Then he flushed it down with authority.
Curry and Durant then celebrated by staring at each other and the evil bromance strengthened. Durant was boo'd every single time he touched the ball. The Super Villains' powers increased with Celtics' fans tears.
This article originally appeared on