Postgame grades: Late run not enough to lift Miami Heat over Spurs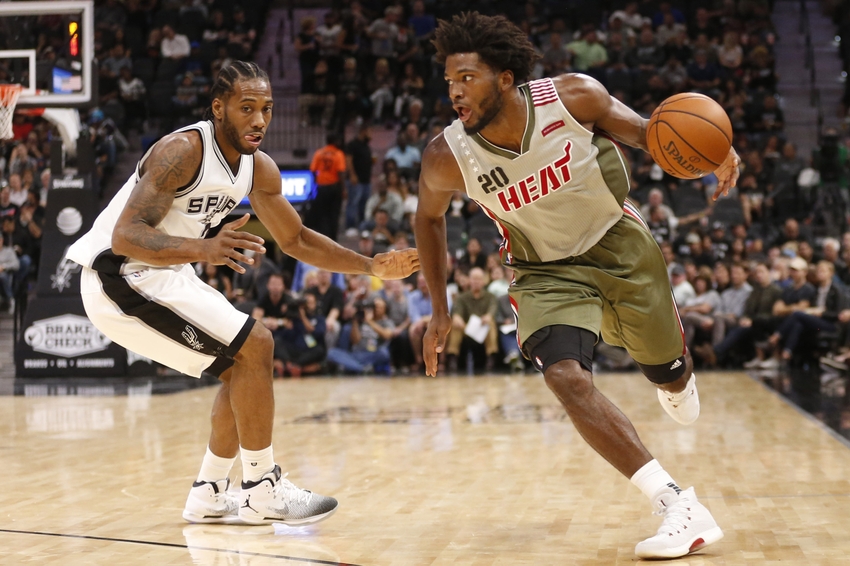 90

94
Physicality and sound second-half defense once again was not enough for the struggling Miami Heat as the veteran-led San Antonio Spurs held on for a 94-90 win at home.
Despite a season-high 17 turnovers committed and an anemic 26 percent rate from the field in the second half, the Spurs held on behind 24 points and 12 rebounds from Kawhi Leonard. LaMarcus Aldridge added 18 points as San Antonio's veteran starting lineup of Leonard, Aldridge, Pau Gasol, Danny Green and Tony Parker made its season debut tonight.
For Miami, Hassan Whiteside tallied 23 points and 17 rebounds (good for his eighth double-double in nine games,) and Dion Waiters came alive in the fourth, dropping 16 in the quarter and finishing the contest with 27 overall on 12-for-26 shooting. Despite all the attacks of the basket and shots taken, Waiters did not attempt one free throw, taking note of that during his post game session with the media:
"That's the crazy part about, I'm not the type of guy that would question the referees on anything," Waiters pointed out. "But I look at how many lay up attempts I got tonight, like 15, and I haven't gotten to the line one time."
A sloppy third quarter aside, San Antonio executed when it needed to and now finds itself at 8-3, good for third in the ever-competitive Western Conference.
Miami now drops to an anemic 2-7, hovering down at the bottom of the pack with the likes of New Orleans, Philadelphia, Dallas and Washington.
Josh
Richardson
PG,
Miami Heat
C-
For a sophomore second round pick, 8 points and 4 assists doesn't sound bad, but when 3 turnovers and 4 fouls are added to the end of that very stat line, one starts to have doubts. From the very start, Richardson struggled to find his shot. The ball didn't find the net until his fourth attempt, and by then, Miami was already down by double digits in a very hostile environment. All the injury excuses aside, Miami needs "Rook 2" to flash his form of a year ago, particularly with Goran Dragic sidelined nursing an ankle injury.
Dion
Waiters
SG,
Miami Heat
B+
Dropping a season-high 27 points, some may be shocked Waiters didn't receive an A. After all, 16 fourth quarter points is impressive, and the degree of difficulty on some of those shots blew me away. However, outside of the fourth, Waiters was relatively quiet, scoring just 11 combined points during quarters one, two and three. Had it not been "too little, too late," no. 11 may have been plastered all over Miami sports channels right now.
Justise
Winslow
SF,
Miami Heat
F
In maybe the most disappointing effort put forth in his young career, the former Duke Blue Devil once again threw up a head-scratcher of a performance. Finishing with just 7 points on 3-for-12 shooting (25 percent,) Winslow clanked both attempts from beyond the arc, reminding the entire world just how far he must go to become a finished product in this league. 5 assists and only a couple of fouls while guarding Leonard for much of the night are the only factors that save this stinker from receiving an F-.
Derrick
Williams
PF,
Miami Heat
D-
After suffering the misery that was the Luke Babbitt experience, many felt Williams could make a much stronger impact if inserted into the lineup. One start in, and it appear as if Miami's struggle at finding a reliable Power Forward is beginning to take a tole on the entire team. 5 points and 1 rebound on 2-for-6 shooting does not warrant starter's minutes, and if not solved soon, may force Pat Riley to begin exploring outside options.
Hassan
Whiteside
C,
Miami Heat
A-
Controlling the paint for much of the evening, Whiteside thoroughly controlled the boards, pulling down an absurd 17 rebounds. Even more impressive? He missed a mere two shots all game long, finishing 9-for-11 from the field (he did manage to miss four of nine free throw attempts.) While once again visibly frustrated for a large portion of the night, Whiteside's physicality and gaudy numbers still warrant a passing grade.
Tyler
Johnson
SG,
Miami Heat
C
While many would argue a solid stat line of 11 points, 8 rebounds and 6 assists is completely acceptable for the young guard, his salary says otherwise. Jumping from league-minimum pay to $12.5 million per season warrants more than the hesitancy Johnson displayed for much of the night. A typically sound free throw shooter, Johnson only managed to connect on three of his six attempts from the line and did not attempt a three all night. If the Heat hope to have a glimmer of hope down the road, Spoelstra will certainly need more out of Johnson.
James
Johnson
SF,
Miami Heat
C+
A role player expected to come in an execute his job to the fullest of his ability, Johnson has been the face of scrutiny ever since being victimized by LeBron James during the 2010 Playoffs. Connecting on two of his four field goal attempts, the journeyman finished with 7 points and 5 rebounds to go along with a couple of blocks. While Johnson committed 5 fouls and finished with a -11 plus/minus rating, his physicality assisted in bringing the sense of toughness Miami exerted on the defensive end during the second half.
Miami, now 2-7, will return home to host the 7-2 Atlanta Hawks on Tuesday at 7:30 PM ET.
This article originally appeared on