Philadelphia 76ers: Nik Stauskas's Role Week-by-Week
Nik Stauskas needs to build his confidence, and there is a specific road map the Philadelphia 76ers should take to build his confidence.
Nik Stauskas was a player that some Philadelphia 76ers fans were hoping wouldn't even be on the roster this season due to the awful performances he's put up the past few seasons, and the below-average Summer League performance he put up leading up to this season as well.
When the time came around to make cuts, however, Stauskas snuck by as one of the last players to make the roster. Elton Brand reitiring days before the preseason ended made that possible for Nik. With him now on the team, he still needs to show he's worth it.
The Sixers picked up his option on his contract, but that was mainly because there was little financial reason not to. The Sixers aren't strapped for cash, so if Stauskas does pan out like they certainly hope he will, then it will have been a smart investment.
Now that he is on the roster, however, the Sixers need to work with him in order to get him confidence. That's been one of the main issues, was being confident. Stauskas often looked like a lost, sad puppy out on the floor in the bright lights of the NBA. When he did have short bursts of confidence, he looked good, but it was then and only then that he showed glimmers of hope at being the player Sixers fans once hoped he would be.
Looking at just the first few games of the season, there is a clear road map that the Sixers should take with Nik in order to achieve success with Stauskas. If this plan could all somehow go according to plan, it would only take a month to get Nik Stauskas up to a good level of confidence to build off of in the coming season and beyond.
Week 1: Attack the rim
The first thing that Nik Stauskas did well this year was attack the rim. If the Sixers are smart, they'll reward that positively and build on it. Is it what Nik Stauskas should ultimately be doing on an NBA team all the time? I would argue no, but that's okay for now.
More from The Sixer Sense
If attacking the rim is what's working for Nik, the Sixers would be wise to allow him to do whatever gets points on the board. They've shown early on that they are still struggling for the most part offensively, and although Nik going to the rim might clog up the lane even more than it is, if it works, it works for now.
The Sixers are also beginning to recognize that despite his smaller stature, he's actually pretty good with his hops and can elevate pretty well over defenders. The more he works on his skills at the rim, the more skills he has in general, and there's nothing wrong with building on other skills he has shown at other points in his collegiate and professional career.
Stauskas can also help in this sense as far as unifying the offense. Some players have not gotten off to as great of a passing start as the Sixers would have hoped — including Dario Saric and T.J. McConnell — so if the Sixers were to put them on the court in the second unit with Sauce, they could look for him as he cuts through the backdoor and along the baseline.
This can also give the Sixers more passing options than just Embiid, which is all it's seemed like is available as of late.
Week 2: Critical situations/draw up plays for Stauskas
Transitioning into the second week, the Sixers need to start putting some more trust in Nik Stauskas. Hopefully by this point he's shown he can be a valuable asset when it comes to attacking the rim. So it's time to build on that.
Now that the Sixers have a player who can use the baseline well and cut in towards the basket with authority, it's time to draw up plays that compliment that ability. The simple nod from the head coach drawing up a play that ends with Nik shooting the ball should give him an extra pep in his step and some more confidence. That trust is huge to a player.
As he continues to grow with simple drawn up plays, hopefully the Sixers will find themselves in some critical situations. Perhaps Brett Brown will consider Stauskas as one of the options for the Sixers when it comes down to that. Although, at this point, I wouldn't want the team asking Stauskas to take a 3-pointer to take the lead in a close, 2-point game at the buzzer, I wouldn't be too upset if they drew up a play for him to get to the rim and tie the game. That seems safe.
Overall, including Stauskas in more drawn up plays will not only make him naturally more of a part of the offense, it will infuse more confidence into his game.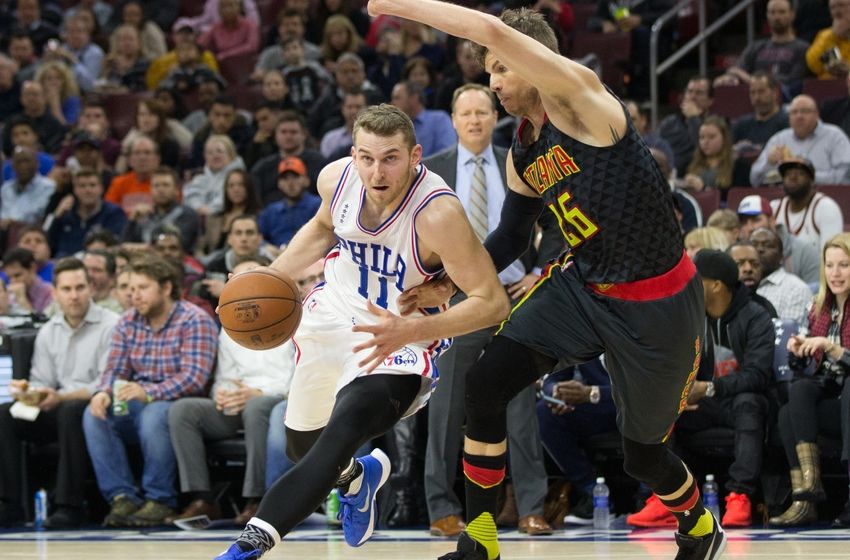 Week 3: Mid-range shots
Let's review — We've asked Nik to embrace his authority at the rim, and we've also drawn up plays in critical situations that give him an opportunity to do so. Now it's time to get his jumper warmed up.
Of course, we can't go right for the 3-point shot. That was a huge problem in Stauskas' past. Nik said even before joining the Sixers that a huge part of the problem in Sacramento was that he felt like he was being forced to be a 3-point shooter, and it wasn't at all natural like it was at Michigan.
That seems fair, and it seems logical to not exactly push it here. So instead of asking him to stretch all the way out to beyond the arc, we'll just ask him to take some mid-range shots instead.
Stauskas has never really had a truly effective mid-range game. Between 3 and 9 feet from the rim, he has shot just 27 percent throughout the duration of his career. So it would be positive for him to improve on that, anyway.
Telling Stauskas to take more mid-range shots will give him a chance to work on his shooting form and ensure that it's ready for the long ball.
After he's hitting mid-range shots with confidence, it's a matter of wash, rinse, and repeat. The Sixers should then draw up plays (possibly on the inbound) that end in Stauskas taking a mid-range shot.
Week 4: 3-pointers
One month later, and we're finally at the 3-pointers. This was a long process, but asking Stauskas to simply hit 3-pointers in the past has not worked at all. Since he's gained confidence both at the rim and in the mid-range, it's fair to ask him to test his confidence beyond the arc as well.
Since this whole process was gradual in getting out to the perimeter, the hope is that it won't even feel all that drastic to Stauskas. The long balls should come easier since he will have gotten his form down in the mid-range.
The Sixers shouldn't forget about the skills that were built on the way, however. If there's an opportunity for Stauskas to hit a mid-range shot or drive to the rim, they shouldn't tell him to not do that.
And again, after he's shown some promise hitting 3-pointers, it will finally be time to draw up plays and offensive schemes that include Stauskas hitting long shots.
The Sixers and Kings both failed in the past to gradually ease Nik into the sharpshooting role he had at Michigan. Hopefully the Sixers see that a route like this will be beneficial and implement a plan for Nik similar to this that adds gradually to his game.
This article originally appeared on