Oklahoma City Thunder vs Los Angeles Lakers Game Recap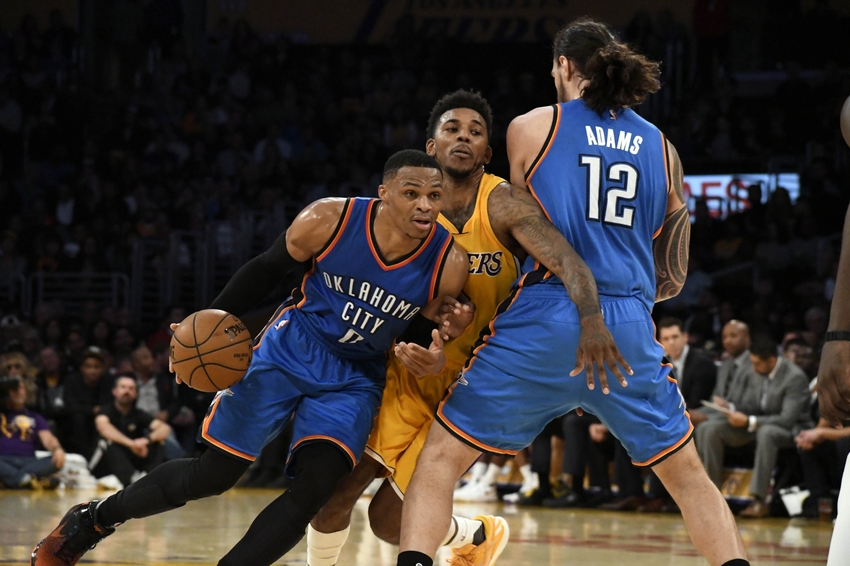 The hurt continues for the OKC Thunder as The Los Angeles Lakers come up with an impressive win off of a nifty game-winning three pointer from Nick "Swaggy P" Young. 
Another game, another loss for the OKC Thunder. This one probably hurts a bit more for Thunder fans, even more than losing to the Detroit Pistons who were without Andre Drummond or losing to the Indiana Pacers who were without their star Paul George. The Lakers were without Deangelo Russell and had a banged up Julius Randle, yet they still found a way to win.
The Thunder started off the game slow as usual, having to make up an early deficit of 13 points after the first quarter. They came back to bring to a close game towards halftime, but what should be talked about here is why it is so usual and so redundant. It seems as though the Thunder always put themselves into an early hole, then use extra energy to dig themselves out of it only to run out of energy at the end.
The game was almost knotted up at halftime with the Lakers holding a one point lead but again, the Thunder came out of halftime and lost the third quarter. Only to battle back in the fourth but lose traction towards the end. OKC losing both the first and third quarters in this game should be highlighted more than any other game.
Lets be blunt about this, the bench was awful tonight. What's worse is that is coming from a bench that many don't expect too much of in the first place. The bench seemed like they couldn't defend at all.
A quick look at the plus/minuses will tell it all. Enes Kanter was an overall -16 to finish the game, Jerami Grant was an overall -18, and Alex Abrines was an overall -9 coming off the bench. When they are coming in giving up more points then they are putting up, that puts more pressure on the Thunder to have to battle back. More specifically, Russell Westbrook feels like he has to overcompensate for his team to win.
Russell Westbrook had an alright game, to his standards, but was in no way great or even good despite his stat-line of 34 points, 13 assists, and 8 rebounds. He also added 8 turnovers and put up 30 shots total. That's usually a recipe for a loss for his team.
The Thunder will have to sure up their bench and move on very quickly as they face the Sacramento Kings on the second night of a back-to-back, but this one stung. It was a game that should have been won, it was a game they probably wish they could take back in this early part of the season.
Quick Nuggets
Domantas Sabonis finished with only three points in 22 minutes. That is just simply not going to cut it from your starting Power Forward, especially when your starting Small Forward only finishes with 5.
The Kiwi, Steven Adams, flourished in this game, posting an impressive 20 points on 9-13 shooting. One of the lone bright spots of tonight.
Semaj Christon only played 4 minutes coming off of his concussion/facial injury. That may have been planned to ease him back into the fold…or not.
The lack of shooting on this team is getting highlighted every night that the Thunder lean on Joffrey Lauvergne to put up the second most three-point attempts in a game. Behind Russell Westbrooks nine!
Tip off against the Kings is at 9:30 CT in Sacramento.
More from Thunderous Intentions
This article originally appeared on