Game Day: Oklahoma City Thunder look to clip Hawks 12.5.16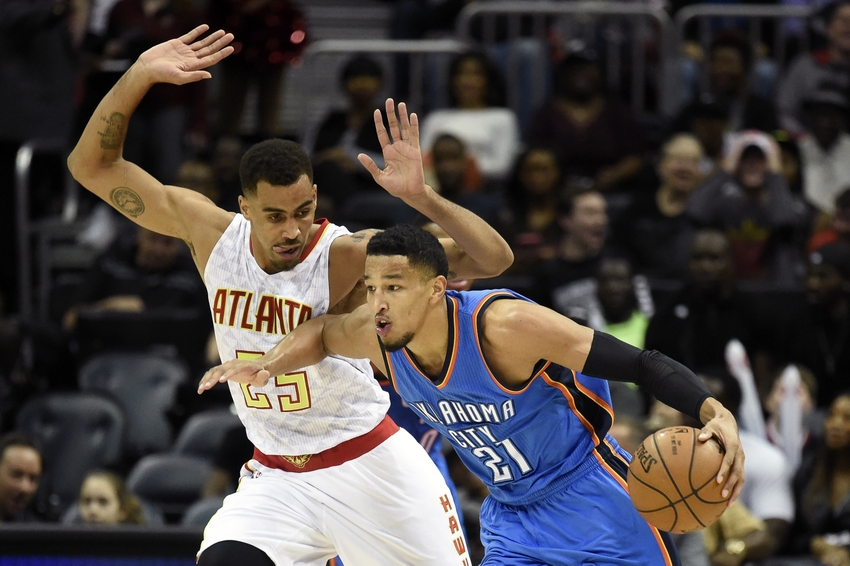 Oklahoma City Thunder tip-off versus a flailing Hawks squad looking to extend their win streak to six games.
Entering week 7 of the NBA season the Oklahoma City Thunder are on fire.  OKC are on a 5-game win streak and Russell Westbrook has delivered 5 consecutive triple doubles. With 20 games under their belts the Thunder sit a half game back of securing home court.
Conversely today's opponent, the Hawks are in free fall, having lost 6 in a row and 9 of their past 10 games.
At season start it's common to hear pundits say "don't base anything on the first 10 games".  To wit, Atlanta is the perfect example of why, as analysts, it's preferential to wait 20 games prior to making any season projections. Several factors weigh into the early season which can mask a teams true potential.  Specifically schedules can cause the most interference.
Case in point: Atlanta jumped out of the gate with a 9-2 record, but have a single victory since. Further, the Hawks played 7 of their first 11 games at home mostly against inferior opponents.
Diving into the numbers, Atlanta's wins came versus teams with a 74-100 record. Of those only the Rockets and Cavaliers boast records in the upper tier. Removing those 2 teams from the equation shows the other 8 teams have a record of 48-88. Examining Atlanta's losses those teams' records are 115-111. And, if I remove the 2 lower end teams (Wizards, Suns) since those games were decidedly close, the other 9 teams have a record of 113-85.
Clearly, 21 games into the season the Hawks are much closer to the second 10 game version of themselves than the first 10. Granted, without the services of Paul Millsap the Hawks have struggled. Yet the 36 point differential to Detroit (121-85) and 44 point differential to Toronto (128-84) only speaks to how MUCH WORSE Atlanta is without Millsap's services.
As the Thunder head into the second game of a back to back set the only thing worse than being tired is facing a rested team who is desperate for a win.
With that in mind, let's break down the match  with a view to the line-ups, statistical comparison, and keys to the win.
Oklahoma City Thunder Starters:
Point Guard:  Russell Westbrook – 31.0 points,  10.5 assists, 11.5 rebounds, 1.38 steals
Shooting Guard:  Victor Oladipo– 17.2 points, 3.0 assists,  4.3 rebounds, 1.0 steal, 40.0% 3PFG%
Small Forward:  Andre Roberson – 7.3 points, 1.2 assists,  4.6 rebounds, 1.3 steals, 1.2 blocks
Power Forward: Domantas Sabonis – 6.8 points, 1.5 assists, 3.2 rebounds, 47% 3PFG%
Center:  Steven Adams– 10.7 points,  7.5 rebounds, 1.2 steals, 1.0 blocks
Note: if Adams can't go due to twisted ankle look for Donovan to insert Joffrey Lauvergne as he'll likely want to keep reserve unit intact with Kanter.
OKC Reserves:
Guards: Semaj Christon
Wings: Alex Abrines, Kyle Singler, Jerami Grant, Anthony Morrow, Josh Huestis
Bigs: Enes Kanter, Nick Collison, Joffrey Lauvergne
Atlanta Hawks Starters:
Point Guard:  Dennis Schroder – 15.5 points,  6.0 assists, 3.0 rebounds
Shooting Guard:  Kyle Korver 8.5 points, 1.9 assists,  2.4 rebounds, 39.0% 3PFG%
Small Forward: Kent Bazemore – 11.2 points, 2.6 assists,  3.2 rebounds, 1.7 steals
Power Forward: Mike Muscala – 8.6 points, 1.5 assists, 4.1 rebounds, 42.1% 3PFG%
Center:  Dwight Howard – 13.7 points,  12.8 rebounds, 1.0 steals, 1.6 blocks
Note: no word on Paul Millsap as of this posting. If Budenholzer replicates the line-ups he used vs the Pistons and Raptors he'll insert either Sefalosha or Muscala. Obviously Donovan will have the Thunder prepared for both options.
Hawks Reserves:
Guards: Malcolm Delaney, Tim Hardaway Jr., DeAndre' Bembry
Wings: Thabo Sefolosha, Taurean Prince
Bigs: Mike Scott, Kris Humphries, Ryan Kelly
Walking Wounded:
Oklahoma City Thunder:
Steven Adams – ankle, the big man twisted his ankle early in the game vs. the Pelicans. Although he was seen up and about as Brent Barry said on NBA Game Time, it's highly unusual for Adams not to fight through the pain. That in itself is worrisome. If the ankle is bad Adams won't fly with the team because flying will only serve to cause additional swelling.  Furthermore, with the Thunder off until Friday, they may elect to take precautions and give Adams 4 days off. We'll update as news becomes available.
Cameron Payne – remains out rehabbing his foot WITHOUT a walking boot. No time limit has been provided for his return.
Hawks:
Paul Millsap – didn't play in either weekend game. Since the Hawks are at home they have more leeway in waiting til the last minute to decide. This may be a game time decision. Again, we'll update as news becomes available.
Tiago Splitter – right calf strain/hamstring, as of November 25 the team announced he will miss another 6 weeks.
Of note: CBS Sports lists both Millsap and Adams as game time decisions
All injury reports via rotoworld and CBS Sports
Venue:
Philips Arena, Atlanta, GA
Game Time:
6:00 PM Central Time and 7:00 PM Eastern Standard Time
Radio and Television Providers:
Television: FS Oklahoma HD  In Oklahoma City,  FOX Sports Southeast in Atlanta

Worldwide: NBA League Pass
Radio:  WWLS 98.1FM OKC / 930AM (ESP) in Oklahoma City, 92.9 FM "The Game" in Atlanta
Betting Line:
As of this posting the normal site I check hasn't posted a line for the game yet. I checked a few others, but all of them seem to have no line posted yet.
It's hard to believe the Hawks rank second defensively, but again that has more to do with their early strength of schedule (or in this case EASE of schedule).  As another example of the 20 game theory look at the Raptors who ranked dead last in the Association for three point field goal percentage and finished that horrid road trip ranking 23rd defensively. They had played almost every top 5 defense and offense through their first 15 games. Now they have had a short run of facing a more balanced schedule and rank second on 3PFG% and have moved to dead center of the 30 teams defensively.
In both cases it's more likely the Raptors are a better team and the Hawks are a worse team.
Want your voice heard? Join the Thunderous Intentions team!
Two key points that scream this defensive ranking of the Hawks is a bit of a misnomer is they rank 29th for both turning over the ball and for opponent points scored off those turnovers. Good defensive teams don't tend to cough up up the ball and when they do they manage to stop the opponent (at least occasionally) from scoring).
As for the Thunder 21 games in they are developing an identity for being a solid defensive team. Stats which back this up are:
Points in the paint
Fast Break Points
Rebounding
Sure, two of those stats are created on the offensive end, however they are tied to defensive effort.  OKC's fast break points tend to be generated from aggressive defense forces bad shots or turnovers. And rebounding allows the Thunder to get out quickly in their offense and stops the opponent from having second chance opportunities.
Given this squad (especially the starting line-up) is so young it's exciting to think where the team will be in a few months.
Keys to Oklahoma City Thunder Winning:
Turn Desperation into Frustration: Undoubtedly the Hawks are about as desperate as a team can get for a win. Though my cohort Tony Heim and I predicted these Hawks were fool's gold, that's no reason for the Thunder to take them for granted.
Any team, on any given night can win. Having just played Sunday, the best bet for the Thunder would be to jump on Atlanta early and break their will. Don't give them hope by letting them hang around for an opportunity to steal one. As crazy as it sounds the Hawks will be approaching this like a playoff game knowing they need to stop the bleeding.
Guard/Wing Plan: There is a reason teams like Detroit and Toronto crushed the Hawks beyond Millsap being out. They had an excellent game plan for the starting guards and Bazemore. Donovan should utilize Roberson on Bazemore who is the more dangerous and versatile offensively.
Kyle Korver, while still a great shooter can't create his own shot and he hasn't looked the same since his injury in the playoffs 2 seasons ago.  Putting speedster Oladipo on Korver to shadow him should allow DiPo to block entry passes and render him tame.
Finally, force Schroder into being a shooter. Furthermore trying to make Schroder shoot outside 10 feet or late in the clock is the best plan. As per NBA.com shooting chart below Schroder takes 50% of his shots from 10 feet or less and is by far the most successful with those shots.

Go at Dwight: With the uncertainty of Steven Adams ankle the rest of the front court needs to be cognizant of Howard's rim protection and ability to block the paint.
The Raptors posted a historical point differential on the team Saturday on the second game of a back to back. Toronto utilized a combination of Jonas Valanciunas to body up Howard, Patrick Patterson forced him to defend on the interior and exterior, and used Lucas 'Bebe' Nogueira to front Howard and block interior passes.
They also used their guards to drive at Howard and force him into early foul trouble. Following this game plan with Adams, Sabonis, Kanter, and Lauvergne in the front court while Westbrook and Oladipo drive at him could quickly handcuff the big man.
More from Thunderous Intentions
Capitalize on assets: The Thunder are the best rebounding team in the Association and the Hawks cough up the ball the second most. There are clear examples of teams who pressure the ball having success (again, I point you to the Hawks last 2 outings).
The other factor is Coach Bud likes to employ a 3 wing line-up at one time often utilizing a combo of Korver,  Bazemore, Sefalosha or Hardaway Jr. in small ball to quicken the pace. This plays into the Thunder's hands because they have been more successful in transition and the fast break.
Not so secret weapon: Okay, by this point it's clearly Russell Westbrook's world and we are all just visiting it. I've run out of superlatives to describe his accomplishments, death defying dunks and  the insanity of what he is doing on NBA courts this season. Schroder, though a promising talent has been learning just how big a jump it is from reserve to starter and tonight he'll get the A+ version of point guards in the form of Westbrook.
Suffice to say this could be a very big night for Westbrook!
Bottom line:
If Millsap returns the Hawks will be a tougher out, but still manageable, even if Adams doesn't play, and even though the Thunder played Sunday.
Even with all these factors playing against the Thunder and the odds of them having to lose eventually I still feel confident in OKC. They can afford to play everyone big minutes with 3 days off after tonight.  Basically, I won't be surprised if post game we're discussing going for 7 in-a-row and Westbrook posting a 20-20-20 line. (seriously, I won't be surprised if that happens).
This article originally appeared on