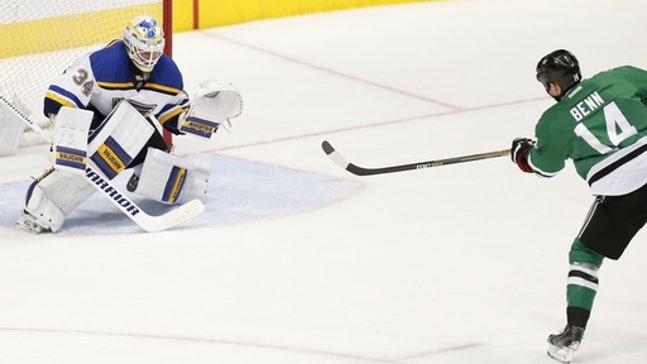 Blues win 5-4 in OT to pull into tie with Stars atop West
Published
Mar. 13, 2016 3:24 a.m. ET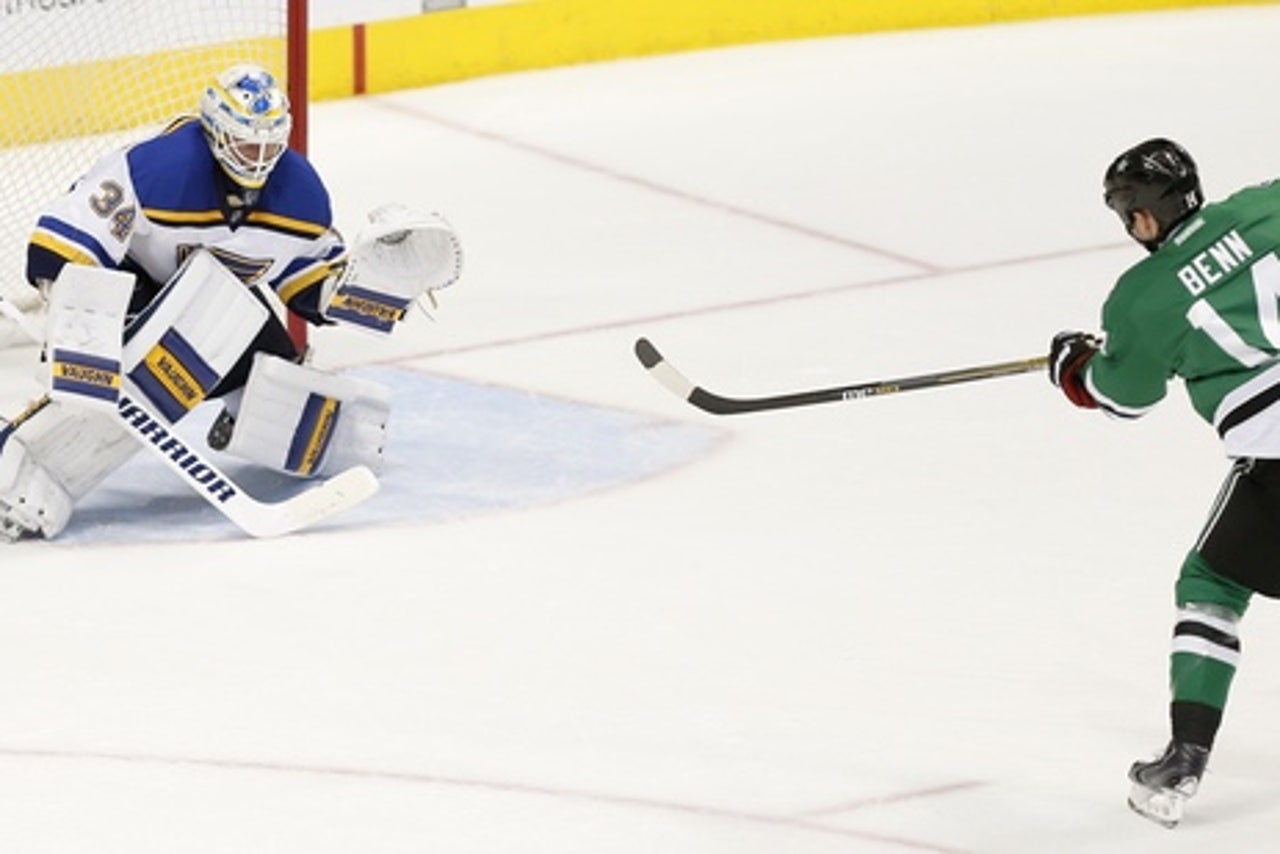 DALLAS — A back-to-back battle for the Western Conference lead in Dallas ended the way it started: with two teams tied.
It's just not the same two teams.
Alex Pietrangelo scored 2:11 into overtime after Jamie Benn pulled Dallas even late in regulation and St. Louis ended up even with the Stars atop the West after the Blues' 5-4 win Saturday night.
It was the second straight night that the top spot in the West was on the line in Dallas after the Stars beat Chicago 5-2 with those two teams tied for the lead.
Now it's the Stars and Blues, who have won six straight games, at 91 points apiece with 12 games remaining. The Blackhawks have 88 points with 13 games to play.
St. Louis had given itself a chance for the outright lead by beating Anaheim a night earlier at home and was two nights removed from a win over Chicago.
The Blues were in position for the regulation win until the Stars forced overtime with a 6-on-4 advantage in the final 2 minutes of the third period when Benn redirected Tyler Seguin's shot past Jake Allen.
"It's been a big three games for us," said Kevin Shattenkirk, who had two goals. "Dallas has done a great job of setting the pace and they've been a team that we've been chasing all year."
Dallas' Jason Spezza had two goals for a six-game goal streak, the longest of his career.
"I've said all along this year that we're going to benefit by playing these tough games against good teams," Spezza said. "Nobody's going to surprise you come playoff time."
Vladimir Tarasenko had a goal and an assist for the Blues.
The Stars had pulled goalie Antti Niemi while Robby Fabbri was off for hooking late in regulation when Seguin sent a shot from just inside the blue line that Benn tipped past Allen for his 34th goal with 1:12 remaining and the power play about to end.
"The boys played a hell of a hockey game," Stars coach Lindy Ruff said. "It's been a hell of a weekend for us, getting three out of four (points) and how hard they competed."
On Pietrangelo's overtime goal, he took a pass from Paul Stastny on the left side, skated across the top of the faceoff circle toward the middle and beat Niemi from about 30 feet with no interference in front of the goalie.
Stastny had three assists and now has 38 points (17 goals, 21 assists) in 37 games against Dallas after also assisting on Troy Brouwer's goal that opened the scoring and on Shattenkirk's first goal.
"It's a great week," Blues coach Ken Hitchock said. "If you'd said we were going to go 4-0, I think everybody wouldn't have been shocked, so we're really happy, happy for the guys."
Niemi had 31 saves in his first start since March 1, when he was pulled in the second period of a 5-3 loss to Nashville after giving up four goals on 18 shots. He hasn't won since Feb. 23.
Allen finished with 34 saves in his ninth straight start since the rookie missed a month and a half with a lower-body injury. He has a .929 save percentage during the six-game winning streak.
The teams traded goals until Shattenkirk beat Niemi on a wraparound for a 3-2 lead midway through the second period. Shattenkirk made it a two-goal game with a 60-foot slap shot from just inside the blue line in the final minute of the period.
About a minute after Tarasenko had the first of St. Louis' two 4-on-4 goals and his 34th of the season early in the second period, Spezza scored on a power-play tap-in in the crease for a 2-2 tie.
Spezza pulled Dallas to 4-3 early in the third period with a similarly easy shot into an open net after Alex Goligoski's shot ricocheted to him for his 28th goal of the season.
Cody Eakin answered Brouwer's goal by racing to run down a long pass from Benn and beating Allen over his glove before falling on his backside while celebrating the tally.
"I tripped over the hash mark," Eakin said. "Uh, yeah, they were laughing a little bit, but it's the tying goal at the time, so they were happy."
NOTES: Retired Stars F Rich Peverley did the ceremonial puck drop two years and two days after he collapsed due to cardiac arrest during a home game against Columbus and had to be revived by medical personnel. He didn't play again. ... Seguin, Goligoski and Kris Russell had two assists each for Dallas, and Benn had an assist to go with his goal. ... Jaden Schwartz had two assists for St. Louis.
---
---