NBA playoff preview: Warriors are West's top seed, Spurs are seasoned
April 17, 2015

Another year, another absurdly stacked Western Conference first round that will leave nothing but smoldering ruin in its wake. The regular season ended with a compellingly tight jostle between the No. 2 and No. 6 seeds, and not everyone's well-intentioned efforts yielded proportionately prosperous results. The Clippers' push to secure a top-three spot earned them a matchup with the defending-champion San Antonio Spurs, eternal juggernauts. No. 2 Houston staved off continual injury to ensure home-court advantage through the first two rounds and a first-round tilt with struggling Dallas. Portland, thanks to its Northwest Division title, landed the No. 4 seed, though not home-court advantage, against the Grizzlies. Russell Westbrook's Herculean performances in the final month of the regular season ended up as his swan song, with the Thunder ousted by the New Orleans Pelicans and, indirectly, Anthony Davis' impossible buzzer beater in February. Golden State has been sitting pretty at No. 1 for months now, but it'll get a healthy dose of Brow in Round 1.
No one doubts the West's superiority over its counterpart, but it's a question worth annual reconsideration: How will the depth and intensity of the conference's gantlet fatigue the its champion by the time The Finals roll around?
1. Spurs (6): At the midpoint of the season, we were once again prepared to write the Spurs' obituary. Now, thanks to a superhuman Kawhi Leonard, they look as daunting as ever.
2. Warriors (1): Everyone is trying hard to find a flaw, and it's not an uncommon thought that this team's youth and lack of deep playoff experience might do it in. But the Warriors' body of work (second and first in offensive and defensive efficiency, respectively), talent and chemistry make them a worthy foe for the defending champs.
3. Clippers (3): Their starting unit might be the NBA's best, and the bench is among the NBA's worst. They have won games by a lot and lost them by a little, and the playoffs feature a lot of close games – starting with a series against the Spurs.
4. Memphis (5): The Grizzlies' fate will depend on the health of Mike Conley and Tony Allen, whom coach Dave Joerger said couldn't have played Wednesday if the playoffs had been under way. Memphis will, however, have home-court advantage against the higher-seeded Trail Blazers.
5. Rockets (2):  MVP-level play from James Harden has allowed Houston to persist admirably through injuries to key players, but the postseason is a different animal. The Rockets will be without Patrick Beverley and Donatas Motiejunas, and though they have a solid chance to get out of the first round against the Mavericks, the conference semifinals are going to be a bear.
6. Trail Blazers (4): Portland had a top-10 offense and defense, and it brought in Arron Afflalo at the trade deadline to bolster depth. Now he's taking the injured Wesley Matthews's place in the starting lineup – and is injured himself -- and bench production will again be a concern.
7. Mavericks (7): They haven't been the same offensive symphony since acquiring point guard Rajon Rondo, and cornerstone Dirk Nowitzki is finally exhibiting serious signs of decline. Rick Carlisle will need to do his best coaching to get past the first round.
8. Pelicans (8): It's great to see Davis in the playoffs already, and there's no doubt he'll put up some spectacular individual numbers against whatever Golden State throws at him. A first-round upset is virtually impossible, but this is still going to be fun.
MATCHUP WE CAN'T WAIT TO SEE
Clippers-Warriors, conference finals: If the bracket shakes out according to the power rankings above, a Warriors-Spurs conference finals will make sure this never happens. But given that Spurs-Clippers in the first round could go either way, it's at least worth pondering what Clippers-Warriors -- with its overtones of hatred – would look like. Blake Griffin and Andrew Bogut have waged war for the last two years, while Matt Barnes and Draymond Green each gives his a team fist-clenching intensity and toughness. Throw in a duel between arguably the league's two best points guards in Chris Paul and Steph Curry, with human microwave Klay Thompson splashing alongside for the Warriors, and there's a lot to like.
BREAKOUT CANDIDATE
Kawhi Leonard, SF, Spurs. Leonard, as is customary in San Antonio, has a low-key personality that doesn't lend itself well to the spotlight. Maybe that's fitting because there isn't a spotlight out there that can properly capture his talent. Leonard began to make his name as last year's Finals MVP, and he continues to develop into a defensive terror who strangles the life out of the league's very best offensive players. Check out LeBron's reaction to seeing him check back in during The Finals. Two years ago.
What's special about Leonard is how much he's improved from season to season. His offensive skill is light years ahead of where it was two years ago, and had he played more than 64 games this season, he would've been a candidate for Defensive Player of the Year. Coach Gregg Popovich has promised to give Leonard the keys to the team in slow doses, and this year -- as Tim Duncan and Manu Ginobili inch closer to retirement – expect him to be the unquestioned focal point of another deep playoff run.
STARTING FIVE
1. Stephen Curry, G, Warriors (23.8 PPG, 7.7 APG): He's probably the MVP favorite, and he's the engine that makes the NBA's best team go. Also: maybe already the best shooter ever.
2. James Harden, G, Rockets (27.4 PPG, 7.0 APG): The league's second MVP candidate threw the Rockets over his shoulder when injuries struck and just kept scoring. And getting fouled.
3. Anthony Davis, F, Pelicans (24.4 PPG, 10.2 RPG): He has set the record for PER for his age in each of his first three seasons in the league.
4. Chris Paul, G, Clippers (19.1 PPG, 10.2 APG): He re-emerged as an outside-shot MVP candidate this season and eschewed injury concerns by playing 82 games. The Clippers just don't lose leads when he's on the floor.
5. Marc Gasol, C, Grizzlies (17.4 PPG, 7.8 RPG): Gasol took a refreshing leap forward in usage and offensive production this season, serving as a key cog in a sometimes anemic offense and continuing as a master-level defensive anchor.
PREDICTIONS
First round: Warriors over Pelicans, Rockets over Mavericks, Spurs over Clippers, Grizzlies over Trail Blazers.
Second round: Warriors over Grizzlies, Spurs over Rockets.
Conference final: Spurs over Warriors.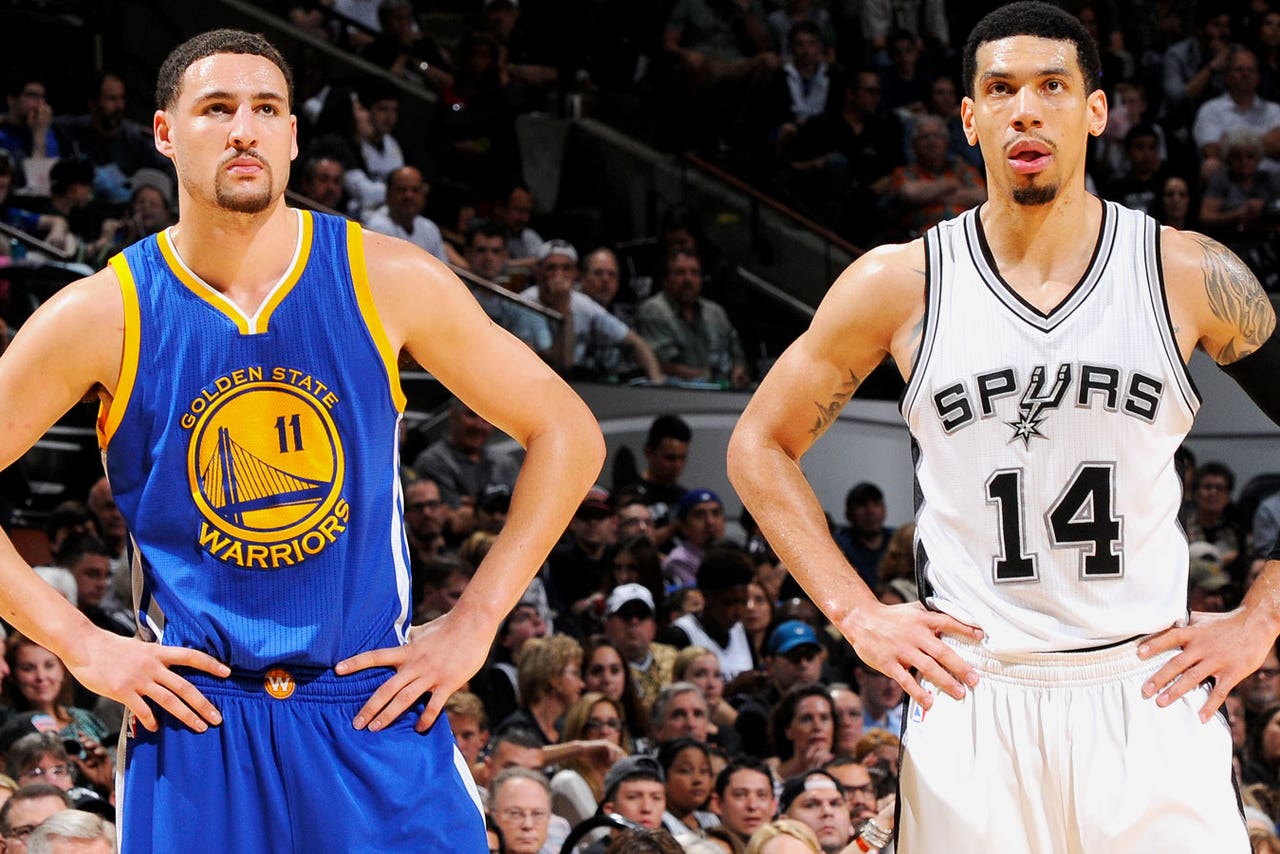 In the end, it's likely to be Spurs again.
---
---