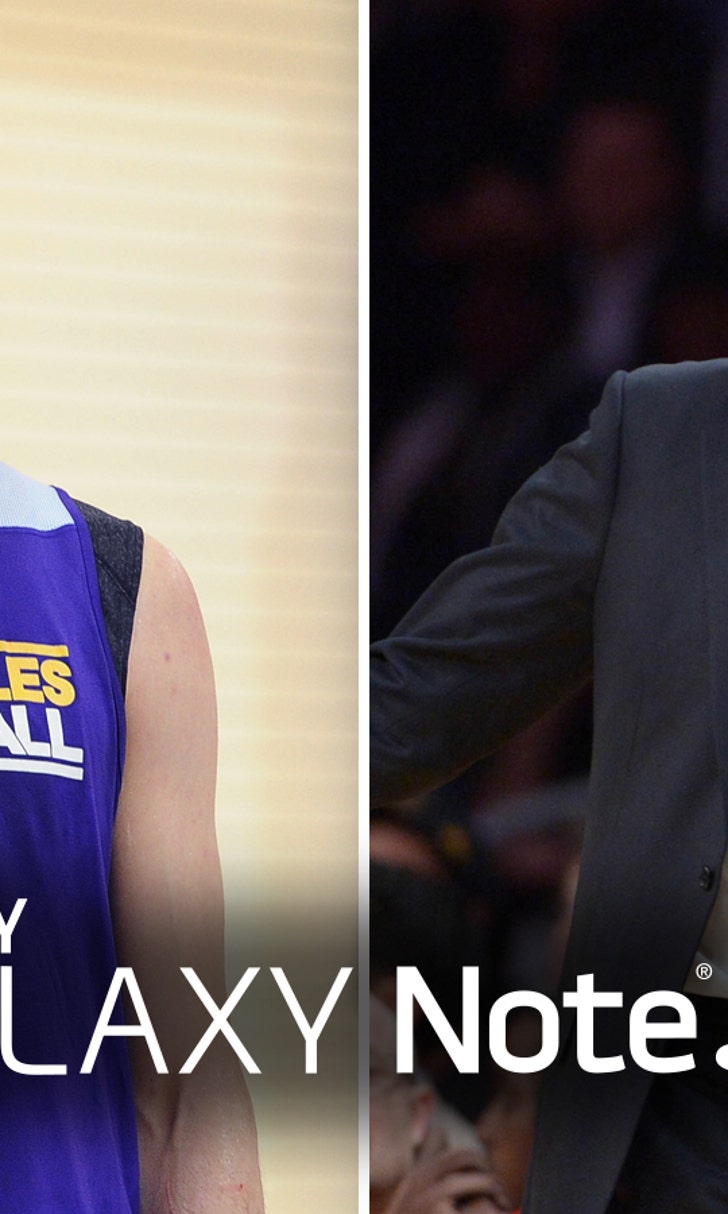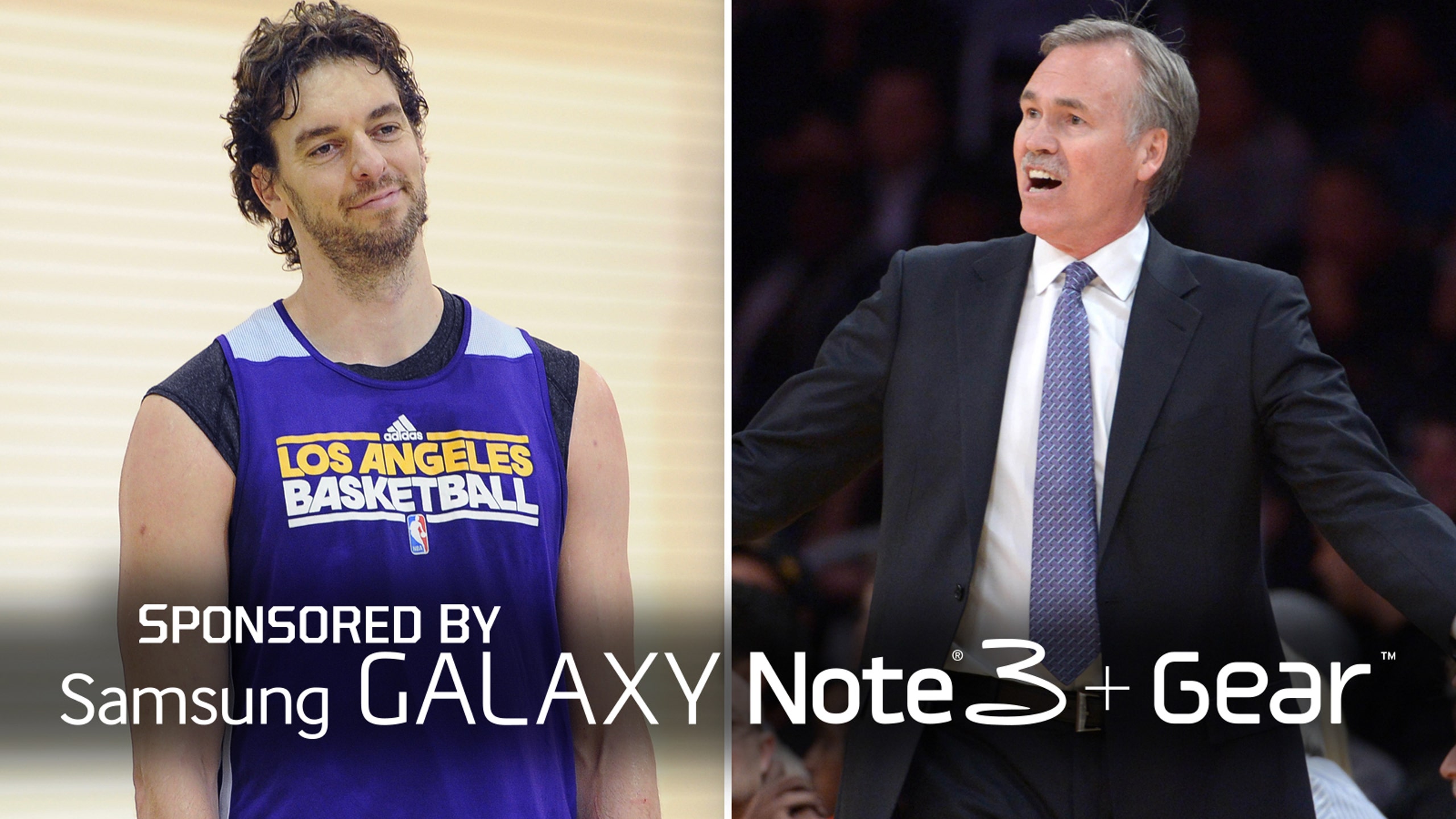 Daily Buzz: Kobe's back, but so is drama in Laker-land
BY foxsports • December 13, 2013
Compared to their counterparts in football, basketball coaches are pretty chill. It's still competition and it's still team sports and they're still the buck stop. But, relatively speaking, they are not a bristly bunch (other than their on-court demeanor).
There are exceptions. Buttons you can push, and there isn't much that more reliably makes the hair on a basketball coach's back stand up than a player complaining that he doesn't understand or doesn't like his role.
And Los Angeles Lakers big man Pau Gasol pushed that button Thursday, telling reporters his role is "not ideal" for him.
Friday morning, coach Mike D'Antoni had his opportunity to publicly respond, and there was no passiveness balancing his aggression.
"It's also a nice excuse not to play hard," D'Antoni said. "That's a classic, 'I don't know what I'm supposed to do.' Well, you don't have trouble getting up to the paystub line. You know what you need to do to get your check. You know what to do. They will. They'll figure it out.
"That's one thing. They don't want to do it that way. I understand that. That's when you have to accept it or not. But there's no reason not to play hard."
This is not a new development, exactly. D'Antoni's comments are, but Gasol has been quietly and not-so-quietly moping about his role on the Lakers ever since the team added Dwight Howard last season and tried to turn Gasol into a face-up power forward.
Gasol's gripe is legitimate. He is not a stretch 4, but he is a gifted and productive post player who at age 33 appears to have some good years left in him. Trouble is, D'Antoni doesn't have much use for players like Gasol, and he also has a legitimate argument.
"Our numbers tell us the worst thing we do is post up," he said.
This looks for all the world like an ideal trade situation, and Gasol is out there lobbying for it. Specifically, he'd like to play for the Memphis Grizzlies, who have shown their enthusiasm for good ol' fashioned post play by having Zach Randolph and Pau's brother, Marc Gasol, on the team.
"It's appealing," Pau Gasol told NBA.com. "One of the best centers in the NBA, one of the best interior players, is my brother. There's a lot of attractive factors there. But who knows if that's even a possibility or if that will ever happen.
"Right now, I'm just trying to focus on (the Lakers' opponents) and staying healthy and playing a very successful year so this team and others will have the certainty and the confidence that I am a difference maker, that I am an elite player and I have a lot of years in me."
The players and coaches change in Los Angeles, but the drama never does.
On to some links:
• Speaking of Gasol, he's fat (according to Kobe Bryant).
• If you ask Jim Boeheim, Andrew Wiggins and Jabari Parker aren't worth tanking for.
• Robinson Cano chose the Mariners over the Yankees, and people are getting off their jokes. Including Pete Rose, who said Cano got himself an extra vacation, "called October."
• A Deadspin writer wrote about his Frank Thomas autographed baseball, which had faded. Thomas saw it and sent him a new one.
• Notre Dame has readmitted former quarterback Everett Golson.
• Khloe Kardashian reportedly filed for divorce from Lamar Odom.
• Philadelphia Magazine has a profile of Eagles long snapper Jon Dorenbros, which includes Dorenbros' incredible tale of getting a scholarship offer to UTEP by lying and sending film of another player.
• The interesting part isn't that former North Carolina guard Will Graves got cited for marijuana possession, it's that it happened at a house owned by UNC coach Roy Williams.
• Bloguin is rooting out which bowls are giving the best gifts. Gift cards to Best Buy seem to be popular this year.
• LaMarcus Aldridge and Robin Lopez have made a bad local car dealership ad.
• Kansas City sports fans are so fired up about Sporting KC's championship that they're buying all the gifts on Matt Besler's wedding registry.
Just found out that #SKCNation got a hold of my wedding registry and completely cleaned it out. That's incredible. Wow. Thank you!

— Matt Besler (@mbesler) December 12, 2013
• Tottenham midfielder Sandro claims he does not cry. So the team tested this by waxing his hair.
• Some enterprising Canadians have turned air hockey into a drinking game.
• Somebody yelled "Go Gators!" during a press conference held by the attorney for the accuser in the Jameis Winston case.
---
---