4 ways the Cavaliers will try to beat the Warriors without Kevin Love
BY Andrew Lynch • June 8, 2016
Kevin Love is a really good basketball player.
No, seriously. It's true! There's a reason LeBron James wanted Love to join him as a member of the Cleveland Cavaliers. Love's an outstanding rebounder, a solid shooter and an underrated passer. You can win a championship with Love on your team. I promise.
So yes, the Cavs will miss Love in Game 3, now that he's officially been ruled out with a concussion he suffered in Game 2. Despite his defensive flaws and lack of impact on offense in the Finals, it's never easy to lose one of your best players in the middle of a series.
But Cleveland won two games in the Finals last year without Love. They can work through this -- one way or another.
Frye hasn't played much in this series, which has been something of a head-scratcher. He's a better defender than Love, and you don't sacrifice 3-point shooting by playing Frye. He's phenomenal from distance. 
And when the Cavs have put Frye on the court, it's often been against Golden State's small-ball lineup. In theory, that's fine. Cleveland's trying to match up and not get completely blown off the court. But the first two games of this series have definitively shown that the Cavs don't stand a chance without a big man on the floor to punish the small Warriors on the glass and in the paint.
Unfortunately, the starting nod will likely go to Richard Jefferson, given what we've seen from the Cavs so far. UPDATE (7:20 PM ET): Yep! Jefferson will start in Love's place. That's fine; Jefferson's been one of Cleveland's better players this postseason. He goes where he's supposed to be on defense, he makes the right decisions on offense, and he's willing to flex his old-man strength when need be. It's not an egregious mistake to start Jefferson.
Playing Frye more gives Cleveland the best of both worlds, though. They stay big with Tristan Thompson at center while having a power forward who can stretch the floor against the Warriors' (relatively) big starting lineup featuring Andrew Bogut. And when the Warriors do go small, the Cavs should go in the complete opposite direction:
Remember Mozgov? Big guy, about 7-feet tall, hails from Russia, tends to get dunked on by Blake Griffin? 
Going small hasn't really worked for Cleveland -- except for one lineup, which we'll get to in a second -- and Love's injury gives the Cavs cover to experiment. The Thunder already showed how effective a team can be when it's willing to go big against the Warriors (and, you know, has Kevin Durant playing like the best player on the planet -- hint, hint, LeBron). The Cavs have two solid bigs in Thompson and Mozgov, the latter of whom showed last year that he's a more skilled rim-protector than we might think.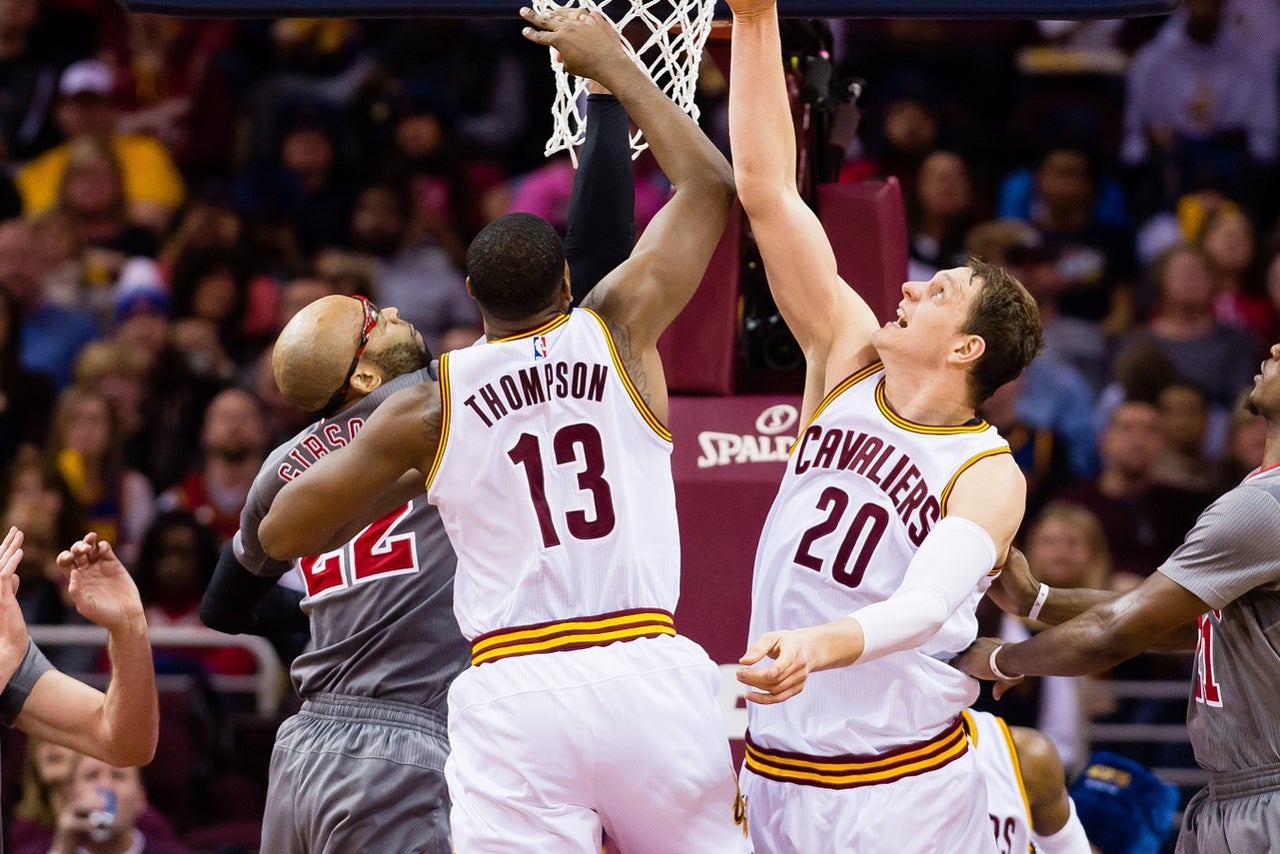 This used to be a thing. Like, this season.
Furthermore, the Cavs are struggling mightily on offense, and that doesn't seem like it's going to change any time soon. Golden State's defense is simply too good. So if you're missing shots, aren't offensive rebounds a pretty valuable part of the game? The NBA as a whole has decided to stop crashing the offensive glass in favor of getting back in transition on defense. It's a solid theory. In this particular series, however, there's more value for Cleveland in prolonging possessions by rebounding your own misses. If the Warriors are dominating on the boards, the Cavs literally don't stand a chance.
Fact: A lineup of Matthew Dellavedova, Iman Shumpert, Richard Jefferson, Frye and LeBron is +41.0 points per 100 possessions in this postseason.
Fact: That same lineup has been destroyed by the Warriors in its brief time on the court this series, to the tune of a -57.2 net rating. It's a super small sample size of just four minutes, but when you see such miserable results, you tend to shut down the experiment.
Still, the Cavs will likely be tempted to go small during stretches of Game 3. Love's absence will throw a wrench in Cleveland's typical rotations, and Tyronn Lue can't escape the idea that LeBron should be able to match up with Draymond Green at center when the Warriors play their "Death Lineup." 
Again, that's the wrong instinct -- and one that will get the Cavs swept. The only time Cleveland can go small is when Bogut is on the floor. The Cavaliers have to stop trying to match up with the Warriors. If they can't force the issue by playing the opposite style as Golden State, they're doomed anyway. 
Speaking of which ...
You've tried everything else. The Warriors are still beating you. Your back is against the wall. If you're Cleveland, it's time to throw caution to the wind.
In the event that none of these other ideas work, here's our suggestion to the Cavs: Forget what we think we know about the game of basketball. Forget positions. Put a LeBron-Jefferson-Frye-Thompson-Mozgov lineup on the floor and dare the Warriors to try to figure that one out.
After all, Golden State has basically forced Cleveland to abandon the 3-pointer. Jefferson and Frye can give you a little bit of spacing in this lineup, but the idea is to crush the Warriors in the paint. Every old school basketball superstar has voiced their opinion that the way to beat Golden State is to dominate them with size. Why not see if it works? 
---
---