World Cup of Hockey 2016 preview: Team Canada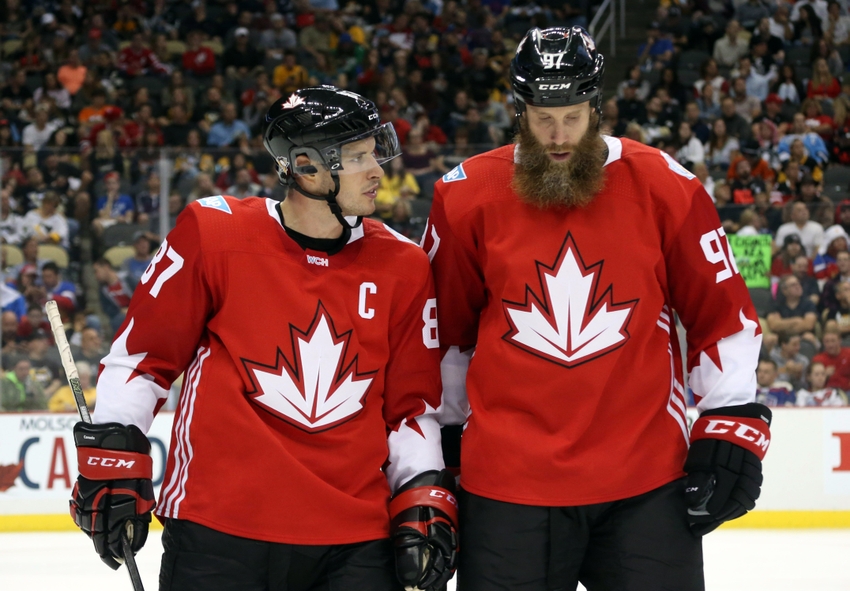 Will Team Canada once again assert their dominance at the World Cup of Hockey? 
Canada has a proud tradition of excelling at hockey. While a Canadian team has not won a Stanley Cup since the 1992-93 season, Canadians make up just under half of the NHL player population. Five of the 11 Hart Trophy winners since the 2004-05 lockout are Canadian, the most of any country. With a deep roster, Canada looks to win their second straight World Cup of Hockey.
From top to bottom, no team has the depth of Canada. They showed this during the preliminary round, winning two of their three games. If they don't win the tournament, there will be no excuses.
Forwards
Canada has always stacked their international rosters with centers. It's a deliberate choice, and this team is no different. 11 of the team's 13 forwards are centers. Because their 11 centers are so talented, they can easily make the transition over to wing. This also gives Canada a ton of options for faceoffs and line combinations.
Pittsburgh Penguins center Sidney Crosby, fresh off a Stanley Cup win, will be captaining Team Canada. He'll be serving as Canada's top center and will likely see the most ice time of any forward at the World Cup. Chicago Blackhawks center Jonathan Toews (58 points in 80 games) is one of the alternate captains and should serve in more of a defensive role thanks to Canada's depth.
The San Jose Sharks have two centers on Team Canada. Both Joe Thornton and Logan Couture should play important roles for Canada coming off impressive postseason performances. Boston Bruins center Patrice Bergeron (68 points in 80 games) and wing Brad Marchand (61 points in 77 games) have been playing on the same line as Crosby. That's as scary as any forward line at the World Cup.
Anaheim Ducks center Ryan Getzlaf (63 points in 77 games) joins injury replacement Corey Perry (62 points in 82 games). They form a deadly forward line in Anaheim, so head coach Mike Babcock keeps them together. Joining them will likely be New York Islanders center John Tavares (70 points in 78 games).
Buffalo Sabres center Ryan O'Reilly replaces Dallas Stars center Tyler Seguin on the roster. Colorado Avalanche center Matt Duchene, Philadelphia Flyers center Claude Giroux, and Tampa Bay Lightning forward Steven Stamkos round out the World Cup of Hockey's equivalent of the 2016-17 Golden State Warriors.
Defensemen
Team Canada made some baffling decisions, leaving Kris Letang, P.K. Subban, and Mark Giordano off the team. Despite that, Canada has arguably the second best blue line at the World Cup of Hockey. Montreal Canadiens defenseman Shea Weber (51 points in 78 games) needs no introduction. Despite his age, he is still a top choice for Canada internationally.
San Jose Sharks defenseman Brent Burns (75 points in 82 games) obviously steals the spotlight, but his teammate Marc-Edouard Vlasic is one of the best all-around defensemen in the NHL. He'll likely play alongside Weber on Canada's top defensive pairing. Burns was paired with St. Louis Blues defenseman Alex Pietrangelo (37 points in 73 games) during the exhibition games. Expect that to remain the same.
Norris Trophy winner Drew Doughty of the Los Angeles Kings is one of the best defensive defensemen in the NHL. He's also a favorite of Babcock. Recently he has been paired with Blues defenseman Jay Bouwmeester (19 points in 72 games). Doughty's teammate Jake Muzzin will likely serve as the extra defenseman and could see time if Bouwmeester struggles.
Goaltending
A few years ago, people were concerned about Canada's lack of goaltending depth. That's ironic because Canada probably has the best goaltending trio at the World Cup of Hockey. They arguably have three of the top seven goaltenders in the world.
Canada's primary starter will be Canadiens goaltender Carey Price. Price is coming off an injury, but he has shown very little rust thus far. When he's healthy, he's the best goalie in the world. 2015-16 Vezina Trophy winner Braden Holtby of the Washington Capitals is one heck of a backup goaltender. Two-time Stanley Cup champion Corey Crawford of the Chicago Blackhawks should have been a Vezina Trophy finalist in 2015-16.
Overall Outlook
Canada's depth is by far the best at the World Cup of Hockey. They have enough skill that they can overcome virtually any situation and any team. While they weren't as dominant as people thought they would be during exhibition games, keep in mind that those were meaningless games. Canada is the favorite to win the World Cup of Hockey, and rightfully so.
Canada will be in Group A with Team Czech Republic, Team USA, and Team Europe. They will face the Czech Republic on Saturday Sept. 17 at 8:00 PM EST. On Tuesday Sept. 20, they will face the United States at 8:00 PM EST. Finally, they will finish group play with a game against Europe on Wednesday Sept. 21 at 8:00 PM EST.
More from FanSided
This article originally appeared on