Vancouver Canucks vs. New York Rangers: Preview, Lineups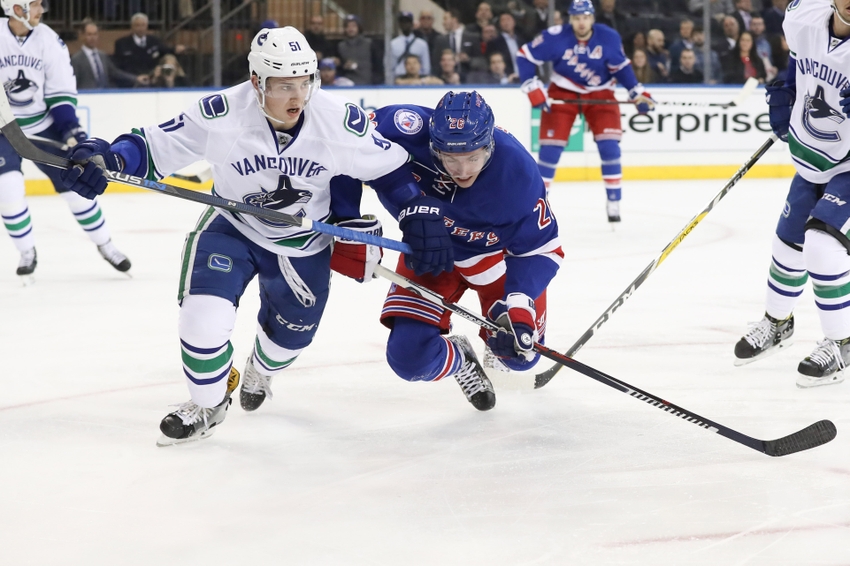 The Vancouver Canucks have won two of their last three games, and look to gain some momentum on Tuesday against the New York Rangers.
Exactly one week ago, the Vancouver Canucks marched into Manhattan and ended a nine-game losing streak.
The Canucks handed the New York Rangers just their fourth loss. Loui Eriksson, Sven Baertschi and Alexandre Burrows each scored their first goals of the season.
Despite starting, finishing and playing the most minutes in the game, Antti Raanta did not take the loss. Instead, Henrik Lundqvist was forced to play 6:19 when Raanta was removed by the concussion spotters. Coming in cold, he gave up four goals on six shots, including the game-winner.
Lundqvist and the Rangers will look to return the favor in Vancouver.
New York is coming off two straight road wins in Edmonton and Calgary. The last team to visit Rogers Arena after sweeping Alberta? The Dallas Stars.
Just something to think about.


Vancouver Canucks
OVERVIEW:
2016-17 Record: 6-9-1
Home Record: 5-3-0
2015-16 Record vs. Rangers: 1-0-1
Goals For: 33
Goals Against: 48
Power Play: 10.2% (27th in NHL)
Penalty Kill: 87.0% (7th in NHL)
Leading Scorers: Henrik Sedin (16 GP –- 5 G – 5– A -– 10 PTS), Daniel Sedin (16 GP – 5– G – 4– A – 9– PTS), Bo Horvat (16 GP -– 5 G – 4– A – 9– PTS).
Injuries: Jannik Hansen (fractured rib, early/mid-December), Chris Tanev (foot, late November), Jayson Megna (shoulder, day-to-day), Anton Rodin (knee, indefinite)
WHO''S ON OFFENCE:
Brandon Sutter: It looks like Sutter will start this game where he finished the last — on the top line with the Sedins. For some reason, Willie Desjardins likes this combination. Will it pay any dividends?
Sven Baertschi: After notching their first goals against the Rangers, Eriksson and Burrows have both gone on to score again. Now would be a good time for Baertschi to pot another
WHO''S ON DEFENCE:
Troy Stecher: The rookie scored his first career goal last game. He looks like he could well stick with the team even after Chris Tanev returns. Can he keep the good times rolling?
WHO''S IN NET:
Jacob Markstrom: Willie D has yet to name his starting goaltender, but it was Markstrom who won the first game against the Rangers, and Miller has started the last two.
PROJECTED LINEUP:
Daniel Sedin — Henrik Sedin — Brandon Sutter
Loui Eriksson — Markus Granlund  — Derek Dorsett
Sven Baertschi — Bo Horvat— — Alexandre Burrows
Michael Chaput — Brendan Gaunce — Jack Skille
Alex Edler — Troy Stecher
Ben Hutton — Erik Gudbranson
Luca Sbisa — Nikita Tryamkin
Ryan Miller
Jacob Markstrom
Away Team
OVERVIEW:
2016-17 Record:
Away Record:
2015-16 Record vs. Canucks: 1-1-0
Goals For: 65
Goals Against: 36
Power Play: 21.6% (9th in NHL)
Penalty Kill: 83.7% (11th in NHL)
Leading Scorers: J.T. Miller (16 GP – 5– G – 10– A – 15– PTS), Kevin Hayes (16 GP – 6– G – 8– A –- 14 PTS), Michael Grabner (16 GP – 10– G – 3– A – 13– PTS).
Injuries: Chris Kreider (upper body, day-to-day), Josh Jooris (shoulder, day-to-day), Pavel Buchnevich (back, day-to-day)
WHO''S ON OFFENCE:
Michael Grabner: Once drafted by the Canucks, Grabner is experiencing a new high in his career. In 16 games, he has 10 goals and 13 points with the Rangers.
Brandon Pirri: During the offseason, Pirri was always a conversation topic in Vancouver, as a possible free-agent addition. He ended up with the Rangers instead, his third team in two seasons, and has four goals and nine points in 16 games.
WHO''S ON DEFENCE:
Brady Skjei: In his second professional season, Skjei is making a name for himself in the National Hockey League. He had no points in seven games for the Rangers last season, but currently sits at nine assists for nine points through 16 games.
WHO''S IN NET:
Henrik Lundqvist: 'Nuff said.
PROJECTED LINEUP:
Jimmy Vesey —– Derek Stepan — — Rick Nash
Michael Graber —– Mika Zibanejad— — Mats Zuccarello
Cristoval Nieves —– Kevin Hayes — — J.T. Miller
Pavel Buchnevich —– Brandon Pirri— — Jesper Fast
Ryan McDonagh –— Dan Girardi
Marc Staal –— Nick Golden
Brady Skjei –— Kevin Klein
Henrik Lundqvist
Antti Raanta
This article originally appeared on