Toronto Maple Leafs: Higher Expectations For Matt Martin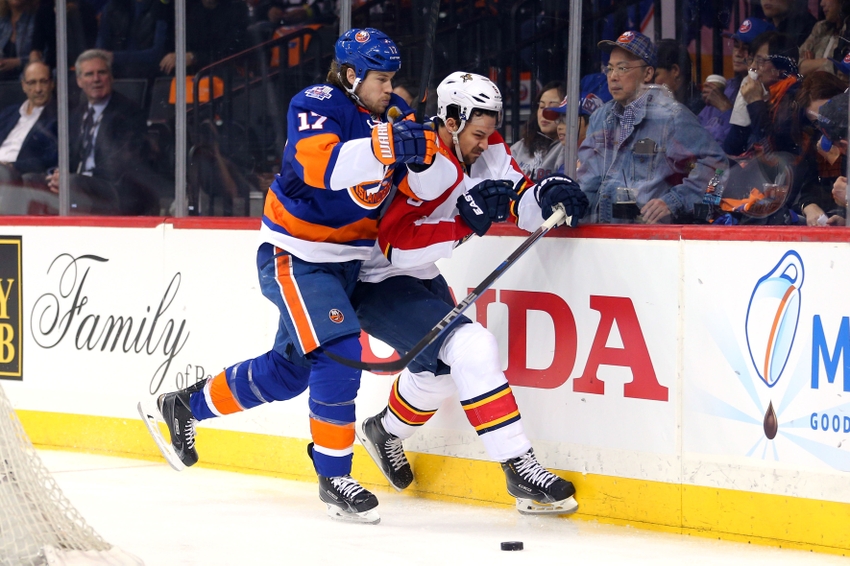 When the Toronto Maple Leafs signed Matt Martin there were mixed results throughout Leafs Nation.
Martin was brought in to be, essentially, a savage hit machine and to protect the Toronto Maple Leafs star young players. But is that the only expectation for the hard-hitting winger?
"Obviously, they brought me here for a reason," said Martin, who led the NHL with 365 hits in the 2015-15 season. "I play the game a certain way for seven years in this league. I'm going to continue to play the game the way I did in New York and be that physical presence.
"At the same time, it's an opportunity to produce more offensively. In talking to the coaching staff, this is something they want from me." (Toronto Sun)
That portion of Rob Longley's piece for the Toronto Sun is interesting.
Martin has a career high of 10 goals and 19 points, both of which he set last season with the New York Islanders. Can he increase those totals in Toronto? That remains to be seen.
I'd like to consider myself Martin's biggest critics, simply because I can't justify his existence on the roster based on the direction of this team. That said, I'm also completely open to him being a more effective player than history has shown.
Last year, when he set career high's in points and goals, Martin played 38 minutes with John Tavares at 5v5. That's an extremely insignificant total. The year before that, 46 minutes. Over the past five seasons? 175 minutes.
Granted, Martin hasn't done much with the ice-time he's received with Tavares (only three points), but the situation likely wasn't favorable to the physical winger.
What leads me to believe that Martin won't all of a sudden be an offensive force is that he doesn't drive play while he's on the ice. He generally gets carried by the players he skates with, and that's not a good thing for the Toronto Maple Leafs.
If you need any proof that being a hit-savage team doesn't win hockey games just look at Team USA in the World Cup.
If Martin, for example, plays with Matthews and he does well is that an indication that he has transformed his game? Or is it Auston Matthews carrying him? And is it holding Matthews' line back offensively? I'm leaning towards the latter.
If Mike Babock is hoping to turn Martin into Justin Abdelkader, he's going to be disappointed, and it's going to cost the Leafs in the long run.
Expectations for Martin should be tempered to the level of his production in New York.
There's no need to try and make Matt Martin into something he's not – an offensive producer. The Leafs need to play their players to their strengths, and Martin's strength is 3rd/4th line physicality. That's where he's going to be at maximum value for the Leafs.
If Matt Martin can play effective fourth line hockey and lead the league in hits then he'll be as much of a success as the Toronto Maple Leafs could have hoped for.
If they over-assign him they'll be left at the alter without a bride, and that's simply unacceptable, because it's a preventable disaster. The Toronto Maple Leafs need to temper expectations for Matt Martin, because there's a good chance he's not going to magically become something more than he already is.
This article originally appeared on