Toronto Maple Leafs: Expansion Draft Targets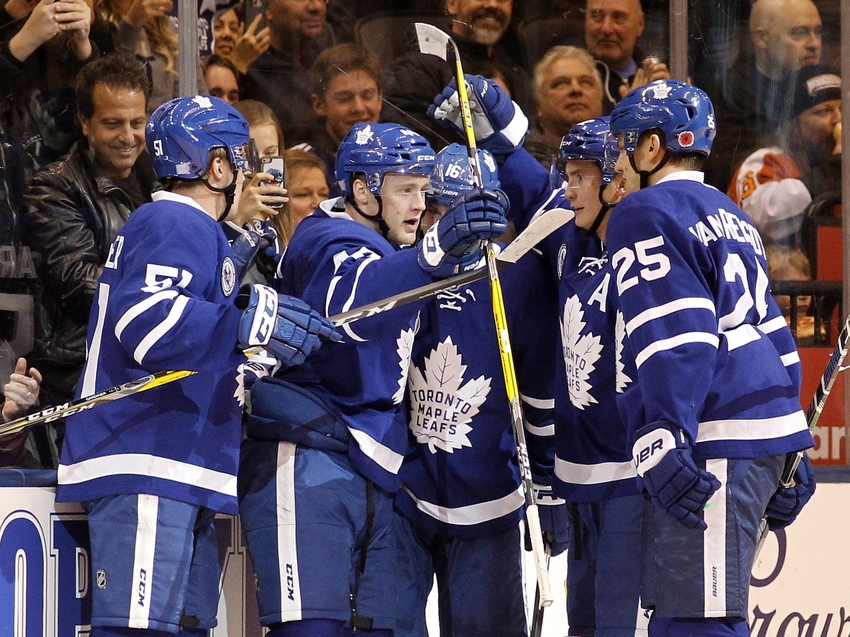 Given the success the Toronto Maple Leafs rookies are having thus far, it's a relief that pretty much all of them are exempted from the Expansion Draft in June.
Teams can choose between two options to protect players (players with effective NMCs at the time of the draft must be protected by their respective teams):
Seven forwards, three defensemen, one goaltender
Eight skaters, one goaltender
Let's take a look at the Leafs players who meet or are projected to meet the exposure requirements (teams must leave at least 2 forwards, 1 defenseman, and 1 goalie exposed):
Forwards: Nazem Kadri, James van Riemsdyk, Tyler Bozak, Milan Michalek, Colin Greening, Matt Martin
Defense: Morgan Rielly, Jake Gardiner, Martin Marincin, Connor Carrick
Goalies: Frederik Andersen, Garret Sparks, Antoine Bibeau
With the above lists in mind, here are the players I would protect in the expansion draft (you're welcome to disagree with me on this). I've used the 7F/3D/1G format:
Forwards: Kadri, JVR, Bozak, Leo Komarov, Connor Brown, Brendan Leipsic, Peter Holland (Michalek, Martin, Greening exposed)
Defense: Rielly, Gardiner, Carrick (Marincin exposed)
Goalie: Andersen (Bibeau, Sparks exposed)
So who out of the remaining players could Las Vegas pluck from the Leafs? There isn't exactly a stand-out candidate out of those remaining. Josh Leivo, Martin Marincin, and Frank Corrado would be likely be the front-runners Las Vegas has their eye on.
But obviously the Leafs won't make the same decisions I did regarding who they choose to protect for the draft. One interesting name on the list of players I decided to protect is Peter Holland.
As the Leafs' rookies have flourished this year, Holland's been pushed to the press box for some time now, only seeing time on the ice versus Pittsburgh recently. He's clearly on the outside looking in, but he's also a valuable asset.
If he no longer has a future here in Toronto, will he be left unprotected in June, or will the Leafs try and trade him so they don't lose him for nothing?
The Leafs signed Matt Martin with every intention of keeping him in Toronto for the duration of his contract, but when push comes to shove, will they leave him unprotected and hope (this is from management and coaching staff's perspective) he goes unclaimed?
Leivo is an interesting player as well. He's too good for the AHL, but he just can't crack the Leafs. Would he have a better chance do to that in Vegas? Or on another team? Either way, the Leafs' third round draft pick from 2011 is running out of time in this organization.
Maybe a fresh start is the way to go, and it's more likely that the Leafs leave him unprotected if they can't find a trade partner in the spring.
Finally, Marincin is the most attractive option on the back end (unless Vegas really wants Matt Hunwick or Roman Polak, but let's be honest, there are better defenders out there, including Marincin) should the Leafs end up losing a defenseman to the expansion draft.
He's 24, so he's just beginning to hit his prime, and he's proven to be a pretty dependable player (for the most part) on the Leafs. Obviously, Vegas will focus on acquiring defenders of higher calibre than Marincin, but it comes time to select a Maple Leaf, Marincin's name might be high up in consideration too.
Which Leaf do you think will be in Las Vegas next season?
(Information on exempted Leafs players has been sourced from CapFriendly.com's Expansion Draft Tool. The Expansion Draft rules were found on NHL.com.)
This article originally appeared on