St. Louis Blues Cheat Themselves Out Of A Win In Vancouver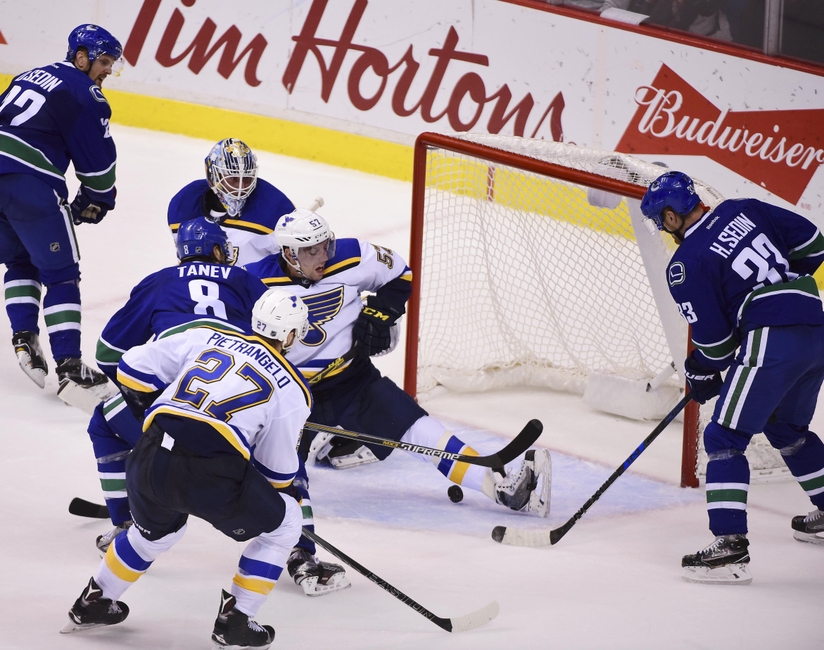 The St. Louis Blues were quite the mess against the Vancouver Canucks due to their injury problems. They still should have won, but could not do it.
The St. Louis Blues should have taken two points against the Vancouver Canucks. Put up whatever stats you want, but the Blues should have won.
The Canucks had more shots, more attempts, more scoring chances and more powerplays. Despite all that, the Blues should have won.
The Blues were not on top of their game by any means. They did not completely outplay the Canucks. Far from it, based on the stats, but watching the game, they were still the better team despite their flaws.
The Blues were trying to figure out some sort of positive offensive combinations after a dud of a first period and also due to the injuries they are dealing with. You cannot blame the lack of Jori Lehtera and Kyle Brodziak for this result, but you could tell the Blues were a bit lost with so little practice time with the lineup they used.
They started with Ty Rattie on a line with Paul Stastny and Robby Fabbri. Rattie did not have a great game, but also got demoted way too fast.
Rattie was sent down to the third line to play with Patrik Berglund and Magnus Paajarvi later in the game. By the end, Rattie and Paajarvi had all but disappeared and even Berglund was only getting sporadic playing time.
It is understandable to want to use what works, but when the lineup is thin, wearing out your top players isn't the best idea. I'm not on the Ken Hitchcock juggles lines too much bandwagon, but I didn't think he helped matters in this game with the constant switching.
Though the Blues were not getting enough shots on goal with regularity, they still outplayed Vancouver for much of the game. They simply had too many moments where they seemed either fatigued or on the wrong page and that led to missed clearances or bad plays that missed scoring opportunities.
St. Louis led from the halfway point of the second period until the last three minutes. Unfortunately, it all went south from there.
As seems to happen too often in these west coast games, the Blues allowed a late goal after failing to clear the puck from the zone. They then allowed a break in OT after Alex Pietrangelo's shot was not frozen by Jacob Markstrom.
In an odd juxtaposition, Pietrangelo ended up chasing the play while David Perron was alone in front of goal. The Canucks still finished off the play and the Blues have to move to Edmonton a little worse off.
St. Louis must find a way to close off these types of games down the road. It's early, but it doesn't matter how many games the Canucks have won coming from behind (three, for those wondering). St. Louis is a better team and they needed to show it more.
Positives
On the positive side, Vladimir Tarasenko scored another goal. He tied Stastny for the team lead in points and leads the Blues with four goals in four games.
Tarasenko continues to look like the team's best scoring option. We just need him to find his regular season form come May and June, but that's nothing to worry about right now.
Nail Yakupov seems to be gaining confidence with each game. He has not had any points outside of the Minnesota contest, but it has not been for lack of effort.
In the third period alone against Vancouver, he almost led the team to a win. He was blowing by people on the wings, winning battles, flying all over and looking like a one-man gang.
The only thing that would not come was a goal or assist. If he keeps playing with that energy and style, he's going to be whatever adjective would be a level above a steal.
Jake Allen is always going to have his haters, but if it was not for the Snake, the Blues could have been down by a couple goals in the first or second period. Allen was bailed out by some posts, but he also robbed Loui Eriksson and made several key stops when the defense was scrambling.
The defense played well at times and looked flat footed at others, so Allen had to be sharp. There wasn't anything he could do about the goals scored, so he did just about everything he could to allow his team to win.
Other notables
It had little to no impact on the game, but NHL officiating continues to be pure insanity. Berglund should have earned a powerplay or penalty shot when he was hooked/tripped/defender threw his stick, but there was no call. The Blues should have gone on the powerplay in OT after Allen was interfered with, but no call.
As I said above, I don't bash Hitchcock for his line changes or lineups he chooses often. Still, how can you know for sure lines aren't working when they were given so little time to gel. Rattie has his defenders and some that don't care for him, but again we can't know until we get to see him with better players for more than a handful of shifts. Also, I know lots of coaches shorten the bench, but the third and fourth lines (as a whole) were basically nonexistent at the end of the game.
Looking Forward
The Blues better get in a good practice and solidify their defense. They take on the high-flying Edmonton Oilers on Thursday.
The Oilers are tied for the league lead in goals scored with 17. They won 3-2 over Carolina on Tuesday night too.
Edmonton is only a point behind St. Louis. They are 3-1-0 through four games with six points.
The Oilers can be had. They are still allowing goals as often as they score them.
The Blues will need a much better all-around effort to get the two points come that game. The puck drops at 8 p.m. CST on Thursday.
This article originally appeared on